Helen Mirren's Best Movie And TV Roles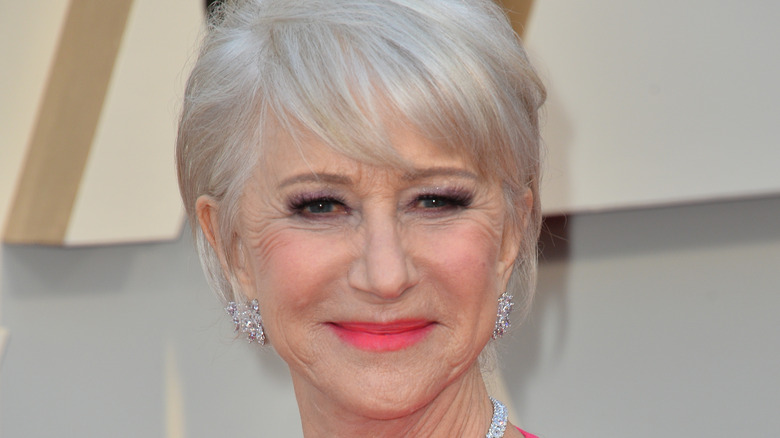 Featureflash Photo Agency/Shutterstock
Helen Mirren has become synonymous with a certain kind of stately, regal entertainment — but that doesn't begin to encompass the wide range of her work. Sure, Mirren is perhaps best known for being the most British of British thespians, often playing royalty, heads of state, or assorted authority figures. But take a look through her filmography and you'll find a rich history of risk-taking.
Dame Helen Mirren got her start on the British stage, where she played most of the great roles of Shakespeare. But it's in film and television that she became a star, beginning with her breakthrough role in "The Long Good Friday" and continuing with her long-running performance as Detective Jane Tennison in TV's "Prime Suspect."
Throughout her career, Mirren has earned Oscar nominations for "The Madness of King George," "Gosford Park," and "The Last Station," winning for her uncanny performance as Queen Elizabeth II in 2006's "The Queen." She's also earned 11 Emmy nominations, winning the Best Movie/Miniseries Actress prize four times (twice for "Prime Suspect," once for "Elizabeth I," and again for "The Passion of Ayn Rand"). Mirren also won a Tony for again playing the Queen in "The Audience," making her one of the few actors to complete the Triple Crown of Acting.
As they say in the UK, All Hail the Queen! (Or in this case, the actor who's played her on more than one occasion). Here's a look back at some of Helen Mirren's best movie and television roles.
The Passion of Ayn Rand (1999)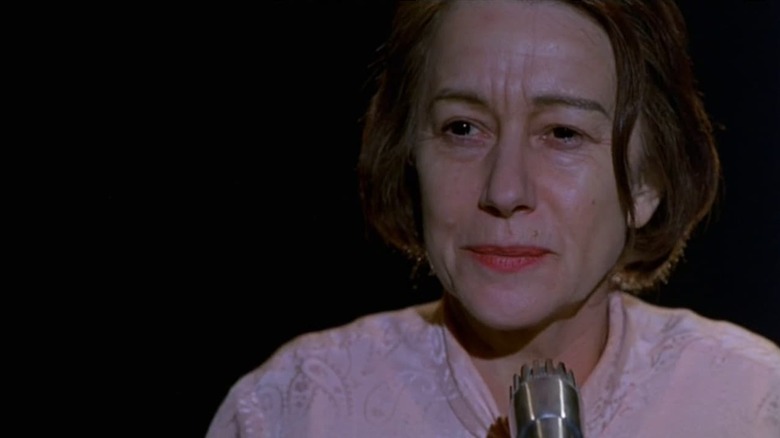 Showtime
There is perhaps no more polarizing literary figure from the 20th century than Ayn Rand, whose work continues to influence libertarian and conservative ideology despite her rejecting both labels in her lifetime. Whatever your opinions of her or her novels — which include "Atlas Shrugged" and "The Fountainhead" — her wealth of contradictions makes her a fascinating character. And what better actor to play that than Mirren?
Released on television in 1999, "The Passion of Ayn Rand" focuses on an affair the famed philosopher and novelist had with Nathaniel Branden (Eric Stoltz), a much younger psychologist. The affair causes a rift in both of their marriages (Peter Fonda and Julie Delpy co-star as their respective spouses) and eventually falls apart, but not before Branden creates an institute dedicated to spreading Rand's beliefs.
Mirren took home an Emmy for her performance, which helps humanize a woman who is still a political lightning rod decades after her death in 1982. She also earned nominations at the Golden Globes and SAG Awards.
The Last Station (2009)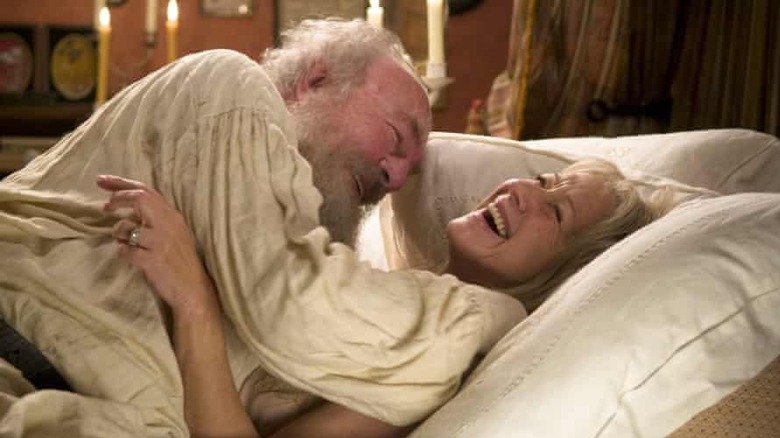 Stephan Rabold/Sony Pictures Classics
To paraphrase Sally Field, when Oscar voters like you, they really like you. An afterglow nomination will often follow a victory, and that was the case with Mirren, who returned to the Oscar race with this intimate historical drama just three years after winning Best Actress for "The Queen."
Directed by Michael Hoffman, "The Last Station" focuses on the final year in the life of Russian novelist Leo Tolstoy (Christopher Plummer, who at 80 earned the first of his three Oscar nominations). Mirren is his wife Sofya, who remains passionately devoted to her husband despite their differing views on things like religion, property, and celibacy (the great writer supports it while not practicing it). Things come to a head over the rights to his works, which his disciple Vladimir Chertkov (Paul Giamatti) believes should be left to the Russian people. Sofya is opposed to this, believing the estate should go to her and their 13 children.
"The Last Station" is a fairly small-scale affair, the kind of nice little movie that's forgotten shortly after Oscar season. Yet it comes to life whenever Mirren and Plummer are onscreen together. While the drama surrounding them can be fairly muted, their love affair is anything but, and these two great actors convey a lifetime of romance in just a handful of scenes.
RED (2010)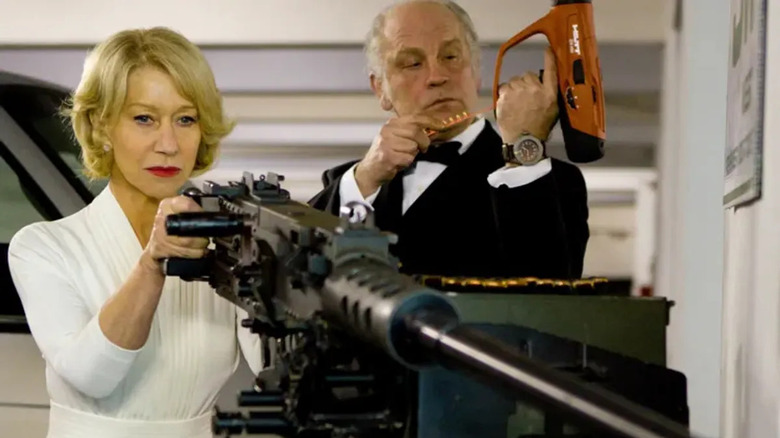 Summit Entertainment
Before she joined the "Fast and Furious" franchise, Mirren starred in another action series (albeit one that produced far fewer sequels). "RED" was an exciting change of pace for the actor, who fought against getting pigeonholed in stuffy dramas on the heels of her Oscar victory for "The Queen."
Robert Schwentke's action-packed comedy is aimed squarely at the AARP crowd, with a cast of greying thespians proving they can still kick a lot of ass. Bruce Willis is former Black Ops agent Frank Morris, now classified as RED (Retired, Extremely Dangerous). His retirement is interrupted by a group of high-powered assassins trying to kill him. He assembles his old crew to track down his foes before they can murder him, along with a government worker (Mary-Louise Parker) he's fallen in love with.
Mirren has a ball as Victoria Winslow, a former MI6 assassin who teams up with Frank and his fellow REDs (Morgan Freeman and John Malkovich, both having a similar good time). She proves herself as capable an action star as Liam Neeson, making us yearn for her own "Taken" franchise. Thankfully, Mirren and company returned for the 2013 sequel "RED 2."
The Mosquito Coast (1986)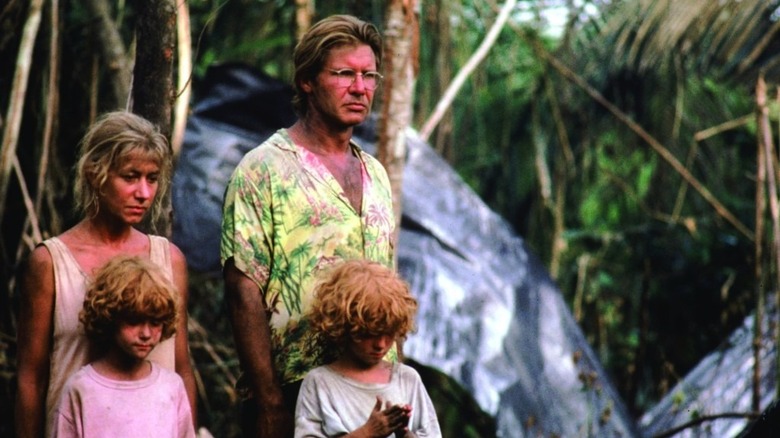 Warner Bros
Not to be confused with the recent Apple TV+ series of the same name, Peter Weir's "The Mosquito Coast" features a tour de force performance by Harrison Ford as a man driven mad by obsession. While Ford does all the scenery-chewing, Mirren keeps the film from spinning out of control as his grounded counterpart.
Adapted by Paul Schrader from the novel by Paul Theroux (uncle of Justin Theroux, star of the Apple series), it centers on an American inventor (Ford) who moves his family to the jungles of Central America in search of a purer way of life. Fears of nuclear war and disdain for consumerism drive him deeper into madness, and his wife (Mirren) watches as he subjects their children to increasingly erratic behavior. River Phoenix co-stars as their son Charlie, who also serves as the narrator.
Ford won the lion's share of critical praise for the film, yet Mirren deserves equal credit for balancing out his insanity. She keeps the drama on a human level as Ford reaches for something more operatic. And as always, she's able to communicate so much with so little on the surface.
Excalibur (1981)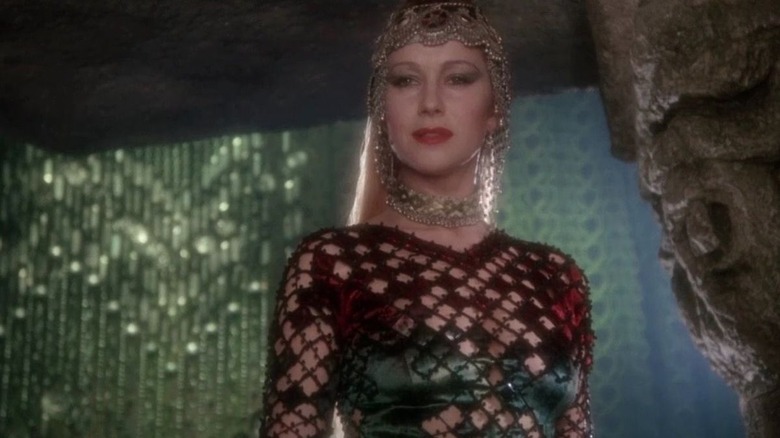 Warner Bros
When it was released in 1981, critics praised "Excalibur" for its visual splendor but dinged it for its thin plotting and characterization. As Roger Ebert put it in his two-and-a-half star review, it was both "a wondrous vision" and "a mess." Yet even Ebert had nothing but positive things to say about Mirren's performance as Morgana.
Directed by John Boorman, it's a wildly ambitious retelling of the Arthurian legend, taking its inspiration from Thomas Malory's "Le Morte d'Arthur." Nigel Terry plays King Arthur, and a slew of Irish and British stars-to-be round out the supporting cast, including Patrick Stewart as King Leodegrance, Liam Neeson as Sir Gawain, Gabriel Byrne as King Uther Pendragon, and Ciaran Hinds as King Lot. Yet most of the cast gets buried under the weight of the film's massive sets and lush, Oscar-nominated cinematography.
One standout is Mirren as Morgana, Arthur's sister. Morgana schemes with the wizard Merlin (a scenery-chewing Nicol Williamson) to seduce Arthur by taking the form of Guenevere (Cherie Lunghi) and bearing an incestuous son to take the throne. Mirren relishes her villainous role, infusing her with the same gusto she'd bring to the great women of Shakespeare.
Calendar Girls (2003)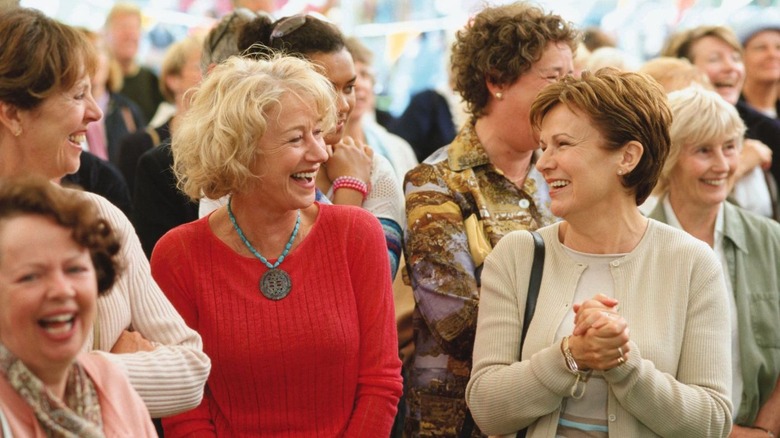 Touchstone Picture
Think of "Calendar Girls" as a sort of "The Full Monty" for women. Much like that 1997 Oscar-winning hit, it's a delightful little comedy about how the people you'd least expect to see publicly nude shed their clothes for money. And like that previous film, it utilizes a rich ensemble of British luminaries, this time led by Mirren in a nimbly comedic turn.
Based on a true story, it centers on Chris Harper (Mirren), who spends her time at the local Women's Institute with her friend Annie Clarke (Jessica Walters). When Annie's husband is diagnosed with leukemia, Chris hits upon a brilliant fundraising idea: the group's members will pose for a nude calendar, much like the ones you'd find hanging in local auto shops. Except this time, it'll be middle-aged women performing housework while naked.
Mirren earned a Golden Globe nomination for her performance, which keeps this soufflé of a film afloat. Although the premise would seem to call for broad comedy, she instead opts for droll irony and wit, infusing the story with a humanity that elevates it above what you'd expect from a "mature ladies getting naked" movie.
Cal (1984)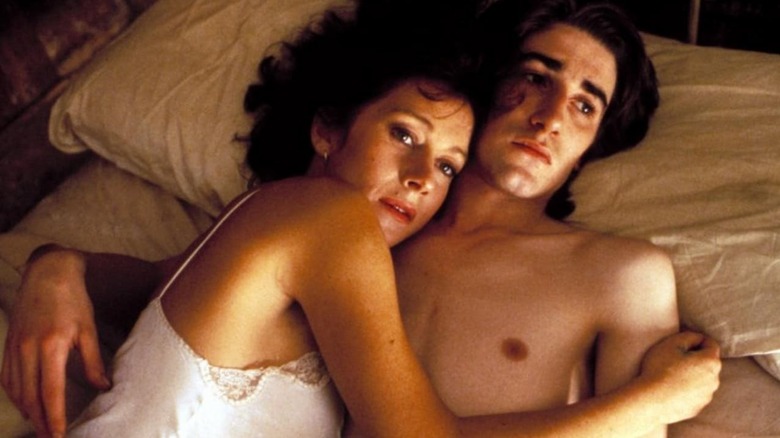 Warner Bros
On the surface, "Cal" is a model of simplicity. It concerns nothing more than a love affair between two desperate people. Yet the backdrop of its setting gives it a complexity and nuance that is often lacking from similar stories, usually published in cheap paperback and sold at supermarket checkout lines.
The setting is Northern Ireland in the 1970s, a time of tremendous political upheaval. John Lynch plays Cal, a young IRA member who acted as a driver for a nighttime raid that left a man dead. A year later, he meets Marcella (Mirren), a librarian he learns is the widow of the man who was killed. He's instantly attracted to her, and the two begin an affair after Cal starts working on the farm owned by Marcella's in-laws.
The heart of "Cal" lies in its love scenes, which have an electricity and hunger that goes beyond titillation. That's thanks in large part to Mirren's tender performance, which hints at deep wells of pain within a passionate woman. The role won her the Best Actress prize at Cannes, as well as a BAFTA nomination.
Eye in the Sky (2015)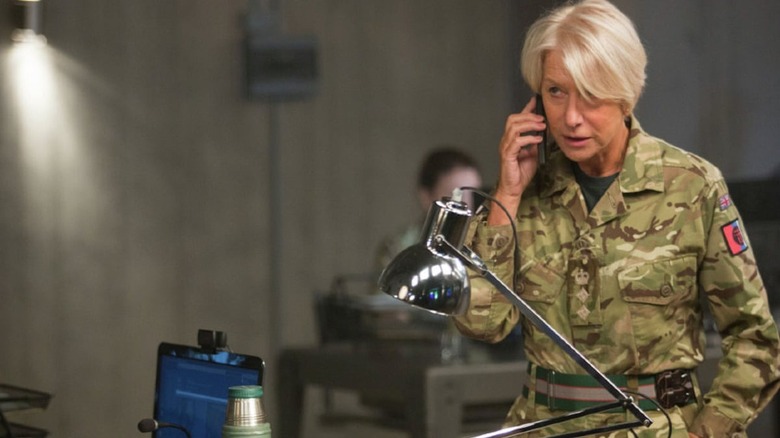 Entertainment One/Rex
Gavin Hood's "Eye in the Sky" has only grown more relevant as international drone programs have come under increasing scrutiny, yet its potent political message is far from its only quality. It's also a terrific thriller buoyed by an excellent performance by Mirren, playing another in a long line of authority figures.
This time, she's Colonel Katherine Powell, a British intelligence officer on the hunt for a group of Al-Shabaab terrorists. She locates them at a safe house in Nairobi, Kenya, and quickly decides to deploy a drone strike when it's discovered they're preparing a suicide bombing. Yet that requires authorization, and Powell becomes increasingly frustrated as her request is sent further and further up the chain of command, all the way to the US Secretary of State. Things become complicated when a young girl unwittingly enters the target zone, sparking a tense debate about the civilian implications of warfare.
While the film employs a large cast of characters spread out over several countries (including Alan Rickman in his final onscreen role), it's Mirren who steals the show, playing yet another career professional exasperated by bureaucracy and assumptions about her gender. She quietly hints at the ethical concerns buried beneath Powell's steely-eyed determination, creating a complex character at the center of a moral quagmire.
The Madness of King George (1994)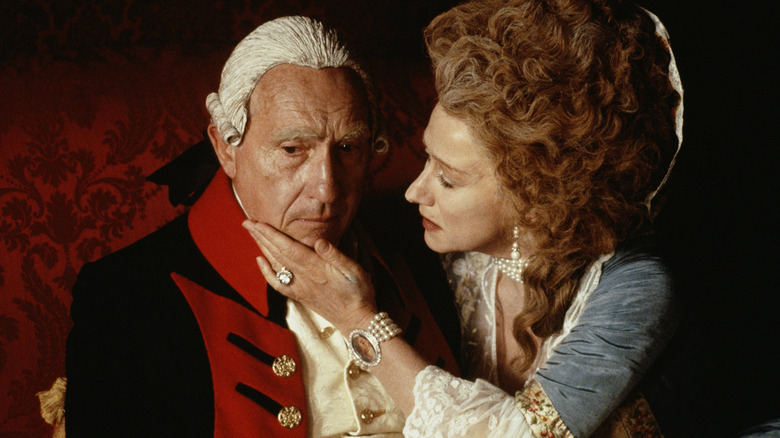 The Samuel Goldwyn Company/Channel Four Films
Mirren earned her first Oscar nomination for this nimbly entertaining royal comedy. Directed by Nicholas Hytner and adapted by Alan Bennett from his own play, "The Madness of King George" satirizes the hoops authority figures jump through to uphold the social hierarchy. Although it takes place in 18th century England, it could be about any world power (or world leader, especially from recent memory).
Nigel Hawthorne is a hoot as King George III, whose bouts with mental illness set off the Regency Crisis of 1788. At first, his eccentric behavior raises eyebrows in Parliament, which is already on edge after the American colonies have broken free. As his condition worsens, his son, the Prince of Wales (Rupert Everett), plots to overthrow him before the British Empire crumbles.
Mirren co-stars as his wife Queen Charlotte, who fights to protect her husband from those plotting against him. As with many of her characters, Mirren keeps up a brave public front while hinting at the emotional turmoil underneath. That's particularly true here, as she's tasked with playing a woman watching her husband slowly deteriorate. In addition to her Oscar bid, Mirren also competed at BAFTA and won the Best Actress prize at Cannes.
The Long Good Friday (1980)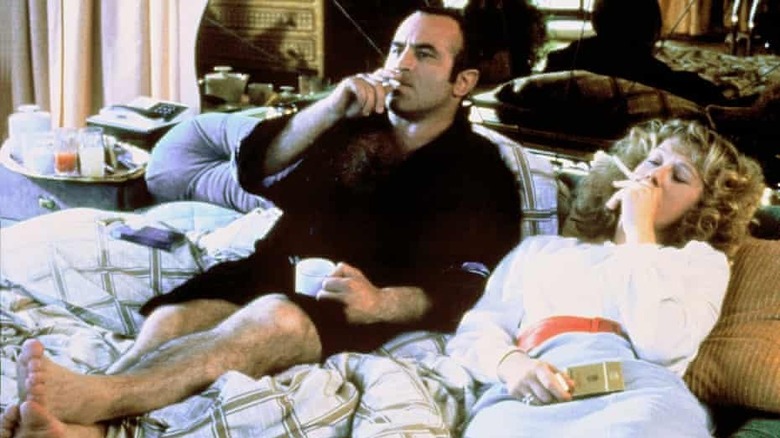 Handmade Films
Although John Mackenzie's potent crime drama is often remembered as a Bob Hoskins movie, Mirren is his equal in one of her key early performances. "The Long Good Friday" was a breakout hit for both actors, propelling them to stardom on both sides of the Atlantic, and it's only gained in stature since its release in 1980.
Hoskins stars as Harold Shand, a violent London gangster with aspirations of becoming a respectable businessman. His ambitions are thwarted on a long Easter weekend when a string of bombs explode at his establishments, killing many of his associates and threatening investments in his real estate ventures. Harold goes on a rampage trying to suss out his enemies, most famously hanging potential suspects upside down in a meat locker.
Mirren plays Harold's moll Victoria, a classy mistress who works overtime to keep her boyfriend's potential business partners from getting cold feet as the bombs keep going off. She encourages Harold in his quest for vengeance, like a modern Lady Macbeth. It's a coolly confident performance that matches the vitriolic rage of Hoskins scene for scene, one that set the tone for characters Mirren has played throughout her career.
Elizabeth I (2005)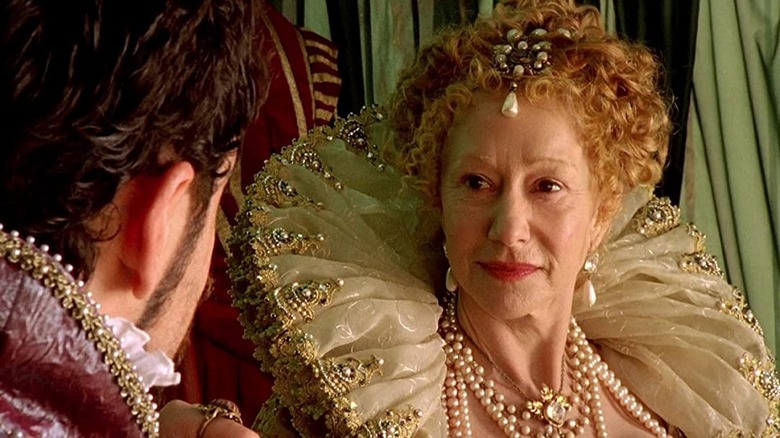 HBO Films/Channel 4 Television
At the same time she was racking up prizes for her performance as Queen Elizabeth II in "The Queen," Mirren was winning kudos on the TV side for playing Queen Elizabeth I. (Interestingly enough, she also won a Tony for reprising her role as the second Queen Elizabeth in "The Audience," written by "The Queen" scribe Peter Morgan.)
Directed by Tom Hooper, "Elizabeth I" is the kind of prestige limited series HBO churns out with regularity to rack up Emmy wins (and indeed, this one took home nine prizes). It charts the final years of the Queen's reign over the course of two episodes, focusing on her relationships with the Earl of Leicester (Jeremy Irons) and the Earl of Essex (Hugh Dancy) to paint a portrait of her public and private life.
Mirren ran the gauntlet of both film and TV awards throughout the year, winning Golden Globe and SAG prizes for both "The Queen" and "Elizabeth I," taking an Oscar for the former and an Emmy for the latter. To say that voters hailed the Queen is perhaps an understatement.
Gosford Park (2001)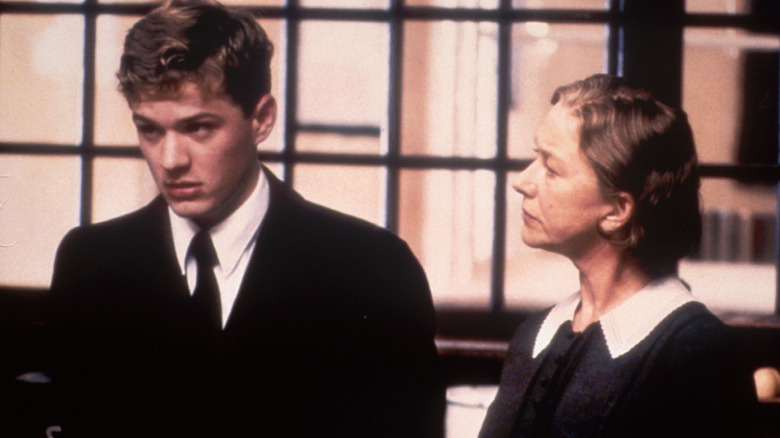 USA Films
Being the standout in a Robert Altman ensemble is no easy feat, yet Mirren manages to quietly steal the show in the director's Agatha Christie homage. Although on the surface "Gosford Park" seems like the kind of stately period piece she's become most associated with, it's actually a devilishly sly satire of the British class system, as well as an entertaining whodunnit.
Working from an Oscar-winning original screenplay by "Downton Abbey" creator Julian Fellowes, Altman assembles an all-star cast of British luminaries for a murder mystery set in the English countryside. The year is 1932, and Sir William McCordle (Michael Gambon) and his wife Sylvia (Kristen Scott Thomas) have invited some guests to a weekend shooting party. Everyone is a suspect when Sir William ends up dead, from the upstairs attendees (Bob Balaban, Charles Dance, Jeremy Northam, Ryan Phillippe, Maggie Smith) to the downstairs servants (Eileen Atkins, Alan Bates, Richard E. Grant, Derek Jacobi, Kelly Macdonald, Mirren, Clive Owen, Emily Watson).
It's Mirren who holds the biggest surprises up her sleeve as Mrs. Wilson, the estate's long-serving housekeeper. She holds the cards close until the very end, surprising us with an emotionally devastating reveal. Mirren came close to winning the Best Supporting Actress Oscar after victories at the New York Film Critics Circle, National Society of Film Critics, and SAG Awards, yet she lost to Jennifer Connelly for "A Beautiful Mind" (she perhaps split the vote with co-star Smith, who was nominated for her own wickedly funny performance).
The Cook, the Thief, His Wife, & Her Lover (1989)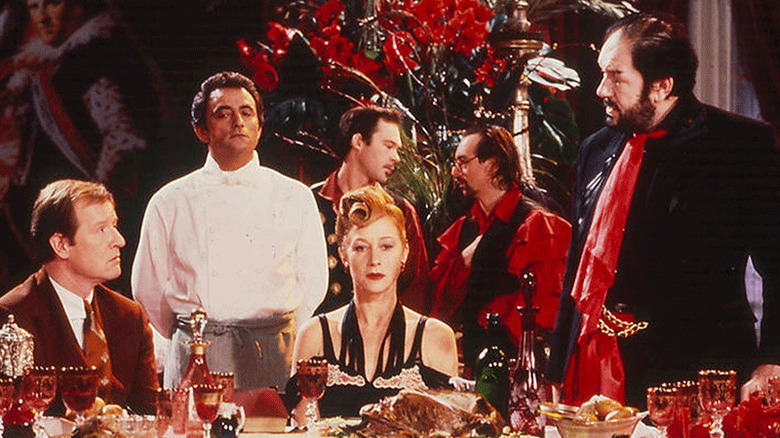 Miramax
Those who know Mirren best as the properly prim star of your grandmother's favorite British dramas may be shocked to see some of her earlier films. That's especially true of Peter Greenaway's boundary-pushing "The Cook, the Thief, His Wife, & Her Lover," which has been stirring up controversy since its release in 1989.
An allegory for Thatcher-era Britain, it stars Mirren as Georgina, whose marriage to the violent criminal Albert (Michael Gambon) has left her emotionally repressed. Her spirit awakens when she meets the bookish Michael (Alan Howard), who frequents the same lavish restaurant as she and her husband, night after night. Soon the two are making passionate love throughout the restaurant, but their affair ends in tragedy when Albert sics his goons on Michael, force-feeding him a book on the French Revolution page by page. But Georgina gets her revenge with the help of chef Richard (Richard Bohringer), who prepares a nauseating surprise for Albert.
The film caused a stir for its explicit sex, brutal violence, and aberrant content, earning a dreaded X rating when it made its way to the US. Reactions to it depend largely on the strength of one's stomach. Yet there's no denying the power of the filmmaking or the performances — especially Mirren, who displays a bravery here that few actors would dare match.
The Queen (2006)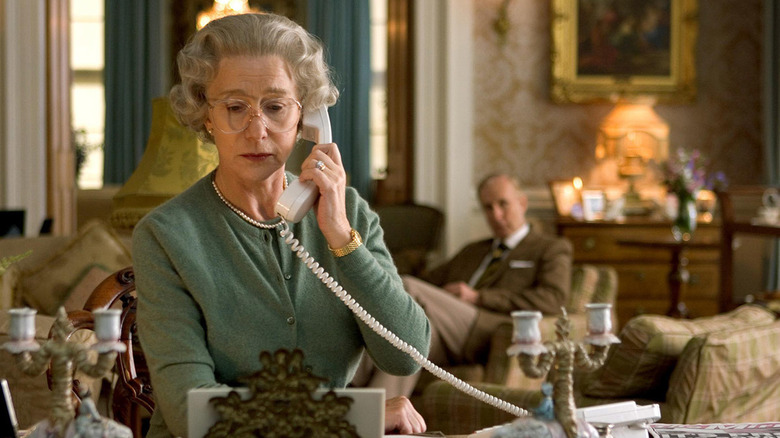 Pathe/Miramax/Granada Film Productions
Before he created "The Crown," Peter Morgan pulled the curtain back on Queen Elizabeth II with this muted drama that won Mirren her long-overdue first Oscar for Best Actress. Rather than recounting the entirety of Elizabeth's reign, Morgan and director Stephen Frears focus on a defining chapter in her life: the death of Diana, Princess of Wales.
Mirren is eerily uncanny as the British monarch, capturing not just a physical resemblance, but Elizabeth's steely resolve to keep her emotions out of the public view. This puts her in direct conflict with newly elected Prime Minister Tony Blair (an equally uncanny Michael Sheen), who urges her to make a public display of sympathy for Diana's sudden death in a car crash in 1997. The Queen sees no reason to do this, considering Diana had divorced Prince Charles (Alex Jennings) — and after all, it's a private matter. Yet Blair correctly gauges the public outrage as the royal family shuns "The People's Princess," sensing it could lead to their imminent destruction.
Mirren ran the table during awards season, taking home the Golden Globe, SAG, Critics Choice, and BAFTA prizes on her way to the Oscar. It's little wonder, considering how accurately she captures the essence of this both very public and very private figure.
Prime Suspect (1991-2006)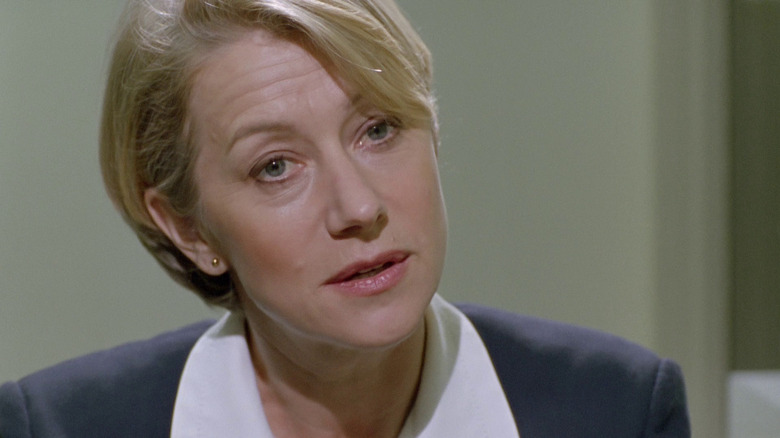 Granada Television/PBS
In a career that's spanned more than 50 years, Mirren has perhaps had no more beloved role than that of Detective Jane Tennison in "Prime Suspect." The long-running British crime series, which aired its first season in 1991 and its last in 2006, helped turn its star into a household name. She racked up six Emmy nominations in the process, winning twice (1996 and 2007).
Each installment finds Detective Tennison solving a grisly murder with no-nonsense precision. It also finds her fighting back against a male-dominated field filled with people who constantly underestimate her because of her gender — yet Detective Tennison always proves her doubters wrong, working her way up the ranks all the while.
It's a shame Detective Tennison retired, because Mirren is exceedingly watchable in the role, playing a woman whose frustrations with her job never keep her from doing it well. Although there may not be any future installments to look forward to, we can thankfully watch those we already have. Best of all, it's easily bingeable, with seven seasons consisting of 15 total episodes (all hail the British TV system!).