Avatar: The Way Of Water's Zoe Saldaña Notes The Similarities Between Gamora And Neytiri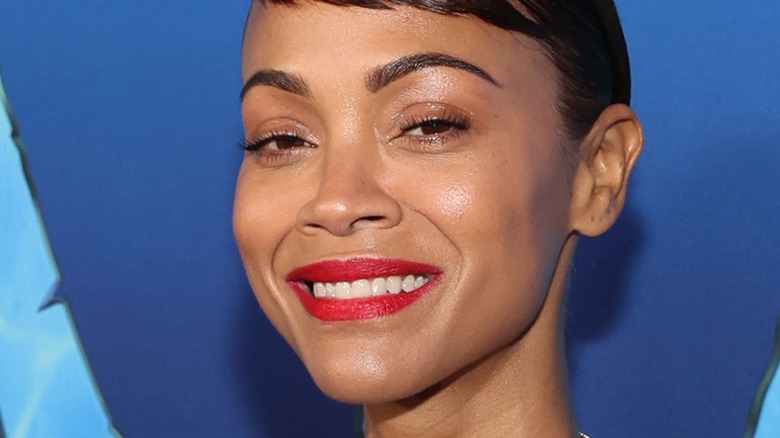 Jesse Grant/Getty Images
Back in November 2022, Zoe Saldaña praised James Cameron's "Avatar" franchise as being the highlight of her life and acting career — with it helping to pave the way for other big hits, like "Guardians of the Galaxy" and her now-legendary role as Gamora.  
"[Cameron] is responsible for giving me female heroes and then he gives me the opportunity for me to become a hero as well," Saldaña told Complex. "And in a career that I love so much, doing a craft that I so much respect and adore," she said. "So it's a gift that keeps on giving and I accept it with so much humility."
With "Avatar: The Way of Water" now in theaters, movie fans finally have the chance to get reacquainted with Saldaña's Neytiri following the franchise's 13-year hiatus. Saldaña will then show up again on the big screen in May 2023 as Gamora in "Guardians of the Galaxy Vol. 3." While playing two different characters in Hollywood's two biggest film universes — the MCU and "Avatar" — may seem like a tall task for Saldaña, there's actually a lot of similarities between them. 
Like Gamora, Neytiri's world has been rocked and she's 'forced into a life of just war'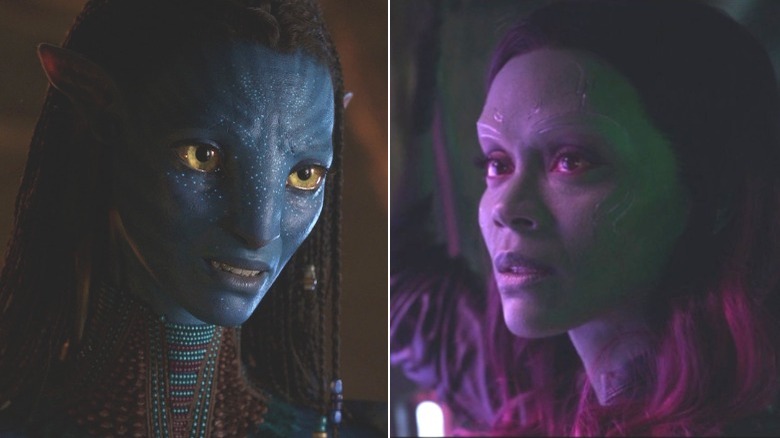 20th Century Studios/Disney/Marvel Studios
In "Avatar: The Way of Water," Zoe Saldaña plays Neytiri, who is still recovering from the loss and mass destruction of her people. This is almost identical to what Gamora had to go through as Thanos' adopted daughter following the slaughter of her parents — and half the population on their home planet, Zen-Whoberi — under the Mad Titan's orders. "Their worlds have been rocked, and they have been taken from their world," explained Saldaña in an interview with Screen Rant. 
In "The Way of Water," Neytiri and Sam Worthington's Jake Sully are waging a guerilla warfare campaign against Earth's Resources Development Administration (RDA) after they decide to return to Pandora for another unwelcomed crack at colonization. Much like Gamora, Neytiri is thrust into a life she was not expecting. 
"They're forced into a life of just war," Saldaña said of the characters. "And that's maybe not, that may have not been the natural course of life had they had the right to choose." While Gamora's past struggles came in a brief "Avengers: Infinity War" flashback, "Avatar" fans are being forced to watch multiple movies of Neytiri's way of life being torn down — at roughly 3 hours a piece. However, Saldaña now has a chance to do something that she never got to do with Gamora, and that's find her inner peace on-screen. 
'Neytiri finds herself in just chapter two of a very long journey,' Saldaña says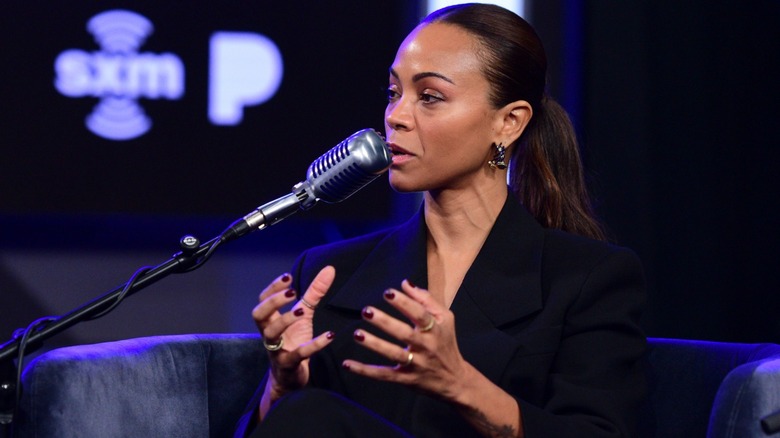 Vivien Killilea/Getty Images
When it comes to understanding Neytiri, one of the biggest similarities that the "Avatar" character has with Gamora is the fact that they're both trying to find their inner peace and happiness. Only this time, in "The Way of Water," Zoe Saldaña gets to actually explore that journey in great detail, rather than it being pigeonholed as a flashback. 
"Gamora is a lot more resolved with finding her inner peace," Saldaña told Screen Rant. "Whereas, Neytiri finds herself in just chapter two of a very long journey with just her anger and her inability to understand." 
When watching "Avatar: The Way of Water," it's easy to see just how much Neytiri has been affected by the events of the first "Avatar" and being a mother now. And just like Gamora and Peter Quill (Chris Pratt), her relationship with Jake Sully is a huge influence on her — both as a mom and warrior. 
"She's a force of instinct and gut," Saldaña said. "And that's why her and Jake are absolutely just essential to each other." The New Jersey native added: "He's essential to her, and she leans on him for so much, even while she's wrestling him on everything."