Zoe Saldaña Praises Avatar As A Highlight Of Her Life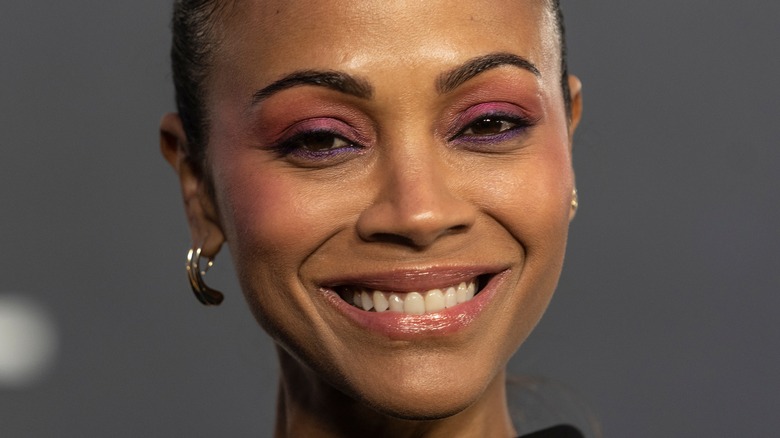 Lev Radin/Shutterstock
It's been a year of big surprises at the box office, given that it wasn't a Marvel film that took the top spot of the worldwide haul but a Maverick that made a return flight to theatres. As great as it was to see "Top Gun: Maverick" nab number one so far, we could be in for an even bigger shock when James Cameron opens the runway for a trip back to Pandora in "Avatar: The Way of Water." The long-anticipated sequel from the Oscar-winning film of 2009, "Avatar" sees Sam Worthington's Jake Sully on another adventure, this time traveling across the seas of the alien planet he helped liberate, with a family in tow and a brave warrior princess by his side.
Zoe Saldaña will be reprising her role again as Neytiri, who befriended the undercover human and fell in love in the last film. That was thirteen years ago. Since then, Saldaña has appeared in the second most successful blockbuster movie of all time after "Avatar," "Avengers: Endgame" (via Box Office Mojo). As for her alien counterpart, Neytiri has had two sons of her own and adopted two other children before we reunite with her when (we assume following the recent trailer) she's about to have her third. It's a tough job, but one that Saldaña has welcomed returning to, acknowledging not just the impact this franchise has had on her career but the legacy she has become a part of thanks to the world James Cameron has built.
Zoe Saldaña is following in the footsteps of her idols with Avatar: The Way of Water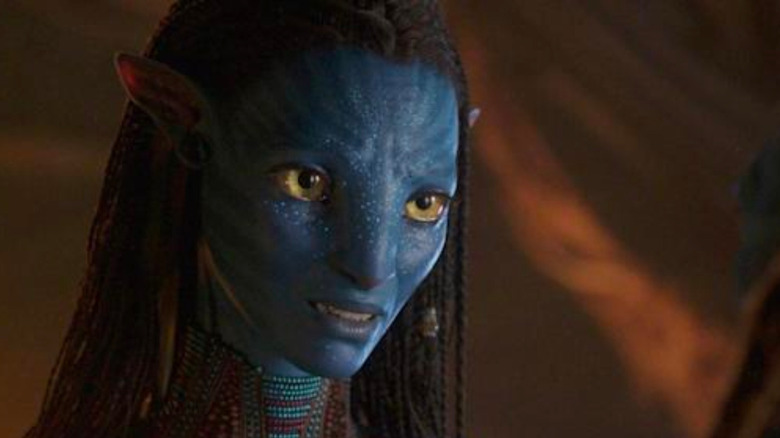 20th Century Studios
In an interview with Complex, the star who proved she was good with a bow and taming Mountain Banshees in the first "Avatar" quickly acknowledged just how vital the groundbreaking blockbuster was and the long line of screen legends she'd be joining. "It's definitely been a highlight in not just my career, but also in my life," she explained. "Because before I became a filmmaker, a storyteller, I was a kid once who watched idols and watched movies and characters that became my heroes. And Ellen Ripley (1986's Aliens) and Sarah Connor (1984's The Terminator) were my heroes growing up."
She would never have had the chance to join the ranks had it not been for the massive movie-making mind behind these iconic films and the one that lies ahead, James Cameron. Praising the filmmaker for giving the world these female heroes that massively impacted science fiction and film, Saldaña welcomed this rare gift. "I accept it with so much humility. I'm just always surprised that people want to see it because they've been deeply moved the way that I've been moved by his stories." You can see his next one when "Avatar: The Way of Water" finally arrives in theatres on December 18.