Brian Geraghty Describes What It Was Like Stepping Onto The Set Of 1923 - Exclusive Interview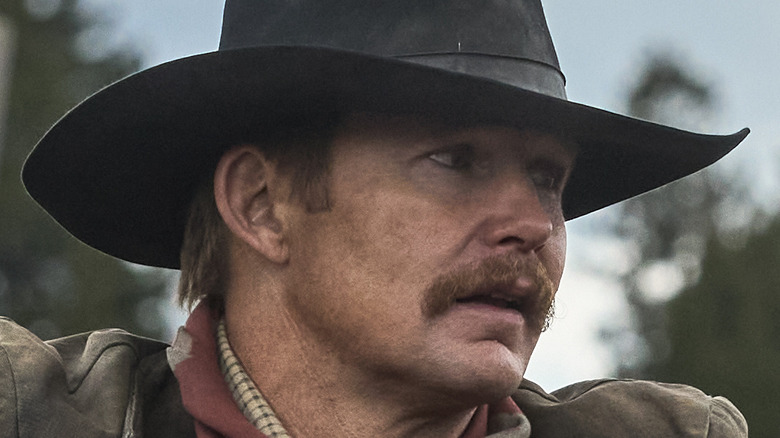 Emerson Miller/Paramount+
Brian Geraghty is no stranger to hit shows, having appeared on "Chicago P.D.," "Boardwalk Empire," and "True Blood," among others. Now, he's gearing up to have another hit on his hands by starring in the "Yellowstone" origin story "1923," which will premiere on December 18 on Paramount+.
The series, which has Harrison Ford and Helen Mirren at the helm, picks up 40 years after fellow "Yellowstone" spin-off "1883," when Jacob and Cara Dutton (Ford and Mirren) are in control of the ranch while Montana is experiencing an intense drought during Prohibition and the pre-Depression era. As ranch foreman Zane, Geraghty is fiercely loyal to the Dutton family and its continually rising empire.
During an exclusive interview with Looper, Geraghty discussed what it was like stepping onto the "1923" set for the first time, what it's like working with Ford, and why you shouldn't compare Zane to Rip Wheeler on "Yellowstone."
Geraghty was a little intimidated by Harrison Ford at first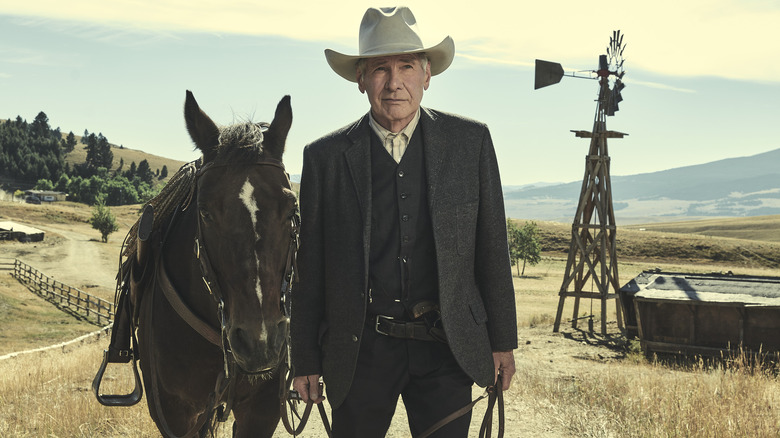 James Minchin III/Paramount+
You've been on popular shows like "Boardwalk Empire," "Chicago P.D.," and now "1923." What was it like stepping onto this set? What was the most impressive part?
The most impressive part was the scope and size of the production. It seemed massive, which is always intimidating. But you always have the best chance for success with the more thought and time and, unfortunately, money that they put in — and you could see that they were not holding back.
Then there were the scripts, which you already know are going to be great from Taylor Sheridan; and then you have the actors, starting with Harrison Ford and Helen Mirren, and there's also some of my other favorite actors that I love, from Jennifer [Ehle] to [James] Badge [Dale] to Timothy [Dalton] and Marley [Shelton]; and everything was set up to win. The cherry on top is you already have "Yellowstone," which this is the origin story of. The whole thing is pretty incredible.
Another series you were on was "The Fugitive," which has a connection to Harrison. What's it like working with a legend like him?
It's been great. Initially, it's intimidating and a little scary when you see him. Then, it becomes two actors trying to figure out their parts together and support each other. I think Harrison is aware of who he is, and not in a way where he tries to make you feel uncomfortable, which is great. He's very funny and dry, and he likes to have a good time at work. It's been really great. I look forward to working with him more.
Zane is 'more practical' than Rip Wheeler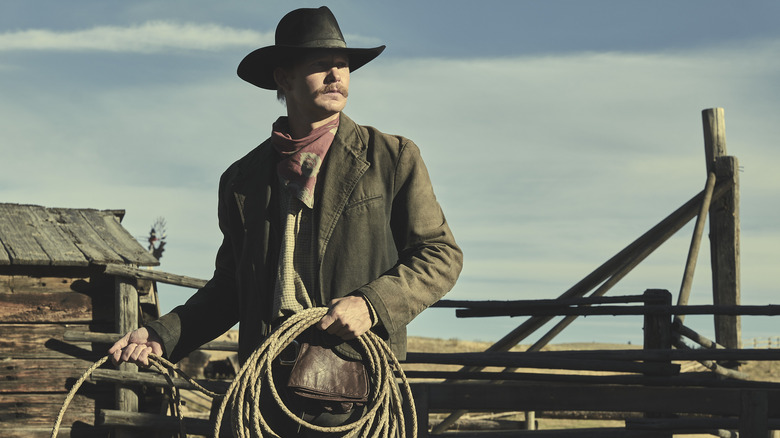 James Minchin III/Paramount+
Do you have any funny stories you can share from working with Harrison on the set?
Oh, yeah. We were riding horses, and they said, "Harrison, you're going too fast. Can you slow down?" And he says, "Sure, I'll slow down." I said, "Just walk your horse." They yelled, "action." He kicks his horse, [saying] "Yah!" Then we're taking off. That's one instance where the guy's 80 years old, and he's on a horse running down Main Street in Bozeman, Montana, in 1923, and I can't even keep up with him. It's crazy.
Your character, Zane, is described as "a fiercely loyal ranch foreman," which evokes comparisons to Rip Wheeler, played by Cole Houser on "Yellowstone." Do you see Zane and Rip as similar characters?
Their job titles are similar, but their actual temperament is a bit different. I think Zane is more practical. He's more of the straight, practical guy. I feel like Rip runs a little hotter, from what I've seen. They have the same jobs, they have [the] same objectives, but the way they approach it is slightly different.
What can we expect from Zane on "1923"?
You can expect to see Zane evolve a bit. You can really see where he's coming from by the 8th episode. You go home with Zane and see what his life is like outside of the ranch.
"1923" premieres on December 18 on Paramount+.
This interview has been edited for clarity.