Preacher Season 3 Casts Jonny Coyne As Allfather D'Aronique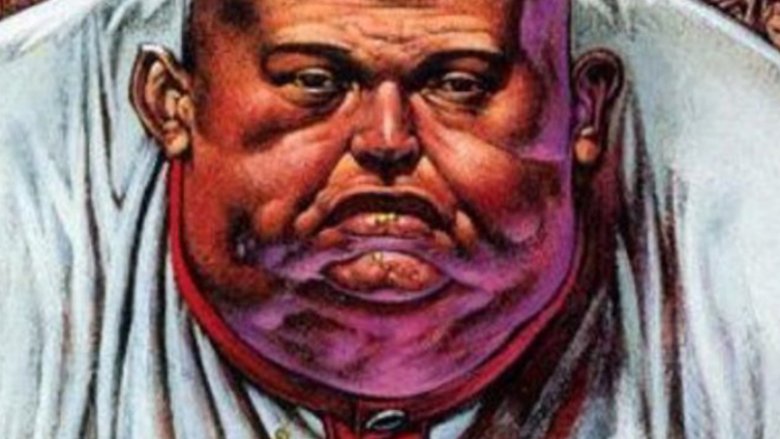 Vertigo
Jonny Coyne has joined the cast of Preacher for its upcoming third season, Deadline has confirmed. 
Coyne is set to play Allfather D'Aronique, described as "physically large, overweight, and a revolting slob, but also potentially the most powerful man in the world." The quiet power and sinister nature he keeps below the surface make him oddly intimidating, and he's been said to have "eyes that see more than he says."
In the Preacher comic series, created by writer Garth Ennis and artist Steve Dillon and published by DC Comics imprint Vertigo, Allfather D'Aronique is the leader of the Grail, the mysterious but formidable religious organization overseen by Herr Starr (played by Pip Torrens in the show). D'Aronique has disgusting eating habits and a shockingly wide belly, both used as a way to prove he's the embodiment of corruption, gluttony, and greed. 
Coyne will star alongside Dominic Cooper as Jesse Custer, Joseph Gilgun as Cassidy, Ruth Negga as Tulip O'Hare, Lucy Griffiths as Emily Woodrow, W. Earl Brown as Sheriff Hugo Root, Ian Colletti as Eugene "Arseface" Root, Tom Brooke as Fiore, Anatol Yusef as DeBlanc, Graham McTavish as The Saint of Killers, Noah Taylor as Adolf Hitler, and Julie Ann Emery as Lara Featherstone. Season two of Preacher introduced a handful of recurring stars, including Malcolm Barrett as Hoover, Ronald Guttman as Denis, Justin Prentice as Tyler, and Amy Hill as a Warden of Hell, Ms. Mannering. 
Here's the series synopsis for Preacher: "Fulfilling a promise to his deceased father, one-time outlaw Jesse Custer returns home to West Texas to take over his dad's church. Jesse's mission, however, becomes twisted when his body is overcome by a cryptic force that unleashes within him a highly unconventional power. Together with hell-raising ex-girlfriend Tulip and Irish vagabond Cassidy, the preacher-in-training embarks on a journey to find God in a world inhabited by holy, hellish, and everything-in-between characters. The darkly comedic Preacher is based on Garth Ennis and Steve Dillon's popular 1990s comic book franchise of the same name. Executive producers include Sam Catlin (Breaking Bad), and Seth Rogen and Evan Goldberg (Superbad, Neighbors)."
Jonny Coyne recently finished his season-long turn on NBC's The Blacklist, and will next appear in The Nun with Taissa Farming and Beirut with Jon Hamm and Rosamund Pike. 
No word yet on when Preacher will return to AMC for season three.