Preacher Season 2 Will Feature More 'Crazy' Characters From The Comic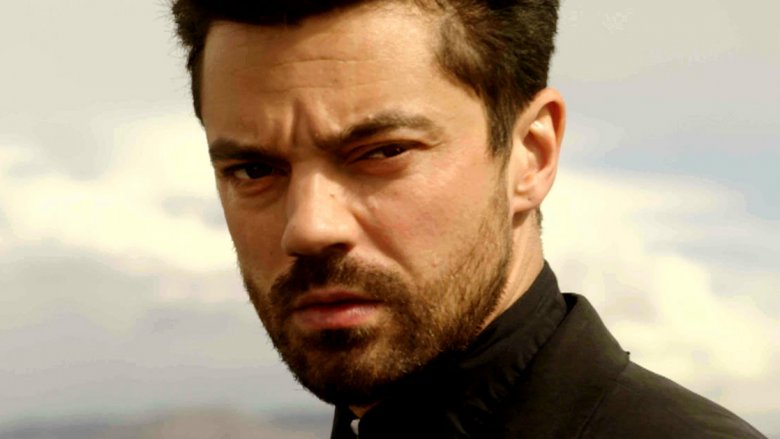 AMC
Things are about to get weird on AMC's Preacher.
While the first season introduced us to the super-powered title character (played by Dominic Cooper) along with Arseface (Ian Colletti), the angels Fiore (Tom Brooke) and DeBlanc (Anatol Yusef), and the junkie vampire Cassidy (Joe Gilgun), there are plenty of characters from the comic book that we haven't seen yet. But showrunner Sam Catlin told Entertainment Weekly that will change in season 2.
"We bring in all sorts of crazy characters from the comic that we had to really restrain ourselves from bringing in too early in season 1," Catlin said. "So that's been a lot of fun."
We already know about a few of them. Season 2 will formally introduce Herr Starr (Pip Torrens), who was briefly seen as the "man in white" during the first season. In the comics, he's a German killer who works for a mysterious organization called The Grail.
"He'll be a big part of the season and he'll be a big part of Jesse's life going forward," Catlin said of Starr. "That was a character that, as soon as I read the comic the first time, I loved him so much. Obviously, we couldn't wait to bring him out and give him his due."
We'll also meet two more characters associated with The Grail. "Julie Ann Emery (Better Call Saul) is playing Featherstone and Malcolm Barrett (Timeless) is playing agent Hoover," Catlin said.
But there will likely be more fan favorites on the way. Catlin teased: "That's all I'm comfortable about talking about for now!"
Preacher season 2 kicks off with a two-night event, beginning June 25, followed by the second episode on June 26. Check out the first trailer.