Preacher Season 2 Premiere Date, Set Photos Revealed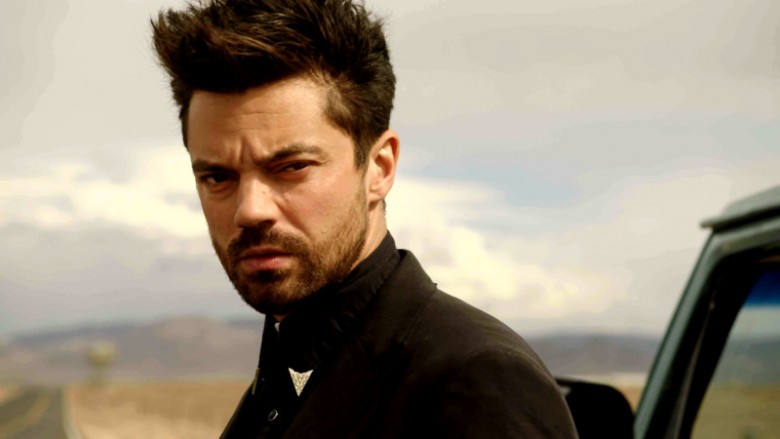 AMC
Preach it! AMC's DC Comics-adapted series Preacher is taking a second lap for Season 2, set to premiere on June 19.
Variety reports that the second season of the supernatural series will consist of 13 episodes, bringing back the badass West Texas preacher Jesse Custer (Dominic Cooper), his one-time-lover Tulip (Ruth Negga), and the off-kilter Irishman with a thirst for human blood, Cassidy (Joseph Gilgun). The trio will see themselves embarking on a wholly (and holy) new adventure: a road-trip to find god. Unfortunately for them, but fortunately for us viewers, things get messy in the middle and the gang gets trapped in "a battle between heaven and hell," with few ways to tell which side will reign supreme.
The Preacher excitement doesn't stop there, however, as AMC unveiled six Season 2 set photos. Fans can see Cooper and the series' executive producer Seth Rogen working behind the scenes; Negga as Tulip and Cooper as Jesse looking half-confused, half-impressed on the road; a high-intensity run-in with the law in two separate photos (one with Tulip and Jesse in what appears to be the aftermath of an explosion, the other with Cassidy nervously twirling an umbrella in front of the cops); Graham McTavish as The Cowboy; and a group picture of the trio cuddling in a hotel bed.
Take a look below, courtesy of AMC via Variety:
Preacher, based on the beloved Garth Ennis and Steve Dillon-created comic series, returns for its second season on June 19. Before then, fans of the show who are attending South by Southwest (SXSW) this weekend can attend the Preacher panel tomorrow, Saturday, March 11. For those at home, read up on some other comic books that sadly didn't get the screen treatment like Preacher did.