The MCU Heroes Most And Least Likely To Appear In Phase 5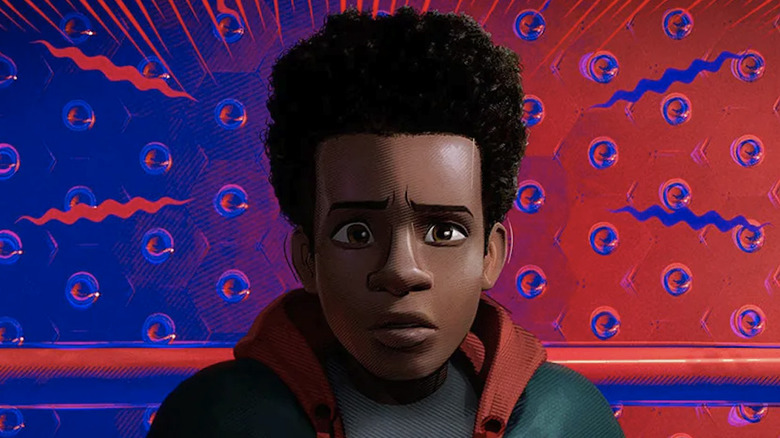 Sony Pictures Releasing
The Marvel Cinematic Universe's Phase 5 is set to launch in 2023 with "Ant-Man and the Wasp: Quantumania." After the San Diego Comic-Con 2022 panel, audiences now know the MCU has big things in store for the next few years. And, if we don't count the cameo from John Krasinski in "Doctor Strange in the Multiverse of Madness," the Fantastic Four will finally be making their MCU debut. And who knows, maybe the fourth time's the charm, as this will be the fourth live-action "Fantastic Four" film.
Other exciting announcements revealed Daredevil will be getting his own series fully associated with the MCU ("Daredevil: Born Again") and "Avengers: Secret Wars" is going to end Phase 6 in 2026. It's clear the MCU is showing no signs of slowing down.
That being said, with all of these updates, we can't help but wonder how many of the characters we've come to know and love will be sticking around for Phase 5. Audiences have already lost big hitters like Iron Man (Robert Downey Jr.), the first Captain America (Chris Evans), and Black Widow (Scarlett Johansson). So this begs the question, who else are we going to say goodbye to? And on the flip side, with some of these characters leaving, what new characters will be introduced to the MCU? Or maybe even re-introduced? Let's take a look at five characters who are most likely to appear in Phase 5 and five characters who most likely won't.
Most likely: Quasar
Marvel Comics
Wendell Vaughn was the first person to use the persona of the superhero Quasar. Initially, Wendell was a SHIELD agent who was selected by the cosmic being Eon to become the next Protector of the Universe — a role that was once filled by Captain Marvel. Quasar is one of the most powerful beings that could be introduced into the MCU's Phase 5, and his deep ties to quantum energy could be a perfect segue for his introduction.
Quasar has the ability to manipulate and create quantum energy, and this is something that we know will be featured in Phase 5 with "Ant-Man and the Wasp: Quantumania." Similarly, now that cosmic beings have been introduced more frequently in the MCU with films like "Eternals," it's the perfect time for the franchise to introduce another cosmic hero like Quasar. Especially since his story ties heavily with the adventures that take place during the Kang dynasty in the comics. 
The end of "Ms. Marvel" leaves a few hints behind that Quasar might be introduced in Phase 5. The season finale post-credit scene sees Captain Marvel (Brie Larson) appear in Kamala Khan's (Iman Vellani) room wearing a Quantum Band. These bands are gifts from Eon, given to the Protector of the Universe. Because of this, they're also the same bands that Quasar wears when he takes over the mantle. Perhaps he will be introduced in the "Captain Marvel" sequel "The Marvels." Besides, he's one of the only characters that could likely go toe-to-toe with Captain Marvel, so that would be fun to watch.
Least likely: Aaron Fischer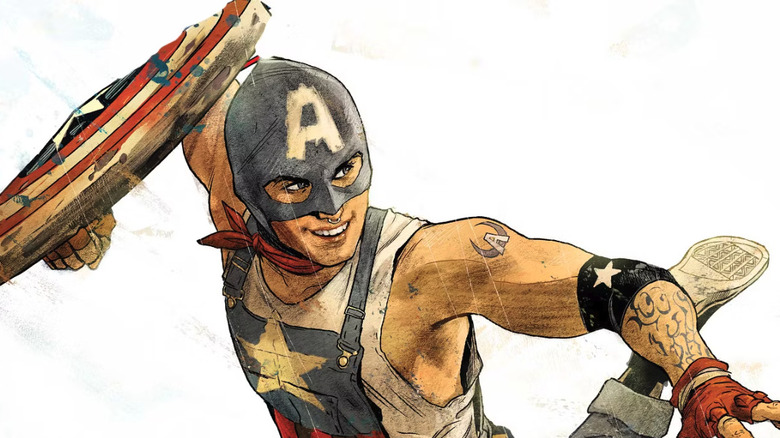 Marvel Comics
In 2021, Marvel Comics announced a new Captain America to celebrate the 80th anniversary of the character. His name is Aaron Fischer. Aaron is introduced in "The United States of Captain America" series. The story sees Steve Rogers, the original Cap, go on a road trip across America to find his stolen shield. He's accompanied by other characters who have taken up the mantle in the past, such as Sam Wilson and Bucky Barnes. Along the way, Steve discovers what being Captain America means, and that everyday people have been fighting in his name to defend their own local communities. This is where Aaron Fischer comes in.
Aaron is a gay teenager who fights for runaway teens; he finds their stories hit close to home as he's experienced similar hardships. According to Marvel, Aaron is described as "the Captain America of the Railways," because of his activist heroism. The character was written by Joshua Trujillo, who was excited to bring Aaron to the comic book world. In a press statement announcing the character (via The Mary Sue), Trujillo shared, "Aaron is inspired by heroes of the queer community: activists, leaders, and everyday folks pushing for a better life. He stands for the oppressed and the forgotten. I hope his debut story resonates with readers and helps inspire the next generation of heroes."
While Aaron's character is a massive turning point for LGBTQ+ representation in Marvel, it's unlikely he'll be introduced in Phase 5. Sam Wilson (Anthony Mackie) has just become Captain America following his Disney+ miniseries, "The Falcon and the Winter Soldier." Therefore, it's unlikely Marvel is already planning on introducing his replacement. 
Most likely: Ghost Rider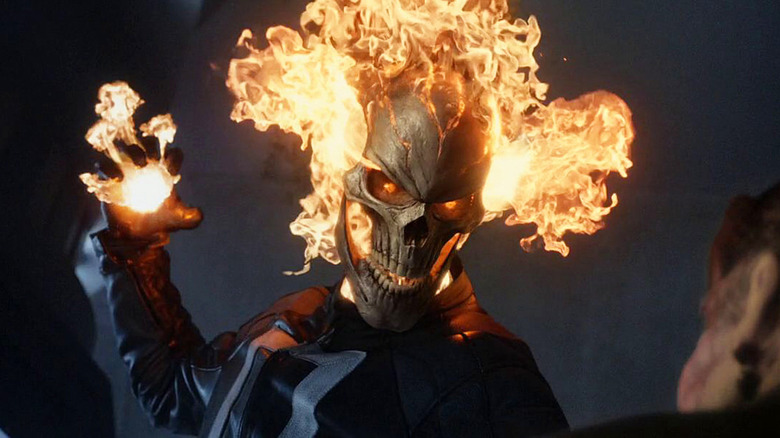 ABC
"Agents of SHIELD" Season 4 introduced audiences to Robbie Reyes, aka Ghost Rider, in 2016. Before the character's debut, series creator Joss Whedon shared with EW, "With 'Doctor Strange' coming out this year, the Marvel Universe is moving into new waters. We felt that this was obviously a great character that we'd love to have on our show that we feel fits with that shift." Ghost Rider brought new life into the series and remains a highlight of that truly underrated show.
Although Robbie is currently in hell (again), this shouldn't stop the MCU from bringing him back for Phase 5. It's the multiverse after all. His version of Ghost Rider was a fan favorite, with actor Gabriel Luna open to the possibility of returning. He told ComicBook.com if the story was a good fit, and he felt it was right for the character to return, then he would do it. Plus, the MCU has learned that bringing back successful characters from their TV shows has worked. "Spider-Man: No Way Home" saw Matt Murdock (Charlie Cox) return after being gone for three years. His MCU-slash-Netflix series "Daredevil," while critically acclaimed, was unfortunately canceled. However, after his guest appearance in "No Way Home," Cox had a role in "She-Hulk" and will appear in the highly-anticipated "Daredevil: Born Again."
So you see, miracles do happen. And now's the perfect time to bring Ghost Rider back. Marvel TV shows are more integral to the MCU now than ever, so let's do it.
Least likely: Moondragon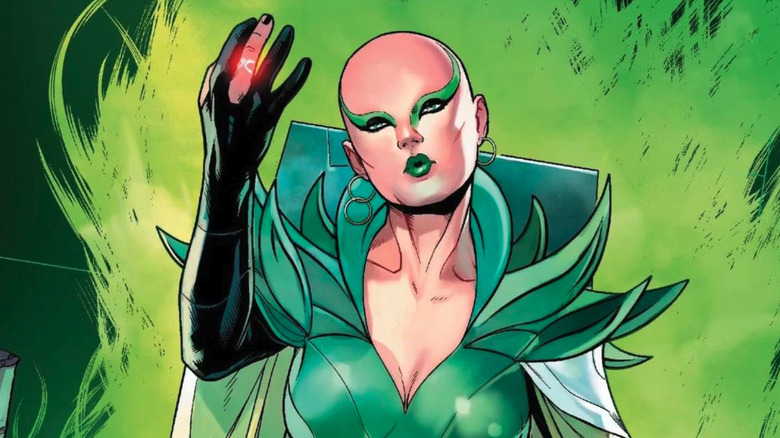 Marvel Comics
Moondragon is a character whose time in the MCU may have already passed. She's so deeply tied to Thanos and Drax that we fear audiences may never see her character on the big screen — let alone in Phase 5. 
In the comics, Moondragon is a powerful telepath who was raised on the planet Titan, home to Thanos. She is the daughter of Drax the Destroyer, and the two have a difficult relationship as she's been known to use her powers against him and control his free will. However, the one thing they both have in common is their hatred for Thanos, as they've both been trained to fight against The Mad Titan. 
Due to her connection with both Thanos and Drax, audiences have been curious to know if Dax's long-lost daughter would make an appearance in the "Guardians of the Galaxy" films. However, since director James Gunn teased on his Instagram (via CBR) that someone is going to die in "Guardians of the Galaxy 3," audiences are convinced this will be the final story for the Guardians — especially after the first trailer for "Guardians of the Galaxy Vol. 3" dropped with an underlying tone of sadness and finality. So we can't really see Marvel introducing Moondragon into the MCU now, as this is likely to be the last MCU story for Drax. Dave Bautista plans on leaving the MCU after "Guardians of the Galaxy 3." Some fans argue Drax dies in the film.
Most likely: Iron Lad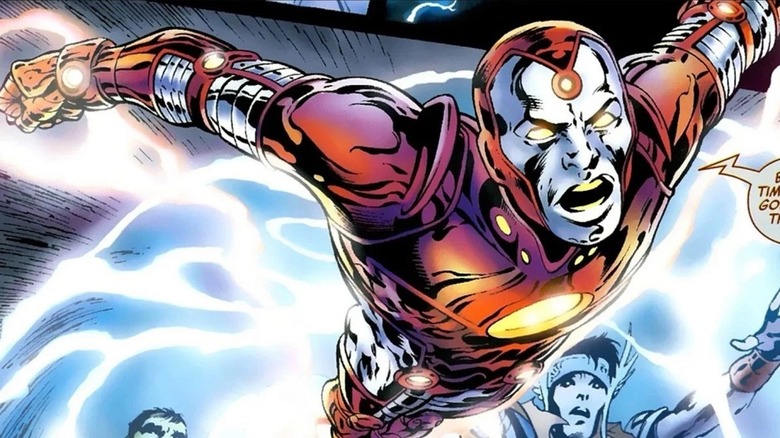 Marvel Comics
Iron Lad is one of the various identities of Kang the Conqueror, so it makes sense he'd be introduced in Phase 5. In the comics, Iron Lad is part of the Young Avengers and has an interesting back story that's tied to Scott Lang's daughter Cassie Lang — a character who's also set to appear in Phase 5.
Nathaniel Richards is a genius who is saved from his bullies by his time-traveling future variant, Kang the Conqueror. Kang gifts Nathaniel with armor and tells him to use his powers to kill his bullies. Horrified by his future self, Nathaniel enlists the help of the Avengers to thwart Kang's murderous intent. He begins recruiting team members closer to his age to help his cause, thus creating the Young Avengers. Two standout members are Kate Bishop (Hailee Steinfeld), who was recently introduced in the Disney+ miniseries "Hawkeye," and Cassie Lang (Kathryn Newton). Cassie and Nathaniel begin a relationship, and Nathaniel decides to take on the superhero persona of Iron Lad.
Eventually, Iron Lad masters the ability to travel through time as well, and he uses his powers to take down Kang the Conqueror. So, it's only fitting the MCU would introduce such an important character to Kang's storyline for Phase 5. Don't you think?
Least likely: Silver Surfer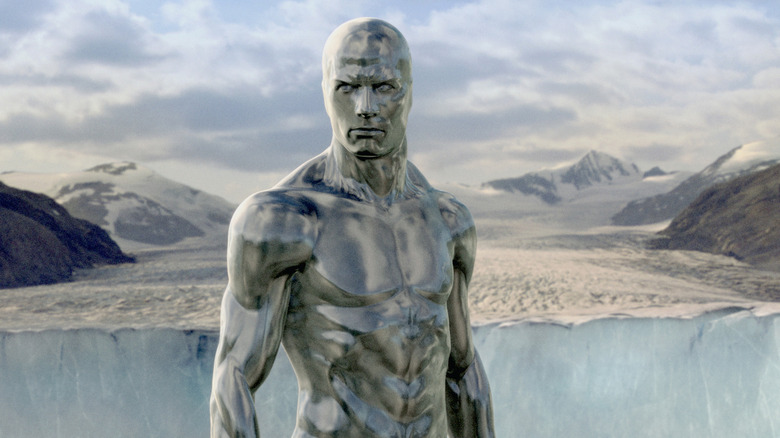 20th Century Fox
The Silver Surfer has been on the big screen before in 2007's "Fantastic Four: Rise of the Silver Surfer." In the film, he is voiced by Laurence Fishburne and is an unwilling participant in the destruction of Earth at the hands of Galactus, the Devourer of Worlds. Unfortunately, the film bombed with a Rotten Tomatoes score of 37%. The audience score ranked only slightly higher at 51%.
The Silver Surfer was originally planned to get a spinoff, with the script being written by "Babylon 5" series creator J. Michael Straczynski. However, after the disappointing ratings from "Rise of the Silver Surfer," the film was scrapped, and his character hasn't been seen since (via Comic Book Movie).
After Disney acquired 21st Century Fox, Marvel Studios regained the "Fantastic Four" film rights, raising the question of when would audiences see them next. Fans likely got excited upon seeing John Krasinski's version of Mr. Fantastic in "Doctor Strange in the Multiverse of Madness," prompting some to believe the Fantastic Four were coming in Phase 5. Unfortunately, that's not the case. Marvel's "Fantastic Four" reboot releases during Phase 6 in February 2025. Since the Silver Surfer is an archenemy of their team, don't expect to see him arrive before they do.
Plus, the Silver Surfer is tied to Galactus, one of the most powerful Marvel villains. It makes sense that Phase 5 wouldn't introduce someone like Galactus when the clear big bad for this Phase is set to be Kang the Conqueror.
Most likely: Deadpool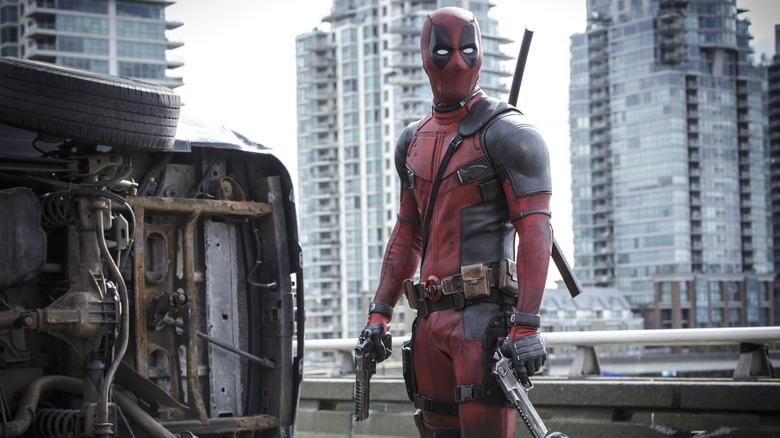 20th Century Fox
Alongside the Fantastic Four, Marvel also acquired rights to use the X-Men from Disney's acquisition of 21st Century Fox in 2019. The MCU then slowly trickled in mutants throughout Phase 4. For example, "Ms. Marvel" revealed that Kamala Khan is a mutant, while "Black Panther: Wakanda Forever" introduced one of Marvel's most famous and powerful mutants, Namor (Tenoch Huerta). With these introductions, it's only a matter of time before the X-Men arrive.
It's likely that once the X-Men are inevitably introduced, most will be played by different actors from the original "X-Men" films. One character who won't be rebooted is Deadpool. The Merc with a Mouth has become an extremely popular character thanks to Ryan Reynolds' portrayal in his films. He's one of two Marvel characters we've seen so far that can break the fourth wall (the other being She-Hulk), and he's seemingly aware of the various real-world superhero properties — as he can be seen referencing them in "Deadpool." 
Although "Deadpool 3" (which also features Hugh Jackman's return as Wolverine) has a confirmed release date for Phase 6, the MCU still has the opportunity to give this character an appearance in Phase 5. This would be a great way to excite fans for his future movie in the MCU. We all know how powerful a cameo can be when it comes to hyping up Marvel properties. 
Least likely: The Inhumans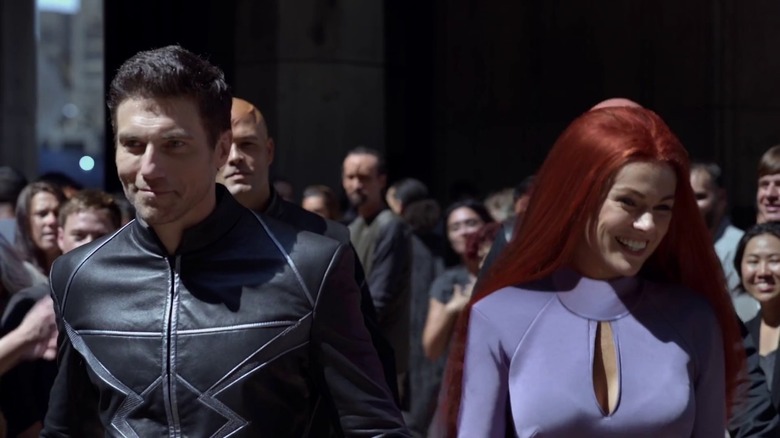 ABC
In 2017, Marvel's ABC TV series "Inhumans" made its debut after experiencing some bumps in the road. Initially, "Inhumans" was meant to be a Phase 3 film, but those plans changed. Eventually, it was decided that the "Inhumans" would become a television series as Marvel reworked their Phase 3 slate. And at the time, Inhumans had been introduced in the TV show "Agents of SHIELD," so this didn't seem so far-fetched. However, the "Inhumans" TV series that Marvel released ended up having nothing to do with the story being told in "Agents of SHIELD" — which was an interesting choice, to say the least.
"Inhumans" critically bombed with a critics score of 11% on Rotten Tomatoes and a 43% audience score. Following such a negative reaction to the show, the Inhumans have quietly faded from the MCU, with only the character Black Bolt (Anson Mount) reprising his role in "Doctor Strange in the Multiverse of Madness." Although, his character was from an alternate universe.
Now that the MCU has access to another team of super-powered beings that hid from the rest of the world (the X-Men), it's doubtful that the Inhumans will make another appearance in the MCU anytime soon — let alone in Phase 5.
Most likely: Miles Morales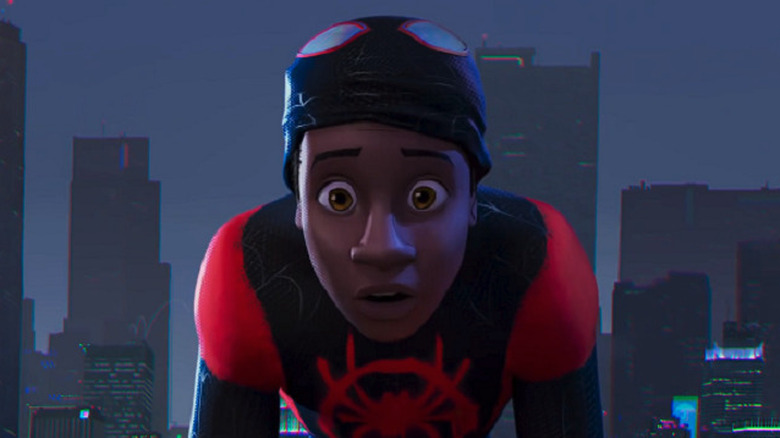 Sony Pictures Releasing
A lot of "Spider-Man" films have been released through the years, but luckily, 2021's "Spider-Man: No Way Home" gave audiences what we've all been waiting for — a film that features all three live-action Spider-Man actors: Tom Holland, Andrew Garfield, and Tobey Maguire. However, one Spider-Man was notably missing: Miles Morales. Miles appeared in the critically-acclaimed animated movie "Spider-Man: Into the Spider-Verse," but has yet to make his live-action debut.
Miles' character was hinted at existing in Tom Holland's Spider-Man universe. In "Spider-Man: Homecoming," Holland interacts with Aaron Davis (Donald Glover). While the scene is short, eagle-eyed fans know that Aaron Davis is Miles' uncle. This small moment confirms that Miles does exist somewhere in the MCU.
In fact, Holland revealed to GQ that he hopes his Spider-Man is able to share the screen with Miles, arguing that he'd like his character to be a mentor for Miles before turning the mantle of Spider-Man over to him. Phase 5 would be the perfect time for Holland's suggestion to come to light, especially with most of the original MCU heroes having passed the baton (so to speak) to other characters for the next phase. Examples include Hawkeye and Kate Bishop, Black Widow and Yelena Belova, and Hulk and She-Hulk. Phase 5 is all about changes, so perhaps it's time for Spider-Man to do the same.
Least likely: Sentry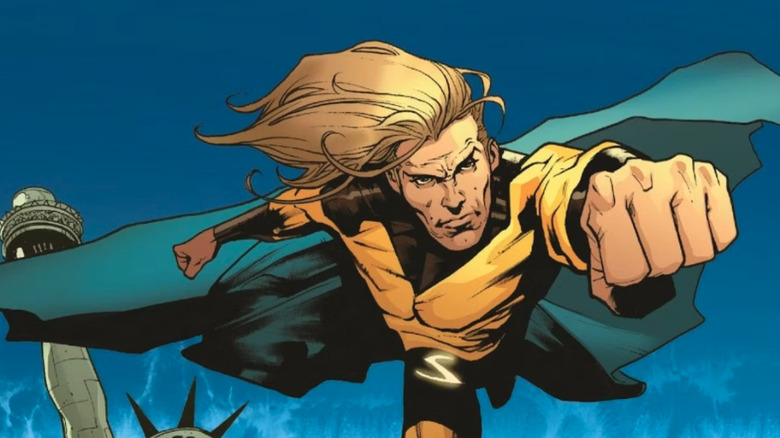 Marvel Comics
The MCU has some heavy hitters in its lineup, but Marvel has notoriously had difficulty using these mighty heroes in its ensemble films. Vision (Paul Bettany) is one of the most powerful characters the MCU brought from the comics. However, he was incredibly underused in "Avengers: Infinity War." Instead of showcasing his full power, Vision was pushed to the sidelines as being too damaged to do anything significant.
So, when it comes to adding another crazy powerful character, and one without ties to Kang the Conqueror, we doubt Phase 5 is going to make that leap. That's potentially bad news for anyone hoping Robert Reynolds, aka Sentry, is about to make his MCU debut.
Robert is a middle-aged man who deals with addiction. However, his superhero persona, Sentry, is a nearly limitless being with the power of a thousand suns. Unfortunately for him, he's also his own nemesis, Void, a dark entity that unleashes a sinister side of his powers. Because of this split, Sentry is known for causing cataclysmic events that can kill thousands.
Although a Void has been introduced in the MCU through the TV series "Loki," that adaptation of Void is different from Sentry. For one, the Void is a place in "Loki," a purgatory that seemingly can't be destroyed. It's a far cry from the Void connected to Sentry. However, it's not uncommon for the MCU to change a character's history to fit their universe. What's most interesting about this connection is when Void kills Loki in the comics, Loki returns as a child, much like the Kid Loki we saw in the show. However, because there would be a lot of work required to solidify the connection, we doubt Marvel will bring Robert Reynolds into Phase 5.