The Whale's Sadie Sink Was An Emotional Wreck On The Last Day Of Filming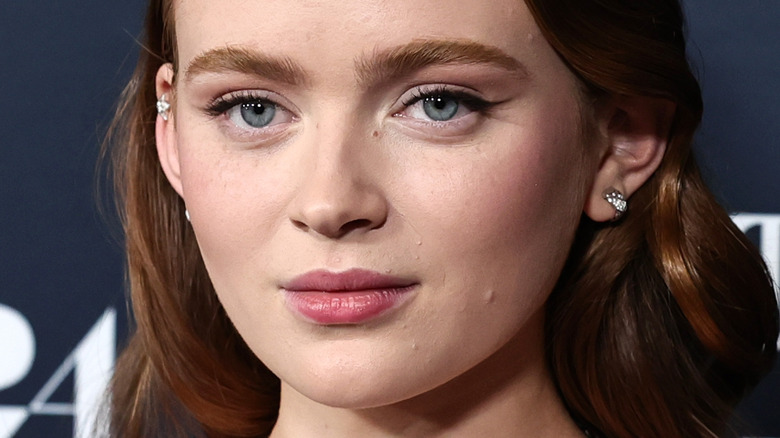 Jamie Mccarthy/Getty Images
"The Whale" has a top-notch audience score on Rotten Tomatoes, and certain outlets agree the A24 film proves "Stranger Things" star Sadie Sink is a force to be reckoned with each time she enters the frame (via IMDb). Despite probably making it look easy to some, her terrific take on the character of Ellie in the Darren Aronofoky-directed film was no easy endeavor, and the actress claims she had a rough time after she finished shooting. 
"The Whale" has been one of the most talked about flicks of the year, with many celebrating the well-crafted drama as a major comeback for its star Brendan Fraser. The movie received a standing ovation when it debuted at the Venice Film Festival, bringing its star to tears (via IndieWire). Word of mouth apparently spread afterward as "The Whale" has even had a record-breaking turn at the box office. In addition, despite saying he will not attend the ceremony (via The Guardian), Fraser has earned a Golden Globe nomination for his renowned portrayal of the film's lead character, Charlie, an overweight online teacher who is attempting to reconnect with his teenage daughter.
While Fraser does seem to be getting the bulk of the attention, Sink definitely made her presence known on the production. Sink received praise from Fraser and Aranofsky, with the duo confirming what fans suspected about the "Stranger Things" star's talent. But earning that kind of recognition and pulling off such a complex role proved to be quite a challenge and took a toll on the actress near the end of production. 
Leaving Ellie behind was not easy for Sadie Sink
In "The Whale," Sadie Sink's character Ellie hasn't seen her dad since she was 8 years old, and from the looks of the official trailer (via YouTube), it appears their reunion ends up being an emotional rollercoaster. Sink's character displays a lot of tension, angst, and despair in just the preview alone, and some might agree her overall performance in "The Whale" seems like it could very well be a contender for her all-time career best.
When it was time to say goodbye to everything she had experienced with Ellie, the actress made it known that it wasn't easy to let go. "I was really, really emotional on the last day of filming," Sink told ExtraTV.com in an interview. "When I went back to my hotel, like, I was just so sad to leave this role ... I just so deeply empathize with every single character and with just the whole story." But despite being a demanding part and being tough to say goodbye to "The Whale," her character, and everyone else on the project after putting so much into it, Brendan Fraser believes Sink performed like a next-level champion every day on set. "The fluidity that Sadie plays, this beautiful controlled rage, was breathtaking to me."
Sink's exemplary efforts that resulted in a heart wrenching departure were all well worth it according to the film's star, and it seems safe to presume his performance won't be the only one heavily revered by those watching "The Whale."