Andrea Savage Made Fun Of Sylvester Stallone After Their First Tulsa King Read-Through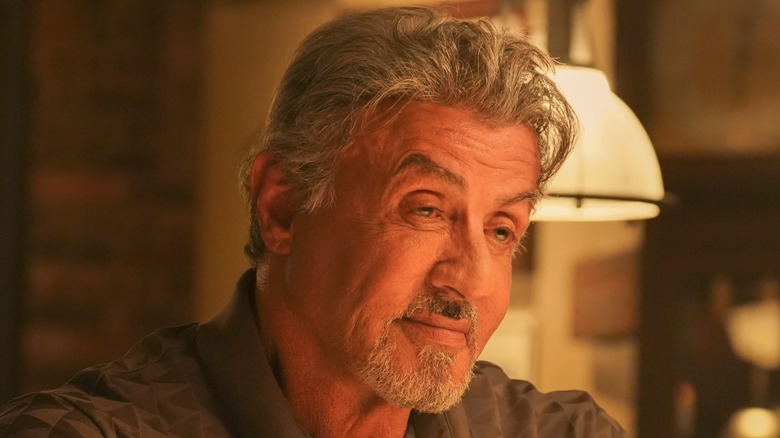 Brian Douglas/Paramount+
Put a comedian and an action hero together in a drama series, and you think they'll have chemistry? In the new hit show "Tulsa King," they apparently do. Comedian Andrea Savage stars opposite screen legend Sylvester Stallone as his very complicated love interest on "Tulsa King." Stallone plays Dwight Manfredi, a mob boss who, upon being released from prison, is shipped off by his superiors in organized crime to Tulsa, Oklahoma. Savage stars as ATF agent Stacy Beale who finds herself emotionally entangled with Manfredi against her own better judgment.
In an appearance on "The Drew Barrymore Show," Savage described what it was like working with such an iconic actor as Sylvester Stallone, and she said that she found him surprisingly relatable. "I'll be honest, I did not know what to expect," Savage explained. "And I literally was like, 'What's going to happen?' I'm in the middle of Oklahoma, I'm looking across at Sylvester Stallone, and I was like, 'Oh, he's just like one of us. He likes to be part of the group.'" She went on to explain that she was excited to do drama and that Stallone loves comedy and so the two were able to find common ground.
Despite being intimidated at first, Savage found herself to become more at ease with Stallone over time, to the point of being able to tease him on set.
Sylvester Stallone can't speak without moving his hands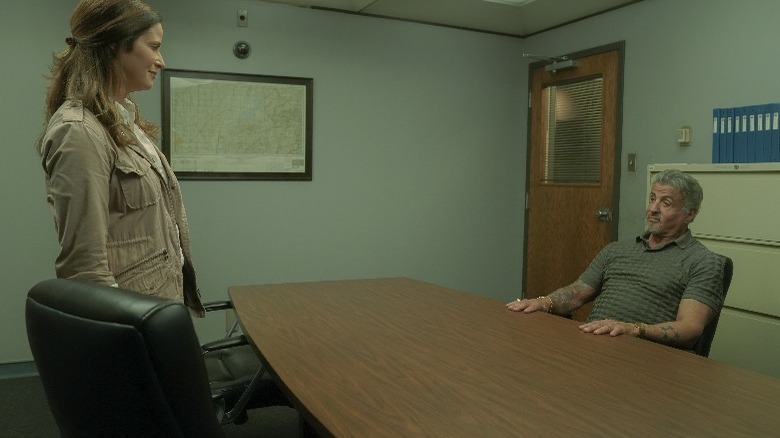 Brian Douglas/Paramount+
In an appearance on "CBS Mornings," Andrea Savage talked a little bit about her first experiences working with Stallone and how she took a chance by making fun of the legendary actor. "We did a little read-through of the lines and he did a little 'If I'm more of a gentleman I wouldn't ask you that' or whatever ... But then I was like 'Oh, are you a guy who just talks with his hands a lot or something.' And I kind of made fun of him a little bit, and it could have gone either way and then he laughed, and then we were kind of off to the races." She went on to explain that she felt the fact that both she and Stallone have written and created content in addition to acting was a common ground for the two to form a working relationship.
Stallone sure does seem to take the good-natured ribbing in stride, as evidenced by another instance of Savage making fun of him. In the aforementioned interview on "The Drew Barrymore Show," Savage explained that she created a nickname for him on set, calling him "Bam-Bam" because of his tendency to sit down with all his weight at once and make a loud noise while doing so. It would seem that Savage's teasing became the basis for the pair's on-screen chemistry, and "Tulsa King" benefits because of it.