How Death On The Nile Provided Inspiration For Glass Onion: A Knives Out Mystery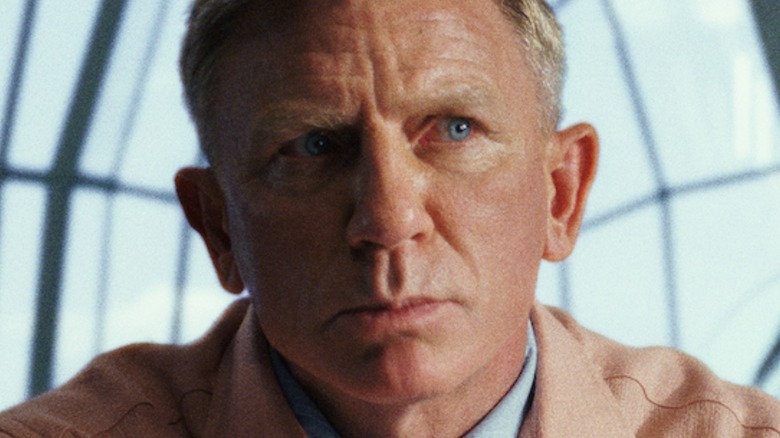 Netflix
As most of us know by now, "Knives Out" and Netflix's "Glass Onion: A Knives Out Mystery" are films that are heavily influenced by Agatha Christie and her legendary detective novels. But what about the movies' scores?
According to composer Nathan Johnson, it was actually an Agatha Christie adaptation — the 1978 John Guillermin classic "Death on the Nile" – that reportedly helped shape the music and story in Rian Johnson's "Knives Out" follow-up. And the way it did is pretty incredible. "Our touchpoint was Nino Rota," Johnson explained in a new interview with ScreenRant, referencing the Italian "Death on the Nile" composer. "Thank God that [director Rian Johnson] loves melodic, lyrical scores," he said.
Johnson — who also worked on Rian's 2012 sci-fi hit "Looper" as a music producer and composer — says such scores have "fallen out of vogue in the last ten, twenty years," but they're ultimately the ones that many people grew up loving and listening to. And this is exactly what both Johnsons had in mind when incorporating "Death on the Nile"-like melodies into "Glass Onion."
The music from Death on the Nile helped create a 'lush Old World romanticism' in Glass Onion
Using similar melodies and a lyrical score reminiscent of John Guillermin's 1978 murder mystery, composer Nathan Johnson helped shape the world of "Glass Onion: A Knives Out Mystery" through distinct character themes/songs, which were different for each actor. "I'm such a sucker for melody," Johnson told ScreenRant, "so I feel also really, really grateful that we are getting to be bold in our choices with this world, and getting to lean into that lush Old World romanticism."
For Johnson, the best part of the "Glass Onion" score-making process was getting to make melodies and themes for each different character. "That's such a fun thing," he said. "When I'm scoring a film, often I'll write lyrics, because I feel like if a melody is singable — if I can sing it in lyrics ... it's sort of my process. [For] a lot of my film scores, the main themes have lyrics that I use as a writing exercise as I'm developing them." One thing that Johnson especially got a kick out of was creating the "Glass Onion" theme song, which has some top-secret lyrics to it.
"I will never tell you that!" Johnson said about those secret lyrics to ScreenRant. "But specifically [with] Miles' theme — I won't tell you what the lyrics are, but I kind of cracked his theme by writing as him singing to the Mona Lisa, and how he places that, in a way, above people."