Glass Onion: A Knives Out Mystery Picked The Perfect Beatles Song For Its Title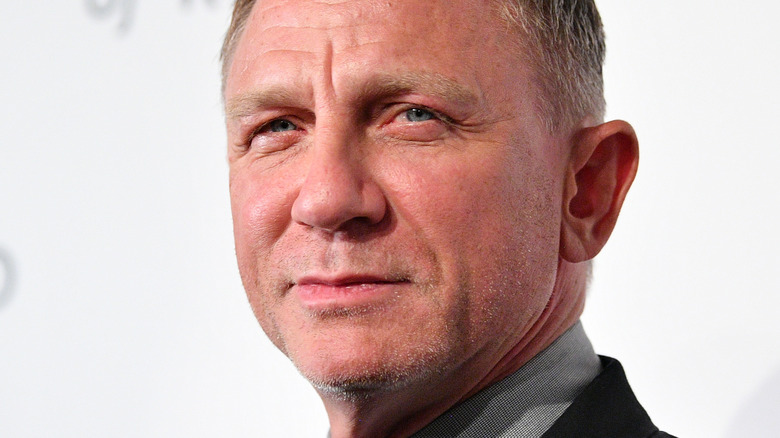 Dia Dipasupil/Getty Images
"Glass Onion: A Knives Out Mystery" is shaping up to be one of the biggest movies of this year's holiday season. The Netflix original film is a sequel to the 2019 smash hit, "Knives Out," and will see Daniel Craig reprise his role as suave Southern detective Benoit Blanc. Behind the camera, "Knives Out" writer-director Rian Johnson has also returned to helm "Glass Onion," which has already received largely rave reviews following its September premiere at the Toronto International Film Festival (via Rotten Tomatoes).
Notably, Johnson and Craig aren't the only things that "Glass Onion" has in common with "Knives Out," which was famously named after a 2001 song by Radiohead. Indeed, while the song itself never plays in "Knives Out," Johnson did confirm in 2019 (via The Los Angeles Times) that it was the Radiohead track in question that inspired the film's title. "The movie has nothing to do with the song. I'm just a massive Radiohead fan, and I love that album and I love that song," Johnson said. "That turn of phrase has always stuck in my head. And it just seemed like a great title for a murder mystery."
Like its 2019 predecessor, "Glass Onion" got its title from a famous song as well. Based solely on what is shown in the first trailer for "Glass Onion: A Knives Out Mystery," too, it seems safe to say that Johnson made the perfect choice when he decided which song would serve as the inspiration for the "Knives Out" sequel's title.
Glass Onion is the title of an intentionally confusing Beatles song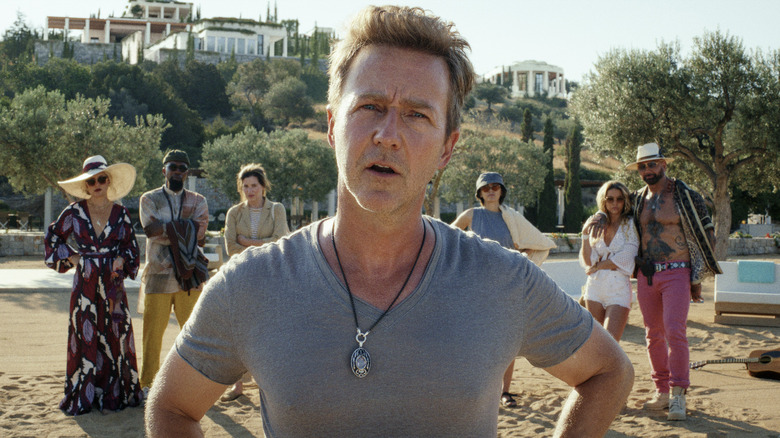 Netflix
Unlike "Knives Out," which took its title from a Radiohead track, "Glass Onion: A Knives Out Mystery" stole the first half of its title from a song by The Beatles. The song, "Glass Onion," appears as the third track on the iconic rock band's acclaimed 1968 album, "The White Album." Clocking in just a little over two minutes long, the song features numerous references to previous Beatles tracks, including "Strawberry Fields Forever," "I Am the Walrus," and "Lady Madonna" (via Genius).
The references were all intentionally thrown into the song by John Lennon, who wanted to confuse all the listeners who'd made a habit out of retroactively adding deeper meanings to many of The Beatles' lyrics. "I was having a laugh because there'd been so much gobbledegook about 'Pepper,' play it backwards and you stand on your head and all that," Lennon said in 1970 (via JohnLennon.com). The song is, therefore, about the sometimes misguided struggle to uncover the truths hidden within certain pieces of art.
All of which is to say that it's hard to think of a movie that "Glass Onion" would better serve as a title for than Rian Johnson's follow-up to "Knives Out," which promises to send Daniel Craig's Benoit Blanc searching again to find the truth lurking underneath a tangled web of various clues and red herrings.