Steve Martin And Martin Short's SNL Episode Is The Most Watched Of Season 48 Thus Far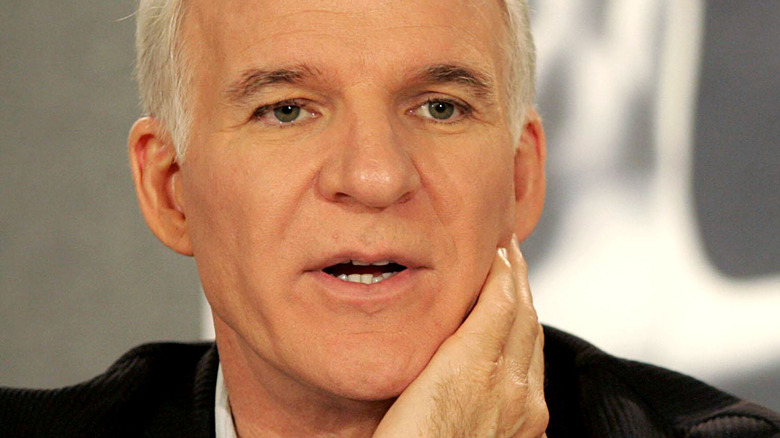 Everett Collection/Shutterstock
"Saturday Night Live" delivered its biggest ratings in the second to last episode of its 48th season. The episode hosted by Steve Martin and Martin Short broke the previous record for the season, the November episode hosted by comedian Dave Chappelle, which brought in 4.8 million viewers, per Deadline. 
Martin and Short star in "Only Murders in the Building" together, and their co-star Selena Gomez made an appearance during their "SNL" appearance. The musical guest for the telecast was Brandi Carlile. Martin and Short have over a dozen hosting appearances between the two of them, so to call them pros at guiding the live telecast would be an understatement at this point. Martin has hosted the show 16 times, while Short has three under his belt, via CNN. Martin is only second to Alec Baldwin in the number of times he's hosted "SNL," per The Wrap. 
Skits presented by Martin and Short included a "Father of the Bride"-themed segment featuring Gomez, as well as the two veteran comedic performers reading joking eulogies for one another. It's clear the episode was a hit for the show, but just how much of a hit did Martin and Short deliver "SNL" producer Lorne Michaels?
The Steve Martin and Martin Short-hosted SNL brought in over 5 million viewers
The "Saturday Night Live" telecast hosted by Steve Martin and Martin Short brought in 5.1 million viewers, a record high for the show's 48th season, per The Wrap. 
"SNL" remains a staple on television, but there's no denying that ratings are not what they used to be in an age of social media short-form content and the convenience of streaming (the skit series does stream on Peacock). The "Saturday Night Live" Season 47 premiere in 2021, for instance, brought in the lowest ratings ever for an "SNL" premiere with 4.9 million viewers, which itself was a massive drop-off from the premiere the year before, which brought in more than 8 million viewers, via The Wrap. Those two episodes were hosted by Owen Wilson and Chris Rock, respectively. 
The Martin/Short episode is still nothing to balk at. Besides the Dave Chappelle-hosted "SNL" episode, the next highest rated of the season was a November episode hosted by Amy Schumer, which brought in 4.32 million viewers, and the week prior, hosted by Keke Palmer, only brought in approximately 3.9 million viewers, per Deadline. 
The last host for "SNL" in 2022 is Austin Butler and musical guest Lizzo, and they've got a big shadow hanging over them from Martin and Short.