How Across The Spider-Verse Could Set Up Spider-Girl As Sony's Next Big Hero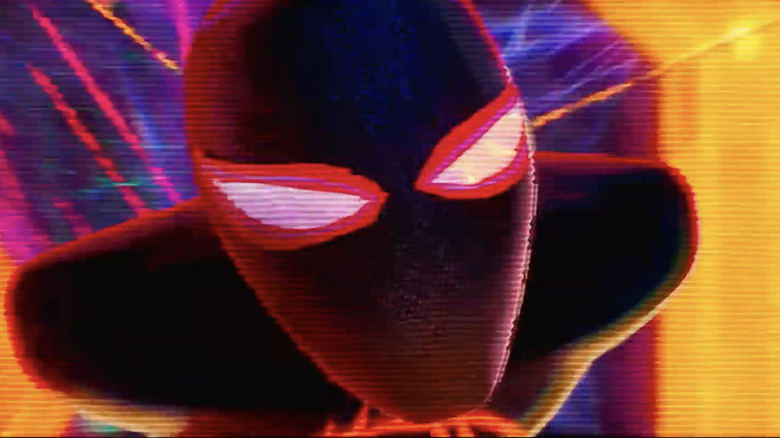 Sony/YouTube
The release of the visually stunning trailer for "Spider-Man: Across the Spider-Verse" is packed to the brim with exciting reveals from the upcoming sequel. Along with the preview, several other first-look images were also rolled out, including one of baby May "Mayday" Parker, whose introduction in the animated follow-up could be the first step to getting Sony to bring Spider-Girl into the mix as the next big thing in superhero movies.
"Spider-Man: Into the Spider-Verse" easily outdid all expectations when it was released, raking in solid grosses at the box office and taking home a Best Animated Feature Film Academy Award. So when it was announced that a sequel was on the way, it was no secret that people's expectations were going to be very high. Now that the first trailer for "Spider-Man: Across the Spider-Verse" is out, there are a number of reasons to get excited, including the amazing visuals and the budding relationship between Miles Morales (Shameik Moore) and Gwen Stacey (Hailee Steinfeld).
Among the many details in the trailer, fans may notice that, at around the 1:30 minute mark (via YouTube), Peter B. Parker (Jake Johnson) is seen wearing a baby carrier around his chest. While there isn't a child in the preview, a first-look image was released to Twitter (via Discussing Film) which verified that comic book character Mayday Parker will make her cinematic debut in the hugely anticipated sequel. But this isn't the first time the character has been mentioned regarding her potential involvement in a Spider-Man movie.
Mayday Parker is a presence in the comics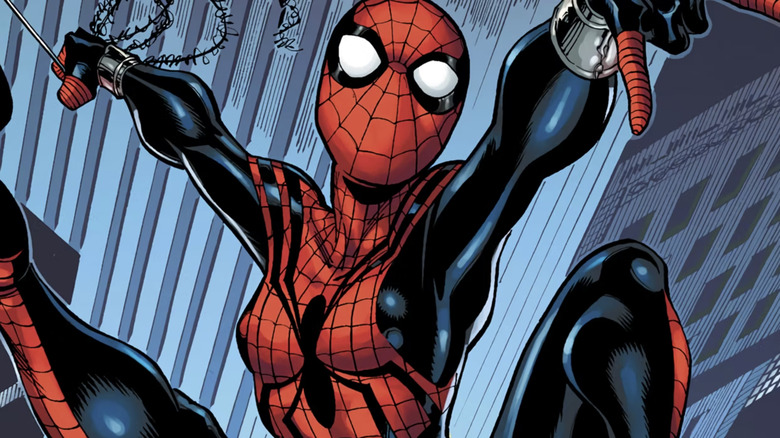 Marvel Comics
May "Mayday" Parker first appeared in the pages of "What If" #105 in February 1998. The teenage daughter of Peter Parker and Mary Jane Watson, who also goes by the aliases of Web-Stunner and Hotshot, exists in the Marvel Comics 2 universe, and the human-mutate eventually becomes the masked superhero Spider-Girl (via Marvel).
She would eventually get her own comic book series from her original creators, Tom DeFalco and Ron Frenz, and since her debut, she has appeared in hundreds of issues of Marvel comics (via ComicBookTreasury.com). In the comics, her father taught her to master her abilities, and she even started a super team called the New Warriors with Norman Osborne Jr. The bubbly teen has gone toe-to-toe with such villains as the Savage Six, Black Tarantula, and Killerwatt, among several others. She even went up against some of her dad's enemies, like Kingpin, Venom, and Doctor Octopus.
Whether it's getting too close to symbiotes or having more than her fair share of Green Goblin encounters, there is no denying that Mayday Parker has a lot in common with her web-slinging dad. With so many movies revolving around Spider-Man available now, it could very well be time for another wall-crawler to take over, which is probably why so many people think Sony should start setting up Spider-Girl as their next big hero.
There is a lot of room for Spider-Girl onscreen
Mayday Parker's introduction into "Spider-Man: Across the Universe" could potentially set up Spider-Girl to become a prominent future player in Sony's animated movie franchise, and it also could mean, at some point, that the character could get her very own live-action movie in Sony's villain-centric universe of Spidey-adjacent films. There has even been discussion over the years from fans regarding how Mayday could fit into a new Spider-Man film from director Sam Raimi.
There were several reasons that a fourth "Spider-Man" movie did not happen with Raimi and Tobey Maguire, but that hasn't stopped Spidey fanatics from speculating on a film focusing on Spider-Girl instead of her father. Users on Reddit and Twitter agree that Mayday Parker is a fresh choice to headline a Raimi-directed fourth Spider-Man flick. One Reddit user even made a case for "It" star Sophia Lillis as a prime contender to take the role. Raimi has mentioned he is interested in making "Spider-Man 4," and if he does, there are a number of fans who likely have their fingers crossed that it somehow involves Spider-Girl.
Thanks to Tobey Maguire's inclusion in "Spider-Man: No Way Home," it has already been established that Sam Raimi's Spider-Man exists within the MCU, meaning that Spider-Girl could even make her way into the House of Mouse's Marvel playground. There's no denying that Mayday Parker's cinematic legacy is just beginning in "Spider-Man: Across the Spider-Verse," and based on the potential demand, it will be very exciting to see how the future plays out for Spider-Girl.