Sam Raimi Confirms What We Suspected About Spider-Man 4 With Tobey Maguire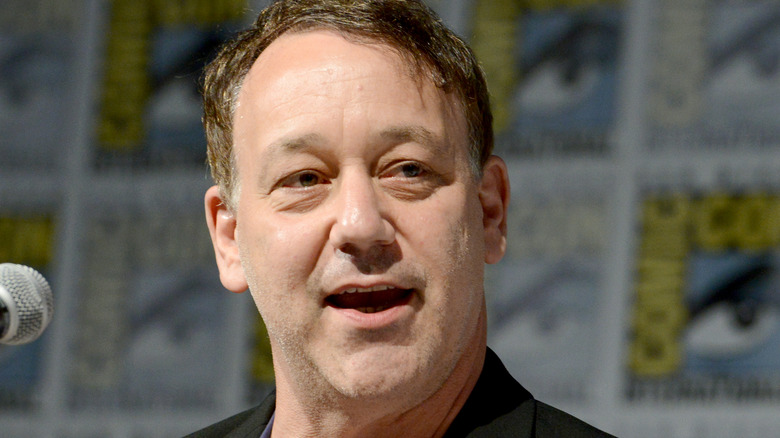 Michael Kovac/Getty Images
Sam Raimi is a versatile director, to say the least. He's shown an ability to work in any genre, having brought his unique style to horror, superhero, fantasy, romance, and westerns. Today, Raimi is just as known for his work on the "Evil Dead" franchise as he is for his "Spider-Man" trilogy, and he has earned 14 awards for his innovative and influential directorial talents (via IMDb). 
Raimi's next movie is the highly anticipated "Doctor Strange in the Multiverse of Madness," which promises to be an absolute spectacle, between impressive effects, bombastic action, and bonkers storytelling. Of course, with Raimi back in the spotlight — combined with the recent overwhelming success of "Spider-Man: No Way Home," which saw Raimi's Spider-Man, Tobey Maguire, finally don his iconic Spidey-suit once again – the question has arisen on whether or not we might ever see Raimi, Maguire, and Kirsten Dunst once again come together for "Spider-Man 4." 
Such a project would, theoretically, be one of the most-anticipated superhero movies of all-time. The success of Raimi's 2002 "Spider-Man," and the even more acclaimed sequel, "Spider-Man 2," arguably kicked off the Marvel age of cinema — that we've been living in ever since. And when asked about the possibility of "Spider-Man 4" being a future project, Sam Raimi — addressing it for the first time ever — expressed openness to the idea. 
Raimi would absolutely love to make Spider-Man 4
During an interview with Fandango, the legendary director was asked about a potential "Spider-Man 4" with Maguire, to which he replied, "I've come to realize after making 'Doctor Strange' that anything is possible, really anything in the Marvel universe, any team-ups. I love Tobey. I love Kirsten Dunst. I think all things are possible. I don't really have a story or a plan. I don't know if Marvel would be interested in that right now. I don't know what their thoughts are about that. I haven't really pursued that. But it sounds beautiful. Even if it wasn't a 'Spider-Man' movie, I'd love to work with Tobey again, in a different role."
This is pretty much exactly what Marvel fans would hope to hear Raimi say, particularly now that Marvel's multiverse storyline has paved a way for a "Spider-Man 4" to happen without negating Tom Holland's also-beloved incarnation of the character. What's interesting here, as well, is Raimi stating he doesn't have a story — clarifying that if "Spider-Man 4" were to happen, it presumably wouldn't follow the same plot beats as the unfinished version of the movie that was canceled in 2010, leading to the "Amazing Spider-Man" reboot entering production.
Raimi was then asked if he would return to direct another MCU movie after "Doctor Strange in the Multiverse of Madness," and the director gave an enthusiastic response that heaped praise on the management of the Marvel Cinematic Universe, and he made it clear that he would absolutely come back to direct another film if asked.
So while "Spider-Man 4" is hardly a sure thing, the willingness of Raimi and Maguire to rejoin the Marvel fold definitely makes it look likelier than ever.