What The Cast Of Kindergarten Cop Is Doing Today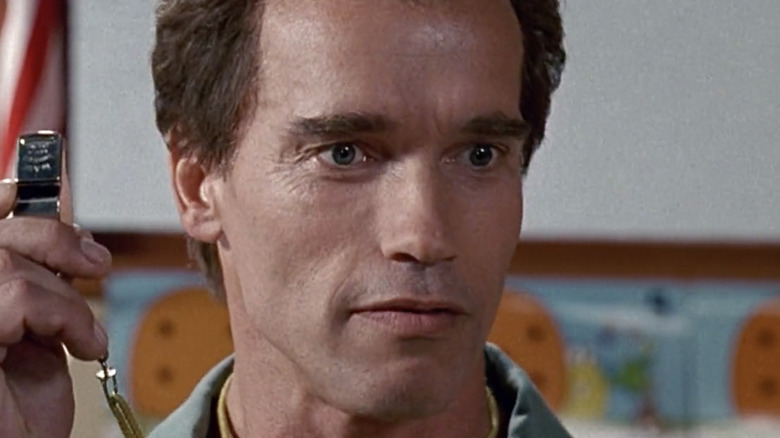 Universal Pictures
"Kindergarten Cop" is mostly remembered as a part of Arnold Schwarzenegger's foray into comedy during the late 1980s and early 1990s. As you might have guessed from the straightforward title, "Kindergarten Cop" centers on a police officer posing as a kindergarten teacher in a small town in order to save a youngster from his violent father who wants to kidnap the child from his ex-wife. The film was noted for the meta way it incorporated the reality of action hero Schwarzenegger as a fish out of water in the comedy genre into a story where a cop finds himself the fish out of water in the kindergarten class.
Schwarzenegger admitted in a 2015 interview on "The Late Late Show with James Corden" that "Kindergarten Cop" was his favorite movie from his filmography, which spans many decades and includes classics like "Conan the Barbarian," "Commando," and the "Terminator" series. Schwarzenegger pointed out his positive experiences with the children on the set of the film, which is quite apparent to audiences watching it. Let's catch up with what the adults and kids from the 1990 comedy classic have been doing in the decades since the film's release.
Arnold Schwarzenegger - Detective John Kimble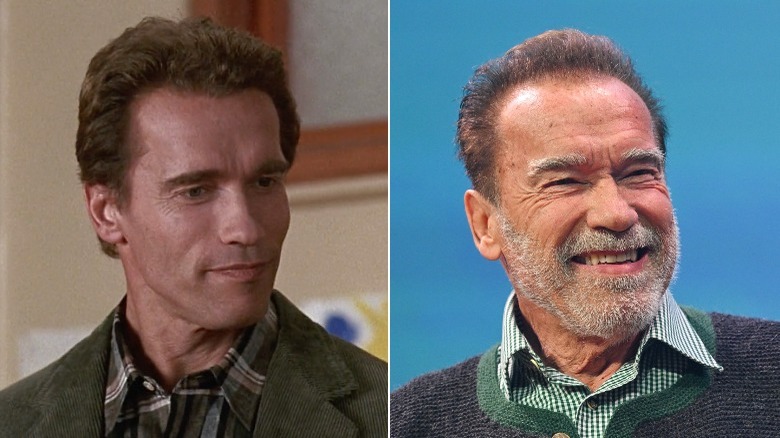 Universal Pictures, Hannes Magerstaedt/Getty Images
The eponymous kindergarten cop in the film, John Kimble takes the undercover job of a kindergarten teacher after his partner Phoebe falls ill. Kimble initially finds himself out of place and despises being around the noisy and unruly children. He later comes to find himself at home around them and proves he is a capable teacher. "Kindergarten Cop" marked Schwarzenegger's sophomore stint at comedy (and second collaboration with director Ivan Reitman), after 1988's "Twins" opposite Danny DeVito. Prior to these movies, Schwarzenegger was a popular action star, with hits such as 1984's "Terminator," 1985's "Commando," and 1987's "Predator." 
After "Kindergarten Cop," Schwarzenegger continued his highly successful action film career through the early 1990s with "Terminator 2: Judgment Day" and "True Lies." He reunited with director Ivan Reitman and "Twins" co-star Danny DeVito for the 1994 comedy "Junior." After his role as Mr. Freeze in the disastrous 1997 superhero movie "Batman & Robin," Schwarzenegger's career went into a bit of a decline, as movies like "Collateral Damage" struggled at the box office. Following 2003's "Terminator 3: Rise of the Machines," the actor shifted his focus to politics and was elected governor of California the same year. 
Schwarzenegger had only a few brief film appearances in the decade that followed, including a cameo in 2010's "The Expendables" alongside Sylvester Stallone, whom he had a decades-old rivalry with. After serving two terms in office, Schwarzenegger stepped back into acting, reuniting with Stallone in leading roles in the two "Expendables" sequels and 2013's "Escape Plan." The actor returned to the "Terminator" franchise with 2015's "Terminator Genisys" and 2019's "Terminator: Dark Fate" — both of which had sequels canceled. Today, the actor seems to be enjoying his golden years, becoming something of a social media influencer through his Instagram account.
Penelope Ann Miller - Joyce and Rachel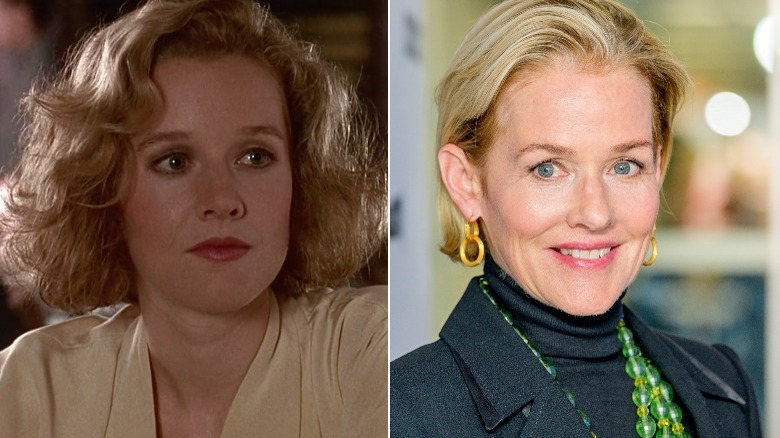 Universal Pictures, Roy Rochlin/Getty Images
Penelope Ann Miller played Joyce, a teacher who works at the same school Kimble is assigned to. The two cultivate a romance until it is jeopardized by the revelation that neither of them are who they say they are. When Kimble realizes Joyce is actually Rachel Crisp, he reveals he is an undercover police officer posing as a kindergarten teacher in order to locate her and her son Dominic to keep them safe from Cullen Crisp, Rachel's criminal ex-husband. Miller had guest appearances in episodes of "Family Ties" and "Miami Vice" prior to "Kindergarten Cop," as well as supporting roles in "Big Top Pee Wee" with Paul Reubens, "Awakenings" with Robert De Niro and Robin Williams, and "The Freshman" with Marlon Brando and Matthew Broderick.
Since then, Miller has played Edna Purviance opposite Robert Downey Jr. in 1992's "Chaplin" and Gail in Brian De Palma's "Carlito's Way." Miller has made numerous one-off appearances on television in series including "CSI: NY," "Desperate Housewives," "Riverdale," and "Criminal Minds," as well as recurring parts in lesser-known programs like "A Minute With Stan Hopper," "Vanished," "Mistresses," and "American Crime." More recently, Miller played Joyce Dahmer, the mother of infamous serial killer Jeffery Dahmer, in Netflix's 2022 series "Dahmer — Monster: The Jeffery Dahmer Story." 
Pamela Reed - Detective Phoebe O'Hara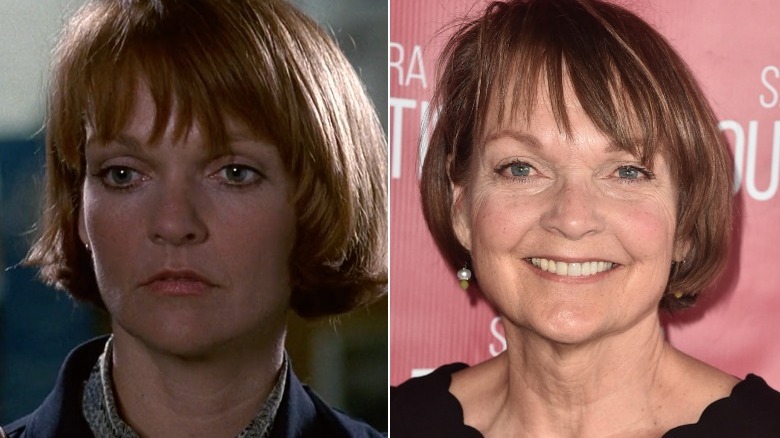 Universal Pictures, Alberto E. Rodriguez/Getty Images
Pamela Reed plays second fiddle as detective Phoebe O'Hara to Arnold Schwarzenegger's John Kimble in "Kindergarten Cop." The police captain forces Kimble, a lone wolf who originally insists on going undercover alone, to work with Phoebe because she has teaching experience and would be convincing in her undercover role. However, Phoebe, who has hypoglycemia, ends up becoming sick, leaving Kimble to face the wrath of the kindergarteners by himself. Before "Kindergarten Cop," Reed had a number of movies to her credit, including minor parts in "The Long Riders," "Melvin and Howard," "The Right Stuff," and "Cadillac Man" in the 1980s.
Reed reunited with "Kindergarten Cop" director Ivan Reitman and co-star Schwarzenegger in 1994's "Junior," after which she appeared in only a handful of films in supporting roles, the most well-known of which being 1997's "Bean." Fans of "The Simpsons" may recognize her voice as that of Ruth Powers, the bodybuilding next-door neighbor to the titular family. Reed is arguably best known for her recurring role in NBC's "Parks and Recreation" as Marlene Griggs-Knope, mother of Leslie Knope (Amy Poehler). In the years since, Reed has had appearances in "Grey's Anatomy," "CSI: Crime Scene Investigation," and "Criminal Minds," before landing a recurring part as Roberta Deeks, the mother of lead character Marty Deeks, on "NCIS: Los Angeles" in 2015.
Richard Tyson - Cullen Crisp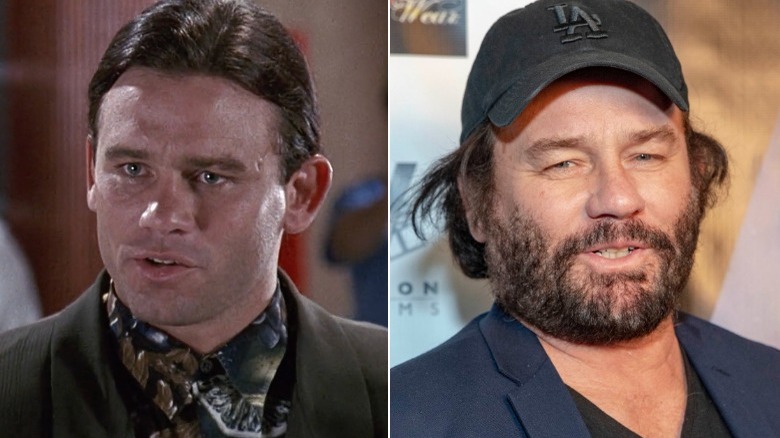 Universal Pictures, Eugene Powers/Shutterstock
Richard Tyson played big bad Cullen Crisp, a homicidal drug dealer whom Kimble spent years chasing. Cullen desperately hunts for his son Dominic and ex-wife Rachel, who was forced to flee after learning of Cullen's criminal life. In order to make their "happy family" (or at least their twisted vision of it) whole again, Cullen and his mother Eleanor conspire to find and kidnap his son, for which the two will go to murderous extents. Before "Kindergarten Cop," Tyson had only two film credits to his name: 1987's "Three O'Clock High" and 1988's "Two Moon Junction," both of which were critically panned. He also appeared in a 1986 episode of "Moonlighting" starring Bruce Willis.
Many of the films in Tyson's filmography after "Kindergarten Cop" either failed to attract the attention of audiences, received unfavorable reviews, or featured him in very minor roles. A few examples include "The Babe," "There's Something About Mary," "Me, Myself & Irene," "Battlefield Earth," and "Black Hawk Down." Tyson also had little success as an actor on television, with his most notable credit being a 2006 episode of "CSI: NY."
In 2019, Tyson had two encounters with the law in his hometown of Mobile, Alabama. He was first arrested on charges of public intoxication and harassment, and then on burglary charges a month later (via FOX10 News). However, these incidents do not reflect his character, according to his "Kindergarten Cop" co-stars. In the film's 30th anniversary reunion held on Zoom in 2020, Christian Cousins (who played his on-screen son Dominic) had nothing but nice things to say about Tyson. "He's like the nicest guy in the world, in person ... it was really hard to act scared from [him]," Cousins revealed, a sentiment that was shared by the other cast members.
Linda Hunt - Principal Schlowski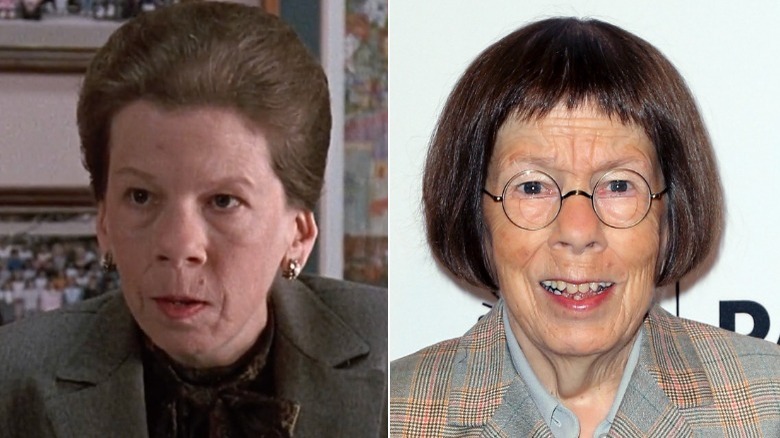 Universal Pictures, David Livingston/Getty Images
Miss Schlowski is the principal of Astoria Elementary School and the only one in the school to be aware of Kimble's undercover mission. She initially banks on Kimble losing patience with the kindergarteners and quitting in two days, but she later reconsiders after observing how well Kimble is able to establish a bond with the youngsters in both his capacity as their teacher and as their friend. Despite the actress' short stature, Linda Hunt's tough-as-nails portrayal of Principal Schlowski stood taller than the muscular 6-foot-2-inch Schwarzenegger in the film. Before "Kindergarten Cop," Hunt had won an Academy Award for best supporting actress for her role as a Chinese-Australian man Billy Kwan in 1982's "The Year of Living Dangerously," and had also appeared in 1980's "Popeye" and 1984's "Dune."
After "Kindergarten Cop," Hunt had a steady and varied career across multiple mediums. Her prominent film credits include 2006's "Stranger Than Fiction" and 2018's "Solo: A Star Wars Story." Gaming enthusiasts will recognize Hunt's husky voice as Gaia in the "God of War" video games, serving as the series' narrator before becoming an antagonist. She also lent her voice to the 1995 film "Pocahontas" and its 1998 follow-up as Grandmother Willow. Hunt's best-known role in recent years is that of fan-favorite character Henrietta "Hetty" Lange in "NCIS: Los Angeles," which she considered "a gift" (via Daily Beast). She played the part for 12 years, starting in 2009.
Carroll Baker - Eleanor Crisp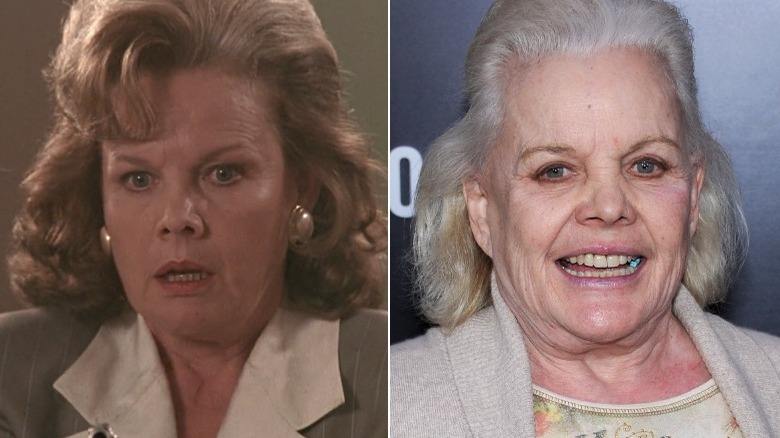 Universal Pictures, Larry Busacca/Getty Images
Eleanor Crisp, portrayed by Carroll Baker, is the affluent matriarch of the Crisp family and the mother of antagonist Cullen Crisp. She helps her son find her grandson Dominic. The mother-son duo forms a villainous dynamic where Cullen acts as the muscle and Eleanor engages in clandestine activities behind the scenes (as seen when she orchestrates the death of the only witness Kimble had against Cullen). Among the cast of "Kindergarten Cop," Baker had the most acting experience thanks to a long and illustrious career that began in the 1950s. She had her first major role in 1956's "Giant" opposite James Dean (in his final film performance). Baker also starred in the titular role in "Baby Doll" the same year, for which she was nominated for an Academy Award for best actress and established herself as both an A-list actress and a sex symbol.
After a string of successful studio films through the late 1950s and early 1960s such as "The Big Country," "How the West Was Won," and "The Carpetbaggers," Baker moved to Europe in 1967 amid a contract dispute with Paramount Pictures and difficulties finding work in Hollywood (according to her 2011 interview with Newsday). She had several prominent roles in Italian films for the next 10 years, after which Baker returned to the United States and appeared as a character actress in films such as 1987's "Ironweed," which starred Jack Nicholson and Meryl Streep. Along with "Kindergarten Cop" in 1990, Baker's supporting role as Michael Douglas' housekeeper in David Fincher's 1997 thriller "The Game" was her last high-profile film credit amidst a string of TV movies and guest roles in television shows such as "Murder She Wrote," "L.A. Law," and "Roswell." Baker retired from acting in 2003.
Christian and Joseph Cousins - Dominic
Dominic is introduced as the only kindergartener in Kimble's class who sympathizes with Kimble's initial struggle with the rest of the children, and soon develops a fondness for him. Dominic is the son of Joyce, a teacher who develops a romantic relationship with Kimble. When Kimble comes over for a date with Joyce, Dominic unwittingly helps him realize they are Cullen Crisp's son and ex-wife. Cullen's driving force is to reclaim his son (whose real name is revealed to be Cullen Crisp Jr.) from his former spouse. As with many films prominently featuring a child character, the role of Dominic was shared by identical twin brothers, Christian and Joseph Cousins. 
Before being saved by Arnold Schwarzenegger in "Kindergarten Cop," the pair started their acting careers at the ripe age of four by alternating the part of Bobby Ewing in the CBS-TV serial opera "Knots Landing" from 1987 to 1993. Following "Kindergarten Cop," the two appeared in a few films such as "Critters 3" and "Twin Sitters," along with one-off television appearances in "Father Dowling Mysteries" and "Eerie, Indiana." While Christian had retired from acting in 1995, Joseph returned to the role of Bobby Ewing in the "Knots Landing" 1997 spinoff miniseries "Knots Landing: Back to the Cul-de-sac," before retiring too.
Miko Hughes - Joseph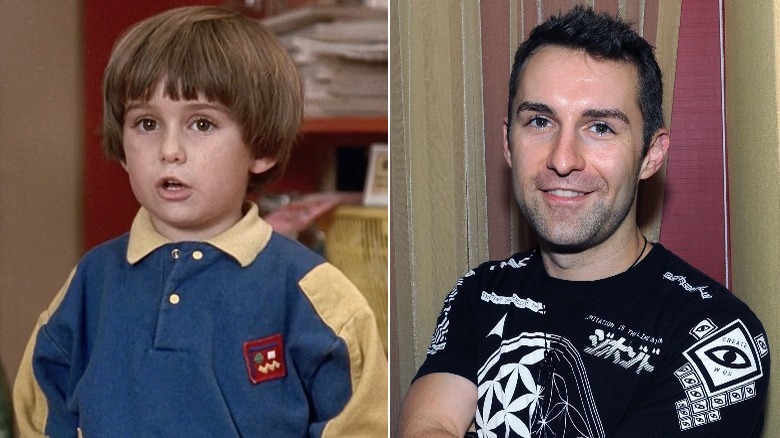 Universal Pictures, Bobby Bank/Getty Images
In an effort to quickly identify which of the 6-year-olds in the kindergarten classroom is Crisp's child and, hence, whom he should be concentrating on protecting, Kimble, on his first day as a teacher, asks the children where they were born. A boy stands up, not in response to Kimble's line of inquiry, but rather to clarify something for Kimble: "Boys have a penis. Girls have a vagina." The entire class laughs, and Kimble simply says, "Thanks for the tip," giving the child a deadpan look. The precocious child responsible for the adorable exchange is Joseph, played by Miko Hughes. 
Although it's hard to imagine, this 4-year-old actor had a well-known film credit under his belt prior to "Kindergarten Cop." Hughes gave a chilling performance as Gage Creed, a 3-year-old who becomes possessed by a demon and murders most of his family, in the 1989 Stephen King adaptation "Pet Sematary." After that, Hughes had a busy childhood, making appearances in movies like "Wes Craven's New Nightmare," "Apollo 13," "Spawn," and "Mercury Rising." Following roles on television programs such as "Beverly Hills, 90210," "Doogie Howser, M.D.," and "Baywatch," Hughes' career slowed down during the 2000s. His most prominent recent appearances were in cameo roles in a 2006 episode of "Scrubs" and the 2008 film "Tropic Thunder." Hughes was part of the 30th anniversary reunion of "Kindergarten Cop" that was held for the cast members on Zoom in 2020.
Jason Reitman - Kissing Boy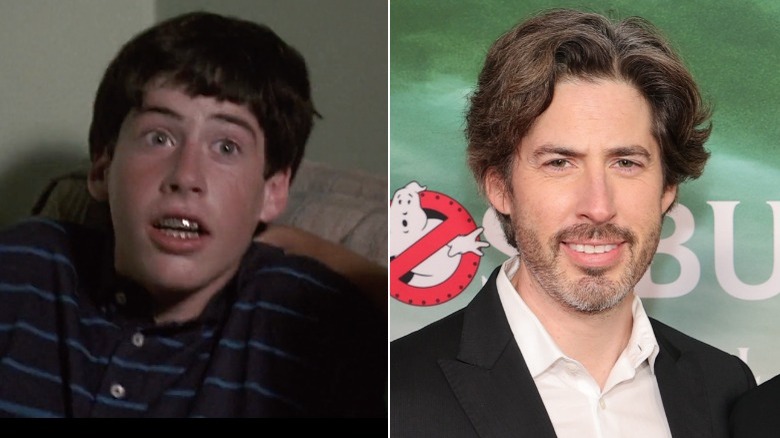 Universal Pictures, Theo Wargo/Getty Images
At the film's climax, Cullen starts a fire that causes the evacuation of the entire school, allowing him to abduct his son Dominic. Kimble searches every classroom in the vacant school as he pursues Cullen. He opens a door to find two adolescents making out in an empty room, believing the school had been evacuated as part of a fire exercise and unaware that there was an actual fire. Funnily enough, one youngster is Jason Reitman, son of "Kindergarten Cop" director Ivan Reitman, who is best known today for writing and directing movies like 2007's "Juno" and 2009's "Up in the Air," which starred George Clooney. Reitman's acting credits consist of cameo roles in his father's movies, such as "Twins," "Ghostbusters II," "Dave," and "Father's Day." 
Reitman's first feature film as writer-director was 2005's "Thank You for Smoking," followed by "Juno," which was a huge critical and financial hit for its time, raking in over $230 million worldwide on a budget of $7.5 million (via Box Office Mojo) and garnering an Oscar for best original screenplay along with three nominations (including best director for Reitman). His subsequent film, "Up In The Air," enjoyed a similar level of critical and commercial success upon release and was included on many critics' lists of the year's top movies. Reitman's additional directorial credits include two episodes of NBC's "The Office," along with films like "Tully" and "The Front Runner." He more recently helmed "Ghostbusters: Afterlife," which continued the story of the original two "Ghostbusters" movies directed by his father.