Roles That John Wick Actors Probably Want You To Forget About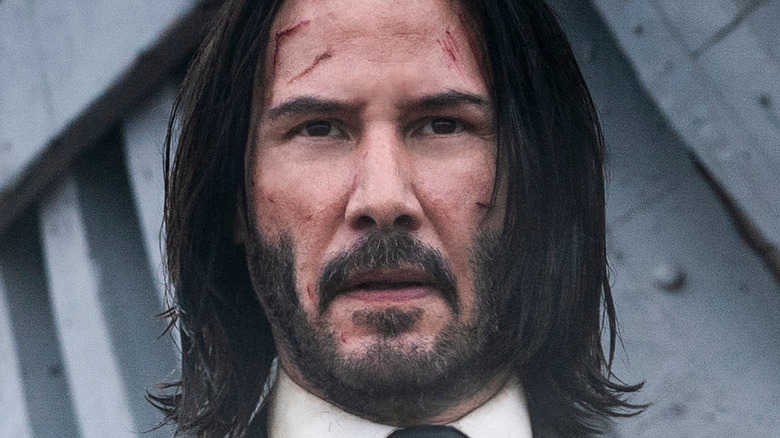 Summit Entertainment
Easily one of the best action franchises of the decade, "John Wick" and its sequels have dazzled audiences with slickness and style that reinvented the genre. Set in a heightened reality where a secret world of assassins lives under our very noses, the series is led by superstar Keanu Reeves as a revenge-driven former killer who re-enters the game after gangsters steal his car and kill his dog.
But Reeves is not the only big name in the series, as the three — count 'em four — films are littered with recognizable stars. Some came in early alongside the former "Matrix" star, others joined the franchise after the first film became an unexpected global sensation. But whether they're big names or small, every one of them can count "John Wick" among the most beloved films in their respective careers. This has thankfully allowed them to bury some of their worse works, movies they might regret.
But despite their desires to keep their worst movies hidden under the rug, we're here to pull it back and expose the worst roles that "John Wick" actors probably want you to forget about.
Ian McShane in Pussycat, Pussycat, I Love You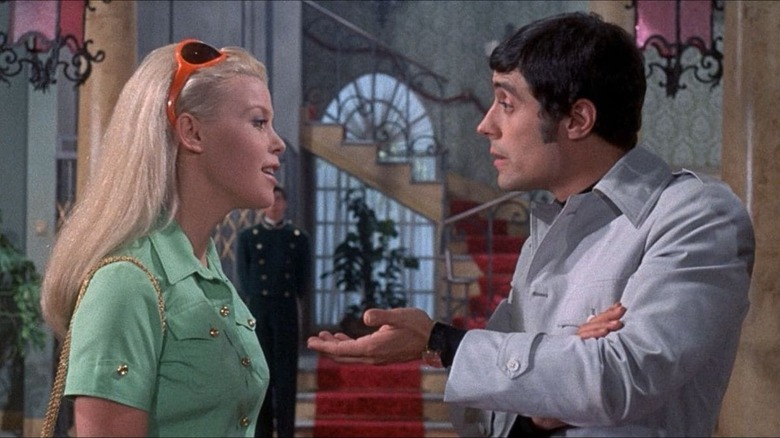 United Artists
Some might consider Winston an ally of John Wick, but as the owner of the criminal underworld hotels known as The Continental, he's more like a god. He's also played impeccably by English actor Ian McShane, whose career stretches back decades. Winston is far from McShane's biggest role, though. He's also famous for his part as the foul-mouthed tycoon Al Swearengen in the HBO Western "Deadwood." But as proud as might be of both Winston and Swearengen, he's probably not looking back with as much satisfaction at his role in the 1970 farce "Pussycat, Pussycat, I Love You."
An inexplicable sequel to the 1965 Woody Allen classic "What's New, Pussycat?" the movie is part sex comedy, part acid trip, part ... well, we're not quite sure what it is, actually. But what we do know is that it's an absolutely atrocious psychedelic comedy that stars Ian McShane as Fred C. Dobbs, an American writer in Rome. Like its predecessor, it focuses on the lascivious efforts of a lust-crazed hedonist who seeks help from a befuddled doctor, this time after he's overwhelmed by a fear of losing his hair. 
He's also haunted by dreams of a sexually aggressive gorilla, and unfortunately, his therapist seems more fascinated by the dirty details of his sex life than in actually helping him. Even on paper, this one seems laughable in all the wrong ways, and in execution, it's somehow even worse.
John Leguizamo in Super Mario Bros.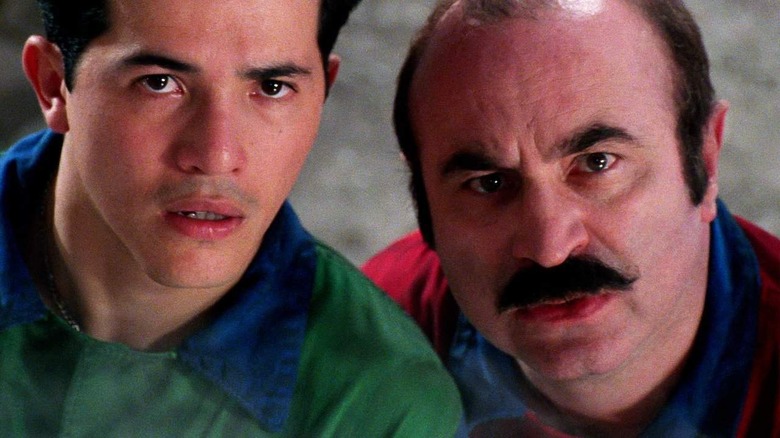 Buena Vista Pictures Distribution
Actor John Leguizamo might be one of Hollywood's most underrated actors, playing supporting roles in a number of classics, and that includes "John Wick." In the first two films, Leguizamo plays Aurelio, the mechanic friend to Mr. Wick who helps him get to the men who stole his car. For as many great movies as Leguizamo has been in — from "Carlito's Way" to "The Lincoln Lawyer" — he's been in his share of clunkers, too. But none are quite as buffoonish and regrettable as the ill-fated "Super Mario Bros." movie from 1993.
Famously the first-ever live-action movie to be adapted from a video game, there are so many problems with this one it's hard to know where to start. We could point to the fact that nothing in the film looks or sounds anything like the game other than maybe the colorful outfits of its two main heroes ... which the director actively fought against including. But more than just being visual garbage, the movie is just plain bad, an unintelligible mess of a story that has become downright infamous, and its behind-the-scenes turmoil legendary.
But that's not all. To make matters worse, Leguizamo had to turn down the starring role in the Oscar-winning "Philadelphia" to take the role of Luigi, according to a Yahoo! Entertainment interview in 2020.
Lance Reddick in Jonah Hex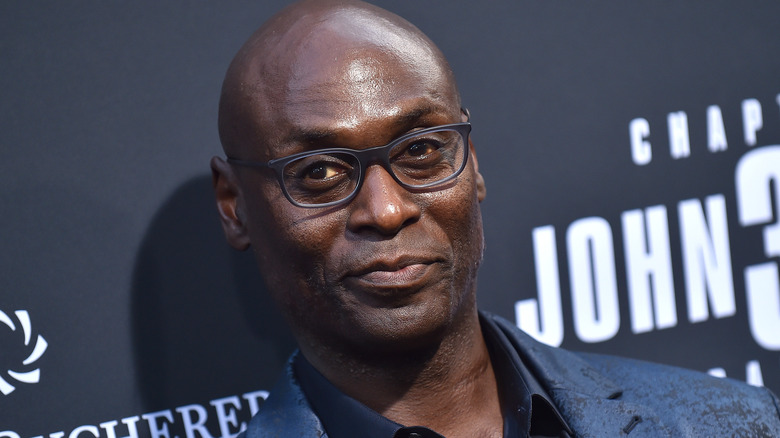 DFree/Shutterstock
Best known to television audiences for his role as Lt. Daniels on the acclaimed HBO series "The Wire," star Lance Reddick has appeared in the "John Wick" films as Charon, the shadowy and mysterious Continental Hotel concierge. No stranger to enigmatic roles, he was a mystifying figure in "Lost" and played another high-ranking agent in JJ Abrams' "Fringe." But one role you probably won't hear him talking much about is his part as Smith in the much-maligned "Jonah Hex" film.
Adapted from the DC Comics book of the same name, "Jonah Hex" is a supernatural Western set in the aftermath of the American Civil War. The eponymous Jonah Hex is a former Confederate soldier who's become cursed with supernatural powers and becomes a vengeance-seeking bounty hunter. With the power to raise the dead, he's hired by U.S. President Ulysses S. Grant to track down Turnbull, a dastardly villain from Hex's past. According to the President, Turnbull has apparently acquired a doomsday weapon that he's threatened to unleash on the Fourth of July.
A sloppy, haphazardly assembled comic book movie that is overwrought with ill-conceived action that amounts to little more than noise, "Jonah Hex" was a major dud. But it did boast a star-studded cast that included Josh Brolin, Megan Fox, John Malkovich, Michael Fassbender, Will Arnett, Michael Shannon, and Wes Bentley, so at least Reddick isn't alone in lamenting it.
Willem Dafoe in Body of Evidence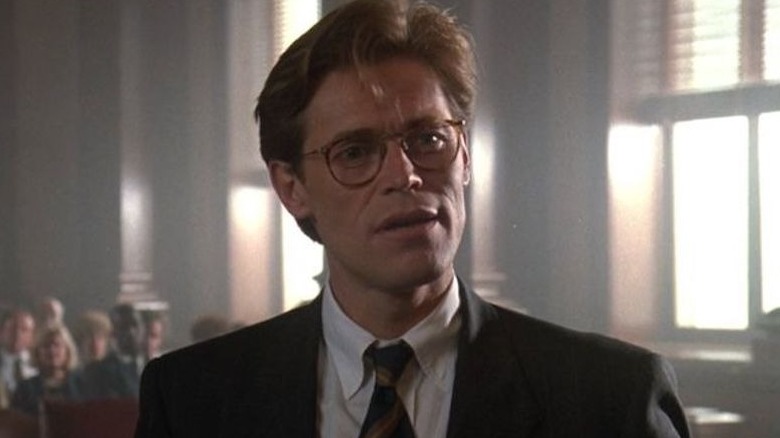 MGM
Legendary actor Willem Dafoe has done it all, starring in movies of every genre, and playing all kinds of characters, from Jesus Christ to the Green Goblin. In 2014 he co-starred in the first "John Wick" film as Marcus, an old-school assassin hired by Russian mobster Viggo Tarasov to kill Keanu Reeves' title character. Though Willem Dafoe's filmography is a sterling one, with too many famous roles and acclaimed films to count, if there's one he might want us to forget, it's probably "Body of Evidence."
A groan-worthy erotic thriller and ostensibly a vehicle for pop star-turned-actress Madonna, the film told the story of a wealthy tycoon who leaves millions to his mistress upon his death. Accused of intentionally killing the old man through overzealous rough sex, the man's young lover Rebecca Carlson (Madonna) hires dedicated attorney Frank Dulaney (Dafoe) to defend her. Predictably, because it's one of these kinds of movies, Madonna and Dafoe become entangled in a white-hot, borderline X-rated love affair.
Badly scripted with awkward dialogue, the movie tries to make up for its awfulness with some taboo sex scenes to titillate, but it just makes it all the more uncomfortable. Reviews were scathing at the time, and it hasn't gotten any better since, and it's been widely regarded as one of the worst the genre had to offer (via Rotten Tomatoes).
Adrianne Palicki in The Robinsons: Lost in Space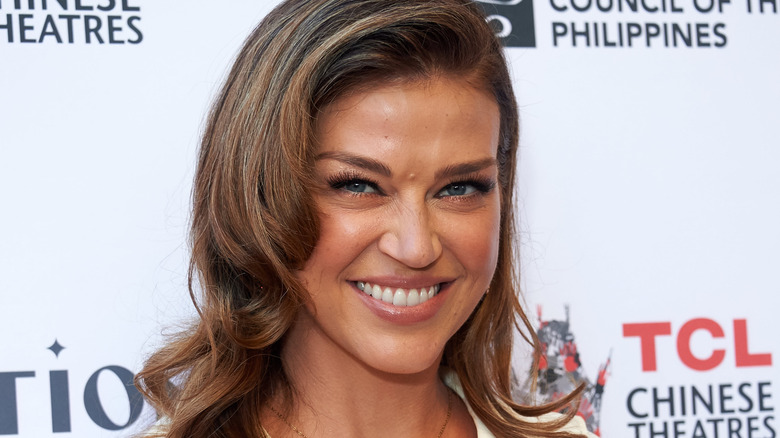 Unique Nicole/Getty Images
Adrianne Palicki starred in the first "John Wick" film as assassin Mrs. Perkins, which oddly enough was originally supposed to be a man (via The Film Stage). In her career, Palicki has seemed to struggle to find an iconic role, but it's not for lack of trying. She's starred in no less than three unaired action TV pilots: she played the title role in a doomed "Wonder Woman" TV series, almost headlined a spin-off of "Agents of SHIELD," and perhaps most embarrassingly, appeared in a disastrous remake of "Lost in Space."
A high-profile project from 2004, "The Robinsons: Lost in Space" was directed by none other than Hong Kong legend John Woo, but you'd never know to look at it. In the shelved TV movie — that came seven years after a feature film had tried to reboot the series and flopped hard — Palicki plays Judy Robinson, the daughter of a renowned space marine. After a long war with aliens, he takes his family on vacation, only to get attacked by the same aliens and chased through a wormhole where they become ... lost in space.
An absolute failure all around, Palicki herself is unimpressive, and the whole thing feels more like a bland teen drama than an exciting sci-fi show. Ultimately it never went to series and the TV movie never aired. But it has surfaced on YouTube, and we're betting Palicki wishes it had stayed buried.
Laurence Fishburne in Biker Boyz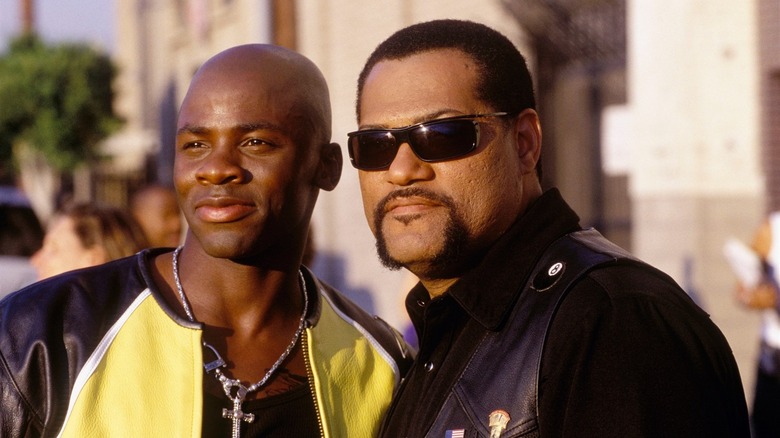 Dreamworks Pictures
Keanu Reeves' "Matrix" co-star Laurence Fishburne joined his old friend for the "John Wick" sequel. In the second film, he plays The Bowery King, the leader of an underground intelligence ring, who unlike the stylish Morpheus hides under the guise of a homeless vagrant. But while Fishburne has plenty of lackluster movies we could talk about that he might regret, there are few that are quite as cringe-inducing as the 2004 extreme sports action movie "Biker Boyz." 
In what feels like a clear attempt at aping the success of the first "The Fast and the Furious" film, Laurence Fishburne and Derek Luke star as a pair of motorcycle street racers. It starts with the infamous driver Smoke (Fishburne) who isn't so happy when the young upstart named "Kid" (Luke) arrives on the scene. Infuriated with a challenger who seems to be stealing his thunder and taking his place on the streets, the two find themselves on a figurative and literal collision course.
Though the movie's cast is full of big names like Djimon Hounsou, Eric La Salle, Larenz Tate, and Lisa Bonet, there's not much that can save it from how truly horrendous it is. It's overly complicated with a bunch of unnecessary subplots and the manly melodrama is off the charts. The stunts are unexciting too, and it falls all over itself trying to be hip and cool, like a middle-aged dad who frosts his tips.
Halle Berry in Solomon and Sheba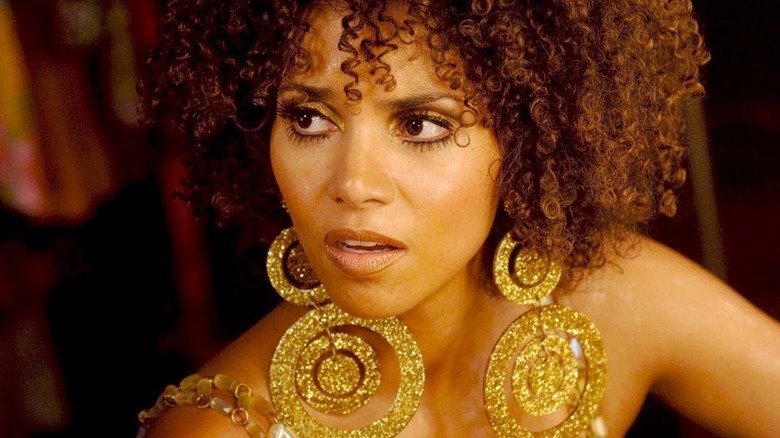 Showtime
Despite her Oscar-winning pedigree, Halle Berry is no stranger to franchise fare. She's starred as the weather-controlling mutant in "X-Men," as a Bond girl in "Die Another Day," and of course as Continental Hotel manager and former assassin Sofia Al-Azwar in "John Wick 3: Parabellum." But she's famously made quite a few duds, though she's usually had a good attitude about them, even showing up in person to collect her Worst Actress Razzie for the 2004 flop "Catwoman." If she does want us looking away from one of her films though, it might be because of her role as an Arabian queen in the TV movie "Solomon and Sheba."
A remake of sorts of a 1950s biblical classic, original actors Yul Brynner and Gina Lollobrigida are swapped out here for Jimmy Smits and Halle Berry. Despite how talented both stars are elsewhere, let's just say it's a huge step down. A listless and unconvincing drama, it's not helped by a truly awful script that sees King Solomon (Smits) meeting the Queen of Sheba (Berry) during a trade deal between their two lands, and falling in love in the process. 
A story that could have been ripe for a modern update with a lush production and bolder, more intense action, "Solomon and Sheba" simply drowns in quicksand. It lacks any real excitement and fails to capture the imagination, and in the words of a Variety review, "it's bland leading the bland."
Common in A Happening of Monumental Proportions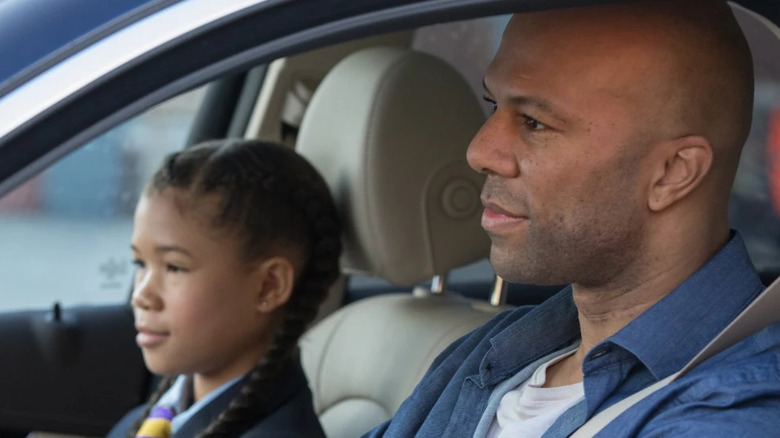 Great Point Media
"John Wick: Chapter 2" brought Reeves' steely-eyed hit man back for another round, and this time he faced off against Cassian, a killer in the employ of crime boss Gianna D'Antonio. He was played by rapper-turned-actor Common, who'd impressed on AMC's "Hell on Wheels" for several seasons, and had been memorable in "Terminator: Salvation," "Wanted," and "Date Night." One movie he probably doesn't want us to remember though is his 2017 comedy-drama "A Happening of Monumental Performance."
Directed by actor Judy Greer, "A Happening of Monumental Proportions" is a comedy of sorts with an ensemble cast that includes Katie Holmes, Jennifer Garner, John Cho, Kumail Nanjiani, and even Keanu Reeves. But Common is the real star, playing Daniel, an account manager who loses his job and finds himself at his wit's end. A bunch of random characters do a bunch of random things: There's some romance, some conflict, and a dead body that needs to be stashed away, which is supposed to be a source of black comedy.
Barely long enough to be called a feature film, it's so unfunny that it still feels too long, and the parade of celebrity cameos doesn't really make up for it. Thankfully for Common, its release was incredibly limited (Variety claimed it screened at just 13 movie houses), but we can't let him off the hook so easily.
Mark Dacascos in DNA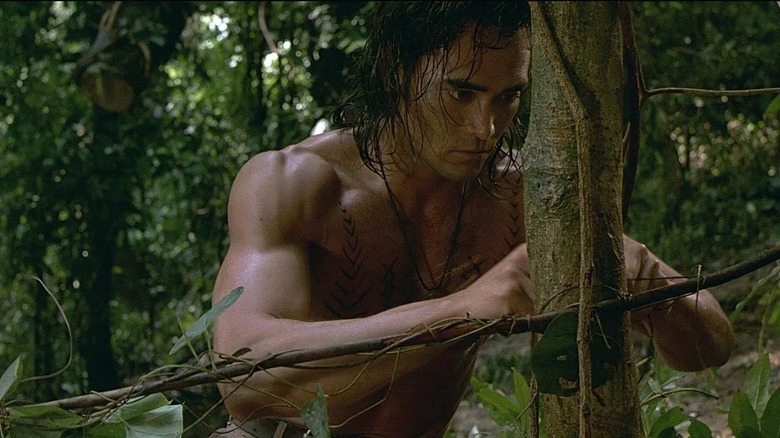 Interlight
Martial artist and actor Mark Dacascos joined "John Wick" in "Chapter 3: Parabellum" as Zero, a Japanese assassin who battles John Wick in some of the most brutal fights in the franchise to date. But with a complicated and rocky career, Dacascos has starred in as many misses as hit, and even his most famous movies — like "Double Dragon" and "Cradle 2 the Grave" aren't known for their greatness. Suffice to say, Dacascos has any number of bad movies in his time, but few can compare to "DNA," a sci-fi horror schlocker from 1997.
Dacascos stars as Ash Mattley, a scientist and former protege of a deranged doctor who is creating his own monster out in the jungle. When it breaks loose and goes on a rampage, it's up to Mattley and intrepid CIA agent Claire Sommers (Robin McKee) to stop it. But with few resources against a blood-thirsty invisible beast, Mattley must use his wits if he hopes to outsmart it.
The worst kind of B-move, "DNA" is badly acted, poorly written tripe, making it very clear that it was churned out by a writer with no real experience (the film's scribe Nick Davis is in fact a special FX tech who'd worked on "Harry Potter," per IMDb). Worse yet, the movie lifts scenes nearly beat-for-beat from other, better movies like "Predator" and "Jurassic Park," as noted by eFilmCritic, who outright accused the film of plagiarism.
Dean Winters in Splinterheads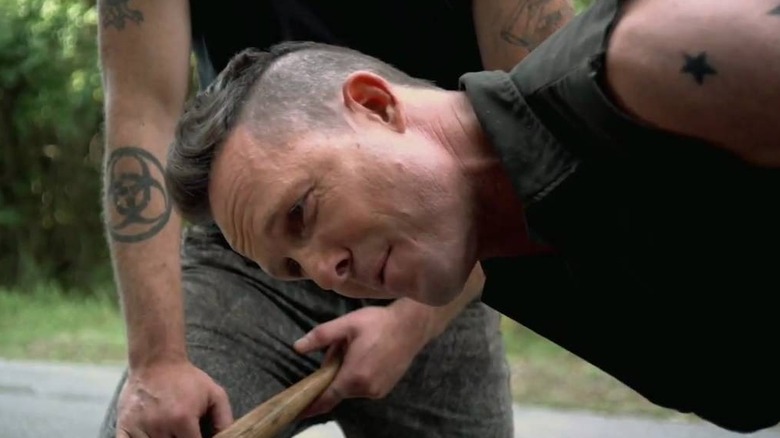 Blue Sky Media
Dean Winters has been around the block and back. He's had ongoing roles in hit TV shows like "Rescue Me," "Law & Order: Special Victims Unit," and "Terminator: The Sarah Connor Chronicles." His track record at the movies however is a little more spotty, though his part as Avi in "John Wick" at least gives him a role in one of the best action franchises of the 21st century. If there's a movie and role he wants us to ignore, though, it could be his part as abusive ex-boyfriend Reggie in the lame rom-com flop "Splinterheads." 
Written and directed by Brant Sersen, the film centers on Justin Frost (Thomas Middleditch), who woos a gorgeous carnival worker named Galaxy (Rachael Taylor from "Jessica Jones"). Unfortunately, Galaxy's violent, jealous ex-boyfriend Reggie (Dean Winters) gets in the way. But Justin and Galaxy bond over their love of geocaching, a short-lived fad where GPS is used to find hidden treasures left by fellow adventure-seekers around the globe.
Trying to be a quirky romantic comedy, "Splinterheads" is not funny or endearing, two key qualities that are kind of necessary for this type of movie. As for Winters as Reggie, he's just obnoxious and annoying, instead of being the jerk you love to hate. And while Slant Magazine pointed out its clear attempt at trying to be "Napoleon Dynamite," it falls well short of that lofty goal.
Alfie Allen in Pandemic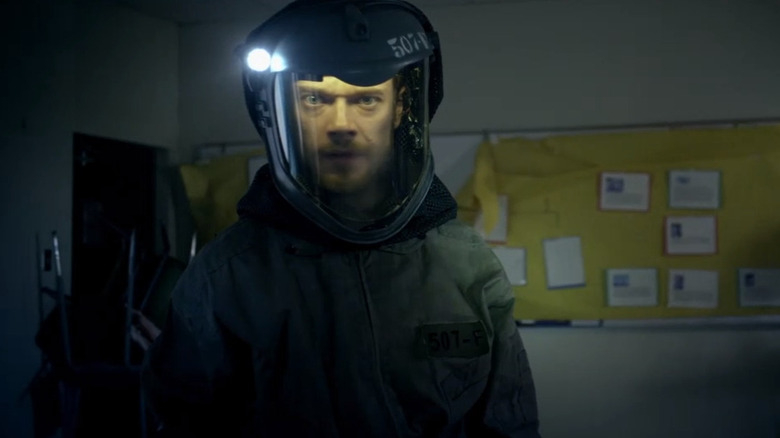 Alameda Entertainment
English actor Alfie Allen is no doubt best known as Theon Greyjoy on all eight seasons of "Game of Thrones," but he also played the villain of the first "John Wick" film, Iosef Tarasov. The despicable, spoiled son of Viggo Tarasov, it's Iosef that puts the plot in motion when he steals John Wick's car and murders his dog, leading to some of the best violence the big screen has ever seen. But not every movie Allen has been in has been quite as good, and there's one that he probably wishes we'd forget — and he might want to disremember, too.
The moniker "Pandemic" can only conjure up troubling memories of 2020, but it's actually the name of Allen's 2016 sci-fi zombie thriller. Unfortunately, it can't quite match up to other movies in the genre, and instead, this one comes across like a bad B-movie knock-off of better films like "World War Z" or "28 Days Later." It revolves around a New York doctor (Rachel Nichols) who assembles a crack team for a trip across the country to locate survivors following a deadly pandemic. Allen plays Wheeler, an ex-con who serves as their driver, while Mekhi Phifer ("ER") is a former cop who comes along for the ride.
But it's more than just bad, as the biggest sin of "Pandemic" is that it's filmed entirely in first-person POV, which absolutely does not work. It misses the mark in pretty much every other area too, from story to character, and editing and pacing.
Bridget Moynahan in Whipped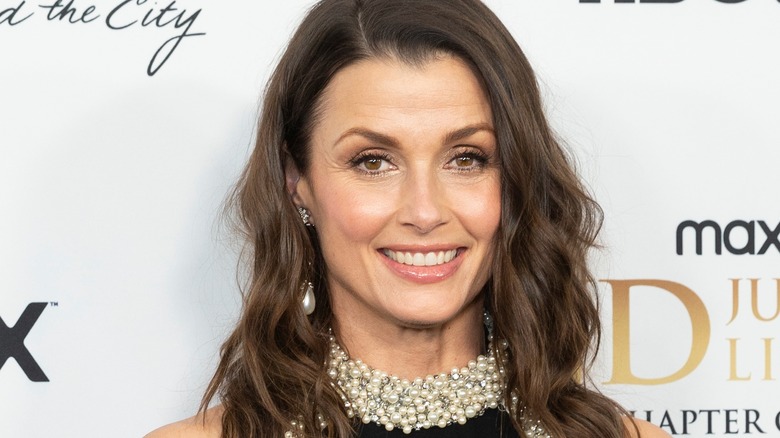 lev radin/Shutterstock
"John Wick" star Bridget Moynahan plays a key role in the franchise, despite never actually playing a part in any of the action on screen. That's because she plays Helen Wick, the former wife of Keanu Reeves' title character, who is already dead when the first film picks up. Appearing in flashbacks, we learn that it was her love that was a catalyst for his retirement as a killer, and her death that would spark a chain of events leading to his return. 
Moynihan of course has her own iconic roles on TV, including in "Sex and the City" and "Blue Bloods." But on the movie side, there's one stinker she's probably wanting us to forget about — the 2000 comedy "Whipped." The story of three sex-obsessed single men who all begin dating the same woman (Amanda Peet), "Whipped" was absolutely thrashed by critics who weren't laughing, with Gene Seymour of Newsday saying bluntly, "Its soul is ugly, and what little brains it has are shrink-wrapped in bile" (via Rotten Tomatoes).
Moynahan's role as Marie is thankfully small, but she'd probably gather up every copy and have them burned if she could. Ranked as one of the worst movies of the year 2000 (per Geeks), it's cheap, crass, and far below the talent of everyone involved.
Keanu Reeves in The Watcher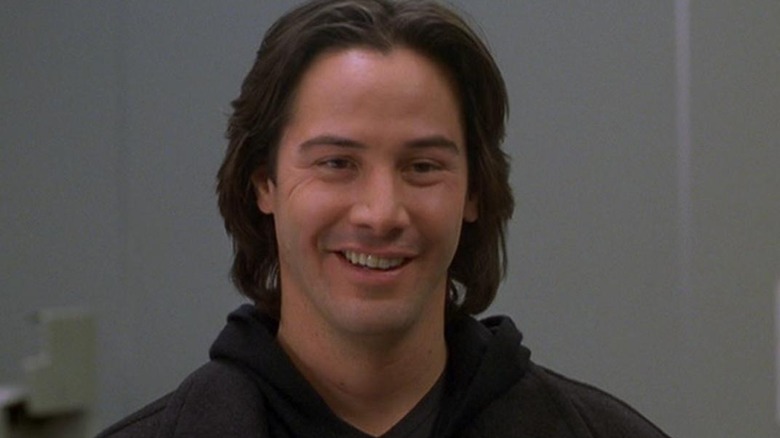 Universal Pictures
"John Wick" star Keanu Reeves had several signature roles under his belt before he became cinema's greatest assassin: from Ted in "Bill & Ted's Excellent Adventure" to Neo in "The Matrix." He was already a '90s action icon but his career had leveled out by the 2010s. "John Wick" however gave him just the shot in the arm he needed, and as he looks back, there's only one movie that he's ever shown not just regret, but open disdain for: the 2000 thriller "The Watcher."
The film stars James Spader as former FBI agent Joel Campbell, who quit the agency after failing to catch a notorious serial killer named Griffin (Keanu Reeves). Haunted by his inability to catch his elusive prey, Campbell is drawn back into the chase after he is taunted with photos of Griffin's latest victims, leading to a sinister game of bad plot contrivances and even worse acting.
Far more than just a bad movie — and believe us, it's atrocious — "The Watcher" probably still makes Reeves' cringe because he never even wanted to star in it in the first place. According to a report in The Guardian, Reeves had his signature forged on a contract, and decided to simply play the part to avoid a lengthy legal battle. "I couldn't prove he [forged my signature] and I didn't want to get sued," the actor told the Calgary Sun a year after its release.