Willem Dafoe's Best Movie Roles To Date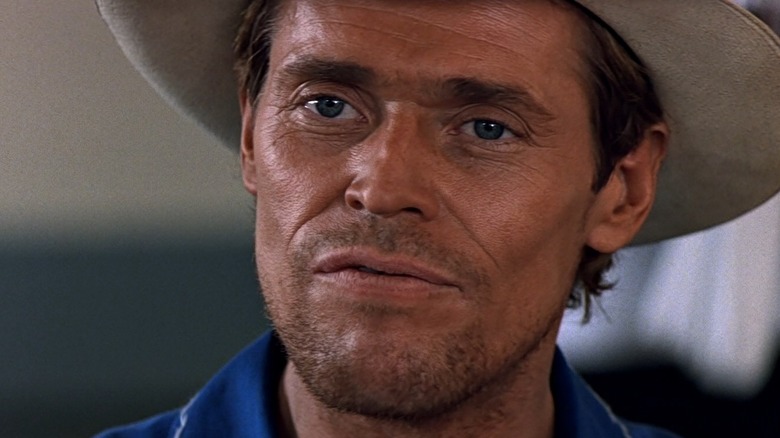 Paramount Pictures
Willem Dafoe is one of Hollywood's most underrated — and underutilized — stars. He rarely gets the plum lead roles, often taking the part of a key supporting character instead of the top-billed star. But no matter what part he plays, Dafoe is almost always a highlight of any film he's in, whether it's a dark, somber character drama, an action spectacle, or a satirical comedy. And his talent and profile have only gotten better and brighter with his decades-long life on the screen — unlike so many legendary leading men, some of Dafoe's best roles and most impressive performances have come later in his career. 
From his career-defining performance in the controversial "The Last Temptation of Christ" to his appearance alongside Robert Pattinson in the arthouse thriller "The Lighthouse," Willem Dafoe has never stopped honing his craft, selecting strong parts, and giving towering performances. While he doesn't always get the leading role, he is a prolific actor, with more than 120 feature films to his credit in his impressive 40-year career. 
Despite his many roles, Dafoe has rarely been one for sequels or franchises, having returned to a role on a scant few occasions in sequels like "Boondock Saints 2," "Finding Dory," and "Justice League." But as good as those parts were, they aren't among his best roles and strongest performances. Think you know which ones are? Scroll on to find out whether your favorite Willem Dafoe roles made our list.
John Clark (Clear and Present Danger)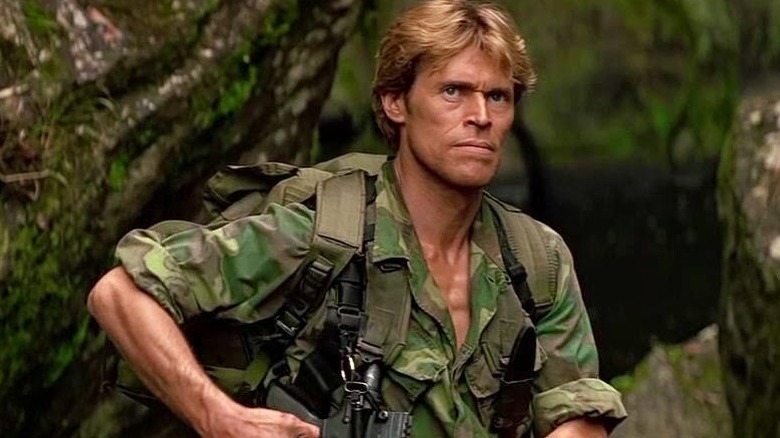 Paramount Pictures Studios
In a role that could have seen his character spun off into its own series of movies, Willem Dafoe took on the infamous role of John Clark in the Harrison Ford-led film "Clear and Present Danger," the 1994 sequel to "Patriot Games." Based on the novel by Tom Clancy of the same name, the character of Clark went on to be featured in a number of classic Clancy books, and Clark's adventures were adapted into a successful video game franchise, the "Rainbow Six" series. The character was later played by Liev Schreiber in the reboot "The Sum of All Fears," but here, Dafoe portrays the special forces agent on a mission to Columbia to take down a ruthless drug cartel. 
Clark is sent in without CIA Director Jack Ryan's knowledge or approval in a clandestine attempt to not just topple the jungle drug lords but to exact revenge for the death of an NSA-linked associate. While Ryan negotiates with the cartels for what he thinks is in the best interests of U.S. relations with the Colombian government, he is unaware of the true purpose of their diplomatic visit, putting him in the center of a dangerous political game. At the same time, Clark's team is sent on a deadly kill mission led by CIA operative Clark. Dafoe is raw and uncompromising as the steely-eyed black ops soldier, and it's a real shame we never got a "Rainbow Six" spinoff in that era.
John LeTour (Light Sleeper)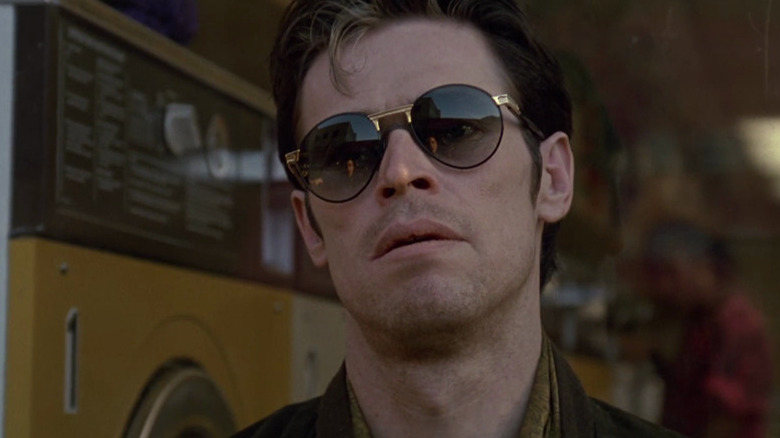 Fine Line Features
"Light Sleeper" is a 1992 neo-noir crime drama film by celebrated screenwriter Paul Schrader ("Taxi Driver"), who also directs. In the flick, we meet Willem Dafoe's character John LeTour, a middle-aged but low-level drug runner who is reassessing his life as he looks back with regret. Set in the grim and savage streets of New York City during a sanitation strike (an important detail that provides a key backdrop for the story), DeTour is a courier for a drug maven named Ann, played by Susan Sarandon. A lifetime in the drug trade has taken its toll on LeTour, who can no longer manage the increased risks of crack-slinging in the more dangerous era of the 1980s. Times have changed, and LeTour is unable to keep up. But when he reconnects with an ex-lover (Dana Delaney), he looks for a fresh start, only to find himself trapped in the underworld he longs to escape.
"Light Sleeper" is a dark — even bleak — film about a man who's lost control of his life and seems powerless behind the wheel as he tries to turn back and start over. It touches on themes of fate and redemption, with Schrader's script and strong direction creating a stylish, fresh look at 1980s drug culture. It received good reviews in no small part thanks to Dafoe's turn as John LeTour, with Variety's 1991 review of the film stating that "a superb Dafoe contributes crucially to the degree of success the film achieves." 
Max Schreck (Shadow of the Vampire)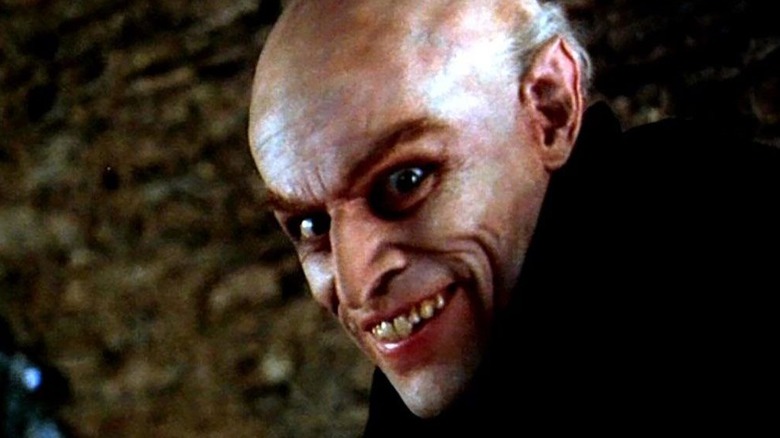 Lionsgate Films
In this heavily fictionalized version of the true story behind the making of the early Hollywood classic "Nosferatu," Willem Dafoe plays the iconic actor Max Schreck who took on the role that would make him a legend — the vampire Count Orlok, a character inspired by Bram Stoker's "Dracula." In "Shadow of the Vampire," Dafoe is introduced as an enigmatic and shadowy German avant-garde actor, with the crew being warned of his eccentric on-set behavior. When we finally meet him, Dafoe's Schreck is an obsessed, maniacal method actor who never comes out of his makeup and wardrobe and refuses to appear during daylight hours. Flanked by John Malkovich in the role of the vampire film's director Friedrich Wilhelm Murnau and Cary Elwes as the film's cinematographer, Dafoe gives a scenery-chewing showing as the nearly insane ego-driven actor who is slowly revealed to be much more than he appears.
With Dafoe's over-the-top performance as Schreck, the film quickly goes from docu-drama to fantasy thriller. As odd occurrences around the "Nosferatu" set begin to pile up alongside Schreck's odd behavior, all signs point to their mysterious star as the culprit. Part satire, part horror movie, part biopic, the film impressed critics, and Dafoe was once again lauded for his part. His work in  "Shadow of the Vampire" ultimately led to his second career Academy Award nomination for Best Supporting Actor.
Eric Masters (To Live and Die In L.A.)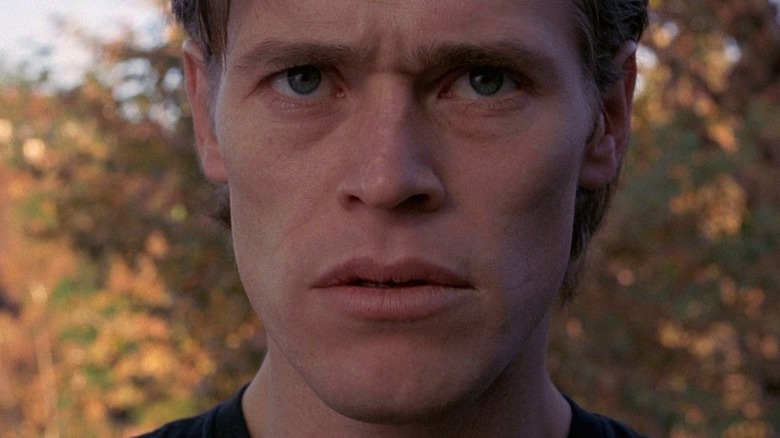 Metro-Goldwyn-Mayer
Chronicling the exploits of two Secret Service agents and their mission to take down a notorious counterfeiter, "To Live And Die In L.A." starred William Petersen ("CSI: Las Vegas") as the lead agent Richard Chance and Willem Dafoe as his criminal target Eric Masters. The film focuses on Chance's dogged quest for justice after Masters' men kill his partner at the start of the film. Always somehow able to stay one step ahead of investigators, Dafoe's Masters is a cunning and ruthless master criminal, and Chance slowly starts crossing the line from an upstanding law enforcement officer to a law-breaking vigilante. 
The cat-and-mouse thriller becomes a game of wits between the agents and Masters, whose schemes force Chance down ever darker paths in his relentless pursuit for revenge. Written and directed by William Friedkin — whose previous works included "The French Connection" and "The Exorcist" — the film is an impressive crime thriller that was released to strong reviews. Notably, Roger Ebert awarded the film a perfect four stars, with Dafoe getting high marks for his role as the film's lead villain. Retro reviews have been even more complimentary, with Cinephilia & Beyond calling the film a highlight of director Friedkin's impressive career, and JoBlo labeling it the "best movie you never saw."
David Caravaggio (The English Patient)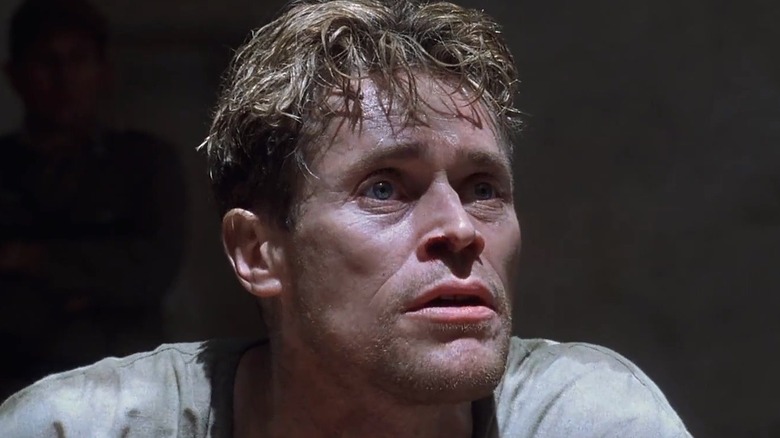 Miramax
"The English Patient" was a critical darling that was nominated for 12 Academy Awards and named among the best British films of the 20th century by the British Film Institute. Starring Ralph Fiennes in the title role, the film begins with a heavily bandaged English war veteran recovering from serious wounds at an Italian monastery. While in recovery, he tells his story — one of heartbreaking love, loss, and war — to a young nurse in a series of flashbacks. Meanwhile, those who listen never see his face or know his true identity. Willem Dafoe stars in the key role of the soldier's friend David Caravaggio, a Canadian soldier and survivor of Nazi torture who talks with the English patient and listens to his story but has motives of his own.
Between the flashbacks of the patient's story, Dafoe's Caravaggio reveals his own tale of his brutal torture at the hands of ruthless German captors and how he now seeks revenge against those who have wronged him. He's already found and murdered the man who cut off his thumbs and is now hunting the person who he believes betrayed him to the Germans. Over the course of the film, Caravaggio begins to suspect that the English patient might be that man. "The English Patient" was an epic war film that wowed critics, and once again, Dafoe impressed audiences in a supporting role that added much-needed intrigue, elevating the epic romance and deliberately paced melodrama to an all-time great.
Jesus of Nazareth (The Last Temptation of Christ)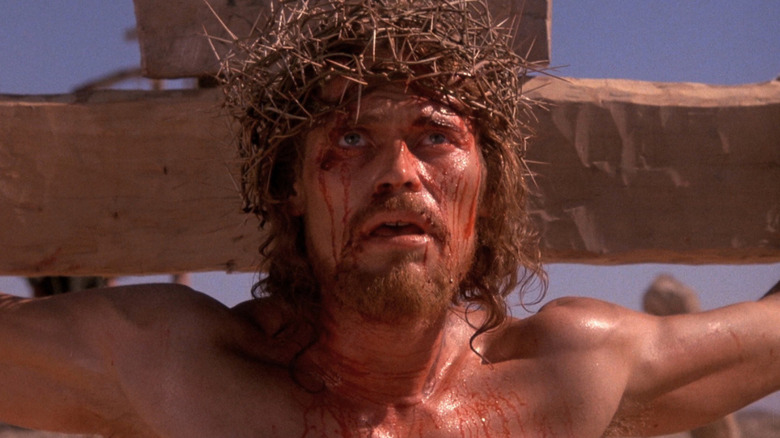 Universal Pictures
In his career-defining performance, Willem Dafoe played no less than Jesus of Nazareth himself. The film – directed by Martin Scorsese and written by Paul Schrader — was based on the controversial novel by Nikos Kazantzakis. Dafoe gave one of his finest performances, and his take on Christ was a radical departure from the other Hollywood interpretations that preceded it. Roger Ebert noted this in a 2008 essay on the film, saying, "[Jesus] is a weary, self-doubting individual, not always willing to carry the souls of man on his shoulders. There are times when he seems not to know or believe he is the son of God, and when he does, he uses that knowledge as a reason to rebuke his mother and the memory of Joseph. He berates and hectors his followers and confides mostly in Judas, who is radically recast in this story as a good man who is only following instructions."
Ebert and other reviewers heaped praise on Dafoe in the title role for his bold performance, but many in Hollywood and beyond felt both the film and Dafoe's portrayal was apocryphal. Indeed, "The Last Temptation of Christ caused a major stir that led to protests and even prompted violence. Dafoe himself caught heat in Hollywood as well and claimed he was removed from at least two films over his appearance in the project. " Still, it stands to this day as one of his best and most important roles.
Vincent van Gogh (At Eternity's Gate)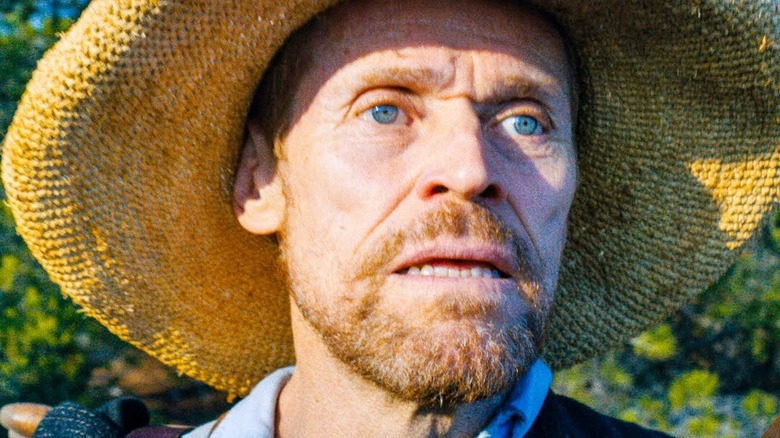 CBS Films
By the time Willem Dafoe had several real-life historical roles under his belt — from Jesus Christ to Max Schreck — he had decided to add one more notable name to his resume and play one of history's greatest artists, Vincent Van Gogh, in 2018's "At Eternity's Gate." In this celebrated but little-seen biopic, Dafoe stars as the troubled artist alongside Mads Mikkelsen, Rupert Friend, and Oscar Isaac, the latter as fellow painting great Paul Gauguin. "At Eternity's Gate" chronicles Van Gogh's final days as he struggles with mental illness before taking his own life just a few short months after his 37th birthday. The film's vibrant use of color mirror's the artist's work, but it's Dafoe that is the standout.
A triumph of a film built around Dafoe's performance as Van Gogh, he was well cast, with The New York Times calling it an "exquisite portrayal" and "a vivid, intensely affecting portrait of Vincent van Gogh toward the end of his life." The review notes that Dafoe's distinctive features and astounding physicality imbue Van Gogh with both determination and fragility. The critical consensus reached on the review aggregator site Rotten Tomatoes notes Dafoe's incredible performance as well, saying the film was "led by mesmerizing work from Willem Dafoe in the central role." For his work on the film, the actor received his fourth Academy Award nomination — this time for Best Actor — for playing the legendary artist.
If you or anyone you know is having suicidal thoughts, please call the National Suicide Prevention Lifeline​ at​ 1-800-273-TALK (8255)​.
Bobby Hicks (The Florida Project)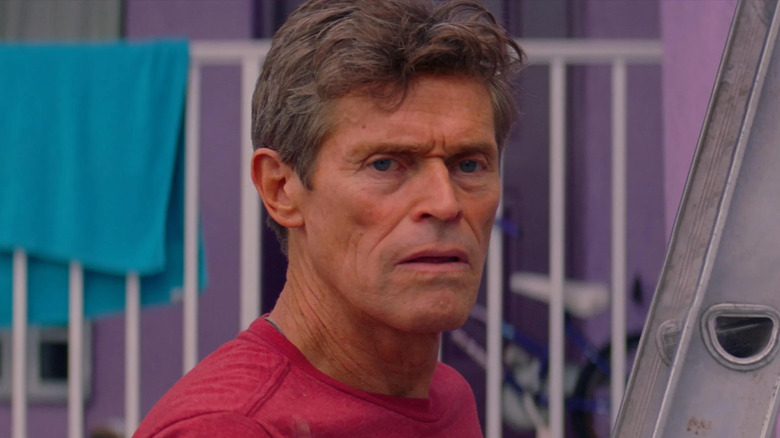 A24
In somewhat of a departure, Willem Dafoe takes on the role of a sensitive father figure in "The Florida Project." A coming-of-age story and gritty slice of life drama, the film focuses on the struggles of Moonee, a 6-year-old girl living in a motel adjacent to Walt Disney World with her troubled young mother Halley, who struggles to make ends meet. Dafoe plays the role of Bobby Hicks, the older but kindly owner of the Magic Castle motel where the family lives. He is fiercely protective of Moonee and her friends, and while helping to keep the kids safe, he also tries to help Halley as best he can. But when the kids — and Halley — all get into separate trouble, their life at the motel is thrown into disarray, and Bobby is left to decide whether they are worth his continued assistance.
It's an unusual film and role for Dafoe, who — as the lone veteran actor in a production of mostly fresh Hollywood faces — doesn't get to ham it up as a bombastic character or bring his usual intensity. Except for one key scene, he instead plays a more reserved and soft-spoken father figure to a group of young children. But the film illustrates Willem Dafoe's range and ability to do more with less, reaffirming his tremendous acting talent, with critic Brian Tallerico noting that "in a long, very notable career, this is one of Dafoe's best performances."
Thomas Wake (The Lighthouse)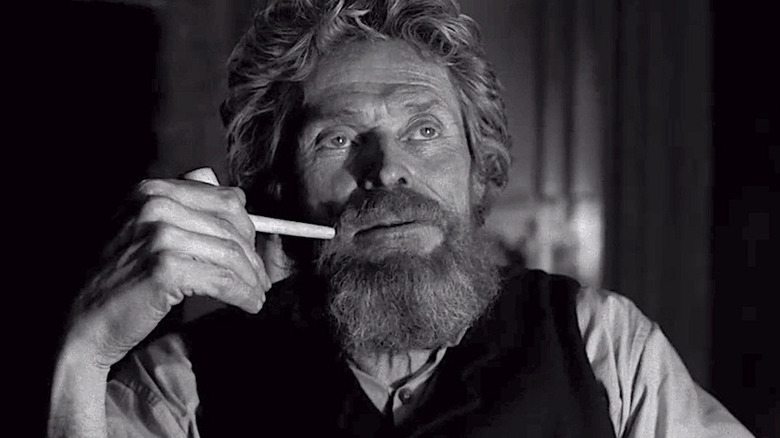 A24
"The Lighthouse," written and directed by Robert Eggers ("The Witch"), is a psychological horror movie starring Willem Dafoe and Robert Pattinson filmed in black and white to make a dark, brooding story that recalls shades of the Flannan Isle Lighthouse mystery. Initially developed as a modern-day interpretation of a famously unfinished story by Edgar Allen Poe of the same name, Eggers' "The Lighthouse" eventually evolved into its own story about two lighthouse keepers assigned to a station on a remote isle who slowly go insane. Pattinson plays Ephraim Winslow, a new lighthouse keeper assigned to work the post under longtime keeper Thomas Wake (Dafoe), who proves to be demanding, overbearing, and almost cruel. Over time, the younger keeper observes Wake's odd and increasingly bizarre behaviors and paranoid delusions. When a massive storm hits the island, the two men slowly begin to lose their grip on reality and clash in a maddening — and murderous — battle of wills as they struggle to keep their own dark secrets from each other.
Gripping, terrifying, and exquisitely shot, "The Lighthouse" is filled with deeper meaning, allegory, and intense imagery that has made it the subject of much analysis, both critical and interpretive. But it's the two leads, Dafoe and Pattinson, that steal the film, making it a kind of modern folk tale. Indeed, it's a parable about two larger-than-life figures who struggle through crises, with Dafoe delivering what Empire Magazine called a "stunningly transformative performance."
Sgt. Elias (Platoon)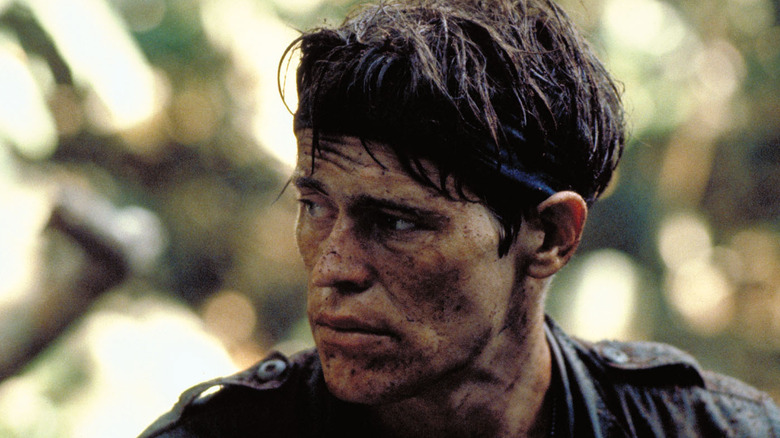 Orion Pictures
With the conclusion of the real-life conflict, the mid-1980s saw a flurry of Vietnam War movies like "Full Metal Jacket," "Hamburger Hill," and "Casualties of War." Nevertheless, few have proven as memorable and enduring as the 1986 film "Platoon," written and directed by Oliver Stone. Following the war-time exploits and struggles of a unit of U.S. Army infantrymen serving in America's protracted war with the Viet Cong, Tom Berenger, Charlie Sheen, Kieth David, Forest Whitaker, and a young Johnny Depp rounded out the all-star cast alongside Willem Dafoe. Dafoe plays the role of Elias, an idealistic yet disillusioned sergeant who fights alongside a diverse group of soldiers in a battle that is decidedly not the kind of fun and rousing adventure that past Hollywood war films had made it out to be. 
In its review of the film, the New York Daily News called out Dafoe for making a "strong impression" while praising the film's "hallucinatory, nightmarish visual quality." Dafoe's character of Sgt. Elias, who doubts the war and all it stands for, is on a collision curse with Berenger's Staff Sgt. Barnes, the macho alpha male for whom righteousness flows from the barrel of his gun. According to Dafoe himself, it was a breakthrough performance that got him on every studio's radar, and he quickly made a name for himself playing intense, complicated, and multi-layered characters like Sgt. Elias. 
Norman Osborn (Spider-Man)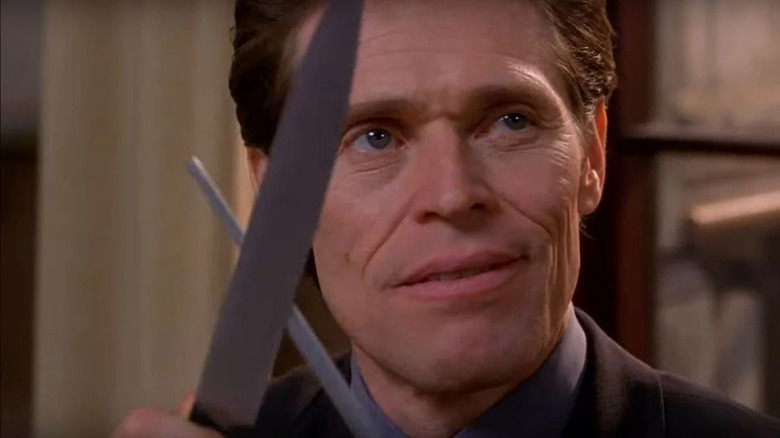 Sony Pictures Entertainment Motion Picture Group
A big-budget "Spider-Man" film had been in the works for years, but when Sam Raimi boarded the epic superhero adaptation, a villain was needed that could go toe-to-toe with one of the most popular comic book heroes ever. While superhero blockbusters weren't quite the big industry that they are today, the best comic book movies to that point had boasted a major star or long-time legend in the villainous role, from Gene Hackman as Lex Luthor to Ian McKellen as Magneto. Though early word was Norman Osborn and the Green Goblin might be played by John Malkovich, the role eventually went to Willem Dafoe. With the "Platoon" star installed as the film's top-billed baddie, the studio probably had dreams of Dafoe delivering the same kind of unhinged performance as Jack Nicholson did as The Joker in 1989's "Batman," and deliver he did.
Giving the kind of indomitable live-action interpretation of the classic Green Goblin that fans had long dreamed of, Dafoe was convincing as a would-be mentor to Peter Parker, an embittered father, a vengeful CEO, and a psychotic supervillain all at once. His larger-than-life persona, distinctive features, and animated physicality were a perfect fit for Sam Raimi's exaggerated style and colorful production. He would return for a cameo in 2004's "Spider-Man 2" and again nearly 20 years later in the multiverse epic "Spider-Man: No Way Home." In the latter, he comes face to face with the MCU, reprising his most iconic role as Norman Osborn and the Green Goblin to widespread applause.