Why Bam Margera Felt Tortured On The Set Of Jackass While Going Through Rehab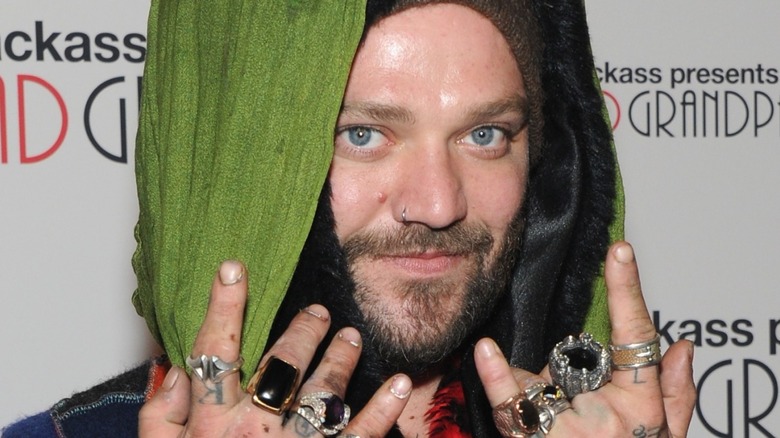 Jamie Mccarthy/Getty Images
It's been a long and bumpy road for former "Jackass" icon Bam Margera.
After years of stunts and reality TV show stardom, the legendary pro skater and MTV performer watched his celebrity status crumble in 2020 following a well-documented struggle with alcoholism and rehab. Not only was Margera ousted from the cast of the "Jackass Forever" film as a result in August 2020, but he was also caught up in a nasty court battle with director Jeff Tremaine and Johnny Knoxville, whom he sued for wrongful termination. The "CKY" and "Viva La Bam" frontman did eventually drop his lawsuit, but not before sparking a media firestorm with his claims of "torture" and "inhumane treatment." 
"Paramount's inhumane treatment of Margera cannot be countenanced," his suit said at the time. "Margera was made to endure psychological torture in the form of a sham Wellness Agreement, and then ultimately terminated for his protected class status due to his medical condition, and his complaints about Defendants' discriminatory conduct towards him."
On the surface of Margera's claims, it seemed as if the former reality star was simply being salty over his "Jackass Forever" firing, which reportedly came after he failed a drug test for Adderall (via Entertainment Weekly). But if you actually listen to some of the claims Margera was making back in 2020 and 2021, a lot of what he's saying makes you feel sorry for the guy.
'It was the definition of f***ing torture'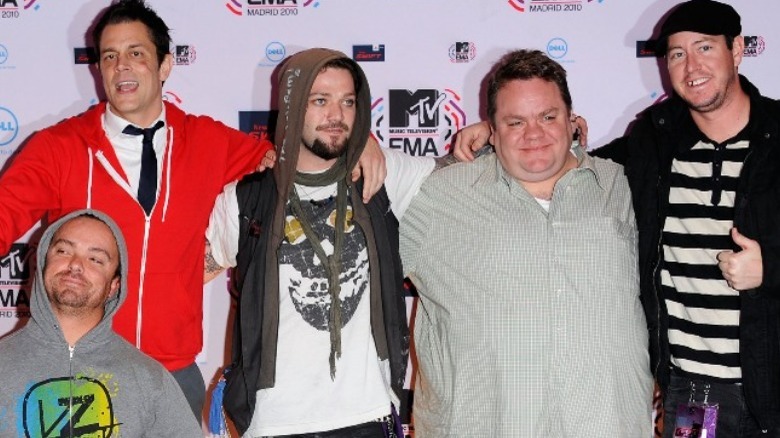 Ian Gavan/Getty Images
According to Bam Margera, when it came time for him to start making "Jackass Forever" with Johnny Knoxville and the "Jackass" crew, one of the main requirements of his contract was that he was supposed to go to rehab for alcohol and stop taking certain drugs, including Adderall. However, at the same time — per Margera — the production team was completely fine feeding him a cocktail of nearly 20 different prescription pills. 
"I go in [to rehab] for Adderall and alcohol; I come out on Zoloft, Vistaril, Bupropion, Lithium, Concerta, Propranolol, Seroquel, Contrave, Trazodone, Vivitrol, Naltrexone, Latuda, Zyprexa, Lexapro, Abilify, Wellbutrin, Vraylar, and Adderall — because I have ADD — and Klonopin," Margera told TMZ in an April 2021 video interview (via BroBible). "Dr. Knoxville said, 'You're allowed to take all that except Adderall and Klonopin," Margera recalled. "I'm like, 'Well, who are you to say? This is what the doctors say I need.' And then, it led to suicidal tendencies on all 18 medications that I was on. I'm like, 'Well, what's the point of a $5 million contract [when] you have to walk on eggshells and jump through your hoops,' which is already impossible to obey if I'm dead. What the f*** is the point of having the money if I'm not here anymore? Because I was gonna die of a pill overdose or suicidal thoughts."
Asked if he ultimately blamed the "Jackass" crew for his deteriorating health and mental condition in recent years, Margera didn't mince words, telling TMZ: "It was the definition of f***ing torture! They tortured me! I've been on Adderall for 13 years, two a day at 20 milligrams, and they don't want me to take it anymore, and I found myself sleeping all day."
The entire agreement between Margera and the "Jackass" guys, per the "Bam's Unholy Union" star, was that Margera would willingly get the help he needed to get sober. The only problem was none of it was on his own terms.
Bam Margera said there was nothing he could do to please his Jackass co-stars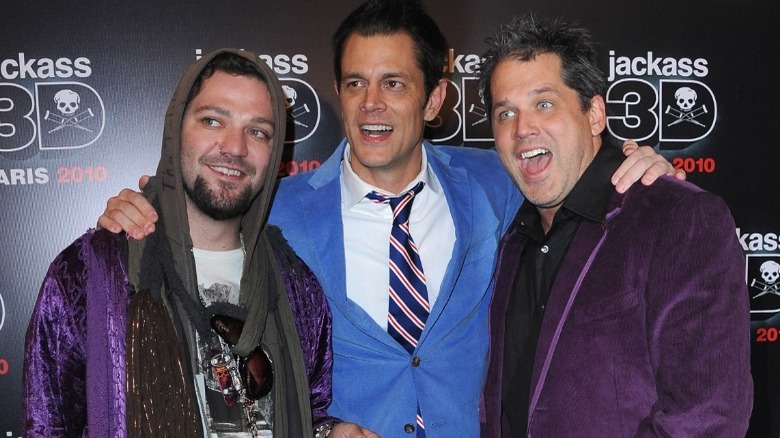 Francois Durand/Getty Images
While being forced to take nearly two dozen medications — but not the ones he supposedly really needed — sounds terrible enough as it is, Bam Margera says that's not where the "Jackass" torture solely lied. According to him, from day one, Johnny Knoxville and the crew didn't have his best interests in mind, only theirs. 
"It started off, 'Bam, you've been out there on TMZ being a jackass, and you're almost like a liability,'" Margera remembered in his interview with the Hollywood gossip outlet. "I'm like, 'Wait a minute, are you telling me that I'm too jackass for Jackass?'"
Right out the gate, Margera says things were forced upon him, such as a 90-day stint in rehab instead of the 30 days he wanted to do initially. According to the "Jackass" team, it was all for his own good. 
"I went to rehab for Adderall and alcohol, and I went there thinking I was going to do 30 days, but [the Jackass crew] insisted that I do 90 days," Margera said. 
Despite following their orders, Margera told TMZ he was axed from the "Jackass Forever" cast at the first chance they got. According to him, it was an incident on the road involving a single pill of Adderall that wound up being the main catalyst for his dismissal. 
"I found a loose one in my car on my road trip, and I took it," Margera told TMZ. As for whether he truly wanted to take action against his "Jackass" castmates and production in court, the former pro skater showed remorse and explained how he felt guilty deep down but had no choice. Margera concluded his interview with TMZ by declaring that late "Jackass" star Ryan Dunn was "rolling around in his f***ing grave saying, 'Why, Jeff? Why?'"