The Toughest Cast Member In Jackass Forever According To Johnny Knoxville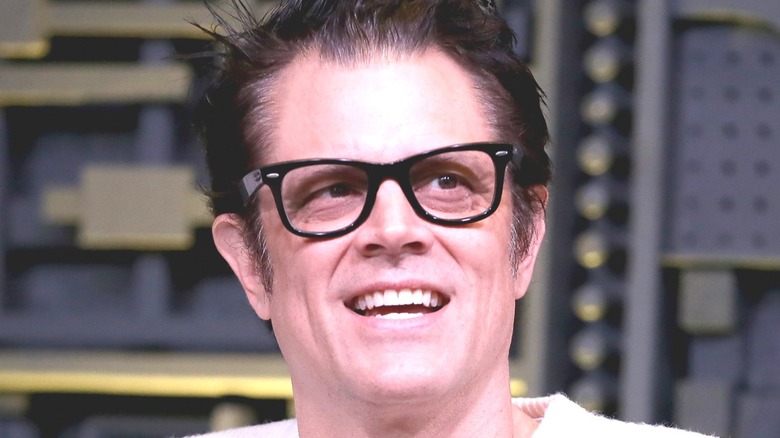 Chelsea Lauren/Getty
When it comes to conversations about the toughest guys in show business, a case can certainly be made that the cast of "Jackass" deserves to be in the conversation. Starting in 2000, a group consisting of the likes of Johnny Knoxville and Steve-O, among others, took their wild and crazy antics to MTV. Every episode, the gang would subject themselves to all sorts of torture via insane stunts. From getting mauled by bulls to getting launched into the air in a full porta-potty, the team has seemingly done it all for the sole purpose of entertaining legions of fans.
Over 20 years since the franchise began, the crew's back at it again. They've returned to put their bodies and minds to the test once again in "Jackass Forever," but the movie also functions as a passing of the torch, of sorts. Knoxville, Wee-Man, Chris Pontius, and the rest are there to show that just because they're a little older, they can still take ample punishment. But the film also introduces audiences to some new members, and according to Knoxville, one cast member, in particular, proved the spirit of "Jackass" is alive and well in the next generation.
Rachel Wolfson earned Johnny Knoxville's respect
Until "Jackass Forever," the franchise had predominantly been a boys' club, but after 20 years in pop culture, it was definitely time to open the floodgates. Rachel Wolfson is the first female cast member in the franchise, and according to an interview she did with IndieWire, it's all thanks to her presence on Instagram. Apparently, Knoxville liked some of her posts and eventually messaged her asking her to hop on a phone call. It wasn't long until he divulged they were working on a new "Jackass" movie and wanted her involved.
Wolfson was more than game to run with the bulls, as it were, and Knoxville was undoubtedly impressed with the way she handled herself in the chaotic environment. Knoxville spoke about "Jackass Forever" to Thrillist, where he offered these words of praise to the newest member of the team: "I was a fan of [Wolfson's] Instagram. We met with her, and she was hilarious and cool. She proved to be tougher than any of us. She would take pain and not even make a peep. But of course, biologically, women are tougher than men, and this movie proves it. Not that this movie needed to prove it. Everyone knows that."
You can see Wolfson and the rest of the new recruits in action in "Jackass Forever," which is in theaters now.