Modern Family Renewed For 11th And Final Season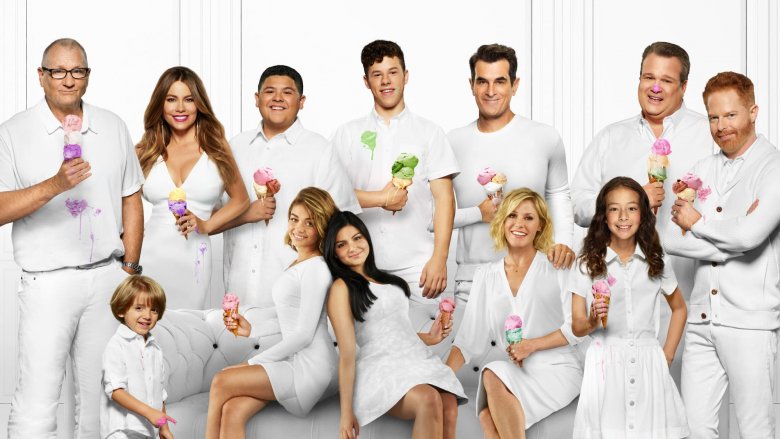 ABC
The big (straight, gay, multi-cultural, traditional) happy family will soon go their separate ways. 
As detailed by The Hollywood Reporter, ABC has renewed Modern Family for season 11, which will mark its last. The network made the announcement during the Television Critics Association press tour on Tuesday. 
"Chris [Lloyd] and Steve [Levitan] have created one of the most seminal and iconic comedies in television history," said Karey Burke, the president of ABC Entertainment. "In its final season, there will be more milestone events that anyone who has been a fan of the series won't want to miss."
Burke later told reporters that she "would love" for Modern Family to spin off into another series following its final turn, although she noted that there aren't any "concrete plans" for that to happen just yet. There's a chance a Modern Family spin-off might come to fruition down the line, given that a handful were thought to be in development in the past; equally likely is that such a project won't actually materialize, considering no spin-offs ever survived past the pilot stage of development. 
Co-creator Lloyd said of Modern Family's pick-up and impending end, "For 10 years, our characters have bravely faced turning points in life and moved through them to great personal enrichment; we have chosen a different path by doing one more season of Modern Family."
Levitan added with a laugh, "Even after 10 years together, we realized there are still some things our writers don't yet know about each other's sex lives."
News of Modern Family scoring an 11th and final season comes after Levitan revealed his intentions to wrap the series up with 10 seasons. It seems that those plans changed when The Walt Disney Company announced its impending acquisition of most of 20th Century Fox's assets — including its television arm. The merger allows ABC to obtain full ownership of Modern Family without having to pony up a huge licensing fee to 20th Century Fox TV. Another season of Modern Family would cost the network a pretty penny, but since the deal was announced, it's possible without the hefty payment. And it's beneficial for all involved: ABC gets to control Modern Family for another season and Disney can pick up profits after merger is complete, collecting checks from syndication deals and agreements with streaming sites after the show's finale. 
Levitan's deal with 20th Century Fox TV ended in July, and until the House of Mouse absorbs Fox, he'll play things by ear and see how everything works out. 
"I wanted to have the answer to that and what's going to happen to Modern Family before I moved forward," he stated. "I have had some lovely offers to come talk to some people but so far, I've been putting all that off until we get things settled. The second-to-last piece was seeing that [Fox execs] Peter Rice and Dana Walden were going to Disney. And then figuring out when Modern Family will end. Then I'll have all the information I need to start to decide if I will make a deal with Disney or start looking elsewhere."
It remains to be seen just how long Modern Family season 11 will run for, as Levitan once admitted uncertainty over whether it would be a full season of 20-plus episodes. "I thought season 10 was going to be it. I think everyone has said season 11 is it. If we were to do it, season 11 would be it, for sure. And I'm not sure it would be a full season. We're all trying to figure that out," Levitan shared with THR in October of 2018.
Also unclear is when Modern Family's last season will premiere and where the show might take its characters for their final ride. The series — which follows the lives of Jay Pritchett (Ed O'Neill), his second wife Gloria (Sofia Vergara), his stepson Manny Delgado (Rico Rodriguez), his young son Fulgencio Joseph "Joe" Pritchett (Jeremy Maguire), his adult children Claire Dunphy (Julie Bowen) and Mitchell Pritchett (Jesse Tyler Ferguson) and their spouses and kids — debuted on ABC in September 2009, and has since become the network's longest-running comedy series and one of the highest-rated comedy currently airing on television. In the nearly 10 years since it premiered, Modern Family has seen its younger characters grow into teens and young adults, so it's safe to assume that the former kids of the show will take some big steps into adulthood by the time season 11 wraps. 
We'll update you with an exact release date for Modern Family season 11 when ABC makes that announcement.