What's Next For Trevor Noah After The Daily Show?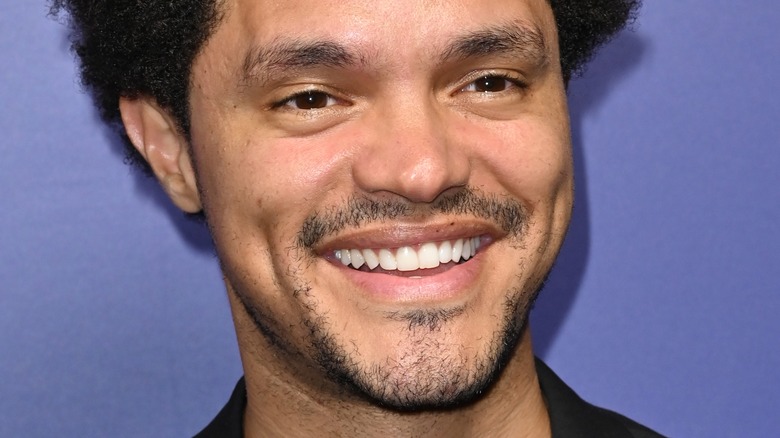 Featureflash Photo Agency/Shutterstock
Trevor Noah just hosted his final "The Daily Show" episode, which is less of a surprise for fans than it was when he first got the gig. Seven years ago, Noah was pretty much an unknown in the U.S. when he took over the big desk job from John Stewart. Back then, many fans were expecting a big-name star to make the transition easy, but instead, Noah took on the daunting task of winning over the show's dedicated audience. Flash forward to September 2022, when Noah announced that his last show would be on December 8th, giving fans time to prepare for his send-off. Yet again, viewers are wondering who will take over the now-vacant spot, as well as where Noah goes from here.
To probably no one's surprise, Noah had to take many steps to eventually sit behind "The Daily Show" desk. Shortly after high school, he got his first taste of show business, appearing as an extra on a popular South African soap opera before becoming a radio DJ for a local station (via Nicki Swift). His climb in the entertainment industry eventually led him to the flagship Comedy Central show, where he first appeared as a correspondent. Only a few months later, he was offered the big desk gig. Now, with that coming to a close, Noah is spending virtually no time before moving on to the next stage of his career.
Trevor Noah is ready to, once again, hit the road
When Trevor Noah announced that he would be stepping down from hosting Comedy Central's "The Daily Show," he shocked not only his fans but his crew, as well. Little knew he already had his sights set on his next endeavor, a new stand-up comedy tour. This choice didn't just come out of the blue, as Noah has been honing his craft, on the road, throughout his hosting run (via THR). Despite his grueling TV schedule, he still managed to take on live gigs all over the globe, as well as filming multiple Netflix specials, like his recent "Wish You Would" performance. 
And now, as Noah steps away from the gig that provided fans with daily news/political satire, he hits the road to enjoy all the interesting experiences that come with it. "I spent two years [of the pandemic] in my apartment, not on the road, and when I got back out there again, I realized that there's another part of my life that I want to carry on exploring," he said during his departure announcement back in September. "I miss learning other languages, I miss going to other countries and putting on shows, I miss being everywhere and doing everything." As Noah announced on Twitter, his new "Off The Record" tour " begins in the U.S. in January 2023.