The Price Is Right's Drew Carey Suffered A Serious Injury Before Even Taping The First Show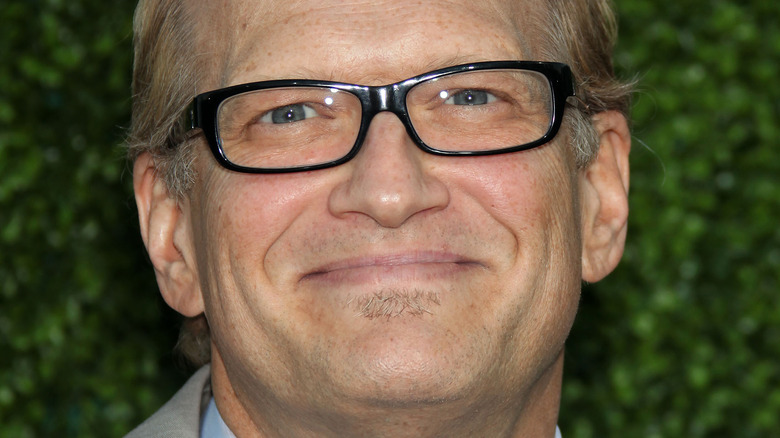 DFree/Shutterstock
Nothing is quite like the first week of a brand new job. Right off the bat, you're making your one and only first impression to your new coworkers. Then, you've got your superiors watching your every move, hoping that you justify their decision to hire you in the first place. Now imagine the pressure you'd feel if your predecessor was not only a legend, but held on to your new job longer than anyone in history. That was the type of experience Drew Carey had to endure when he first started his new gig, hosting CBS's "The Price is Right." And for Carey, it surely didn't go the way he had hoped it would.
When Drew Carey signed on to become the new host of the longest running gameshow in TV history, he had quite the shoes to fill. The current format of the show kicked off in 1972 when then-host Bob Barker first greeted contestants, who were asked to "come on down." And Barker continued that for 6725 more episodes (via IMDb). Well, all things must come to an end, and Barker's incredible tenure reached its limit in 2007. That's when Carey took the reigns. 
Just like any new gig, Carey had to experience his first moments on the CBS stage, ready to begin carving out his own path towards gameshow immortality. However, that journey got off to a shockingly poor start, as Carey was injured before the cameras ever got to start rolling. The joyous event suddenly became a medical issue, resulting in the new host experiencing one of the worst first days on the job, ever.
Drew Carey quickly learned the hazards of hosting a gameshow
When Drew Carey started working at "The Price is Right," there's no way he could've ever imagined it would go as bad as it did. That's because, Carey managed to do something that his predecessor, Bob Barker, never did in the 35 years he worked on the CBS set. That is, injure himself. It could be assumed that the mishap occurred during a dress rehearsal, as Today reports that the cameras had yet to start rolling.
As Carey lead a contestant through the steps of playing The Grocery Game, he managed to get his arm caught in a giant turntable. "That was the day before the first actual taping," he told the Oklahoman. "You should've seen everyone's faces." The shocking accident resulted in a diagnosis of bruised nerves, which fortunately did not keep him from taping the first episode. However, Carey explains there was nothing easy about pushing forward. "I couldn't stretch my arm out, it hurt so much," he recalled. 
It's quite possible that The Grocery Game, in which contestants have five grocery items to choose from to combine a total value that lands between $20 and $22, may now be Carey's least favorite competition to run. But, regardless, he has pushed forward, now approaching his 2500th episode as host. However, he hasn't been able to avoid injury since then, as in 2017 The Huffington Post reported that Carey had to cancel tapings due to a separated clavicle he suffered while on a exercise run. Hopefully, the talented comedic host can keep himself out of harms way, as he continues towards surpassing his predecessor's record mark.