The Staggering Number Of The Price Is Right Episodes Bob Barker Actually Filmed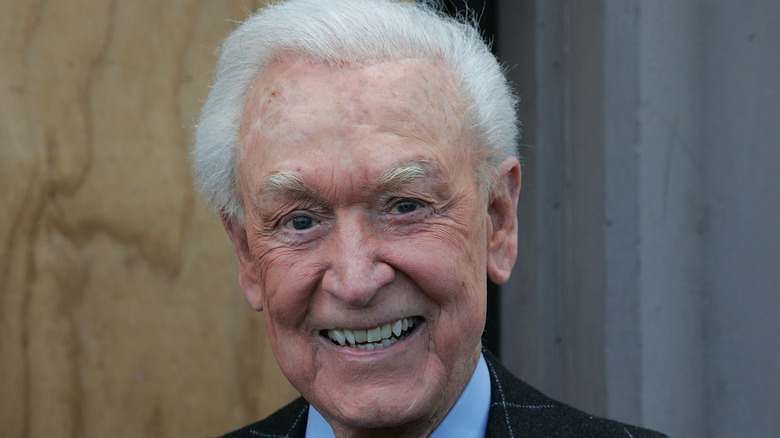 David Livingston/Getty Images
With an origin dating to television's adolescent years back in 1956, the iconic TV game show "The Price Is Right" found its most enduring format in 1972 when host Bob Barker took over duties as M.C. (via E! Online). An immediate success with TV viewers, the show was built around the concept of predictably excited studio audience members being selected to "Come on down!" and join Barker to attempt to win everything from grocery items or appliances to a dream car worth tens of thousands of dollars. Contestants would win prizes by guessing the retail value of that prize within a certain range. They could also take home additional cash and prizes by spinning the show's Big Wheel or by playing other in-show games, such as Plinko, that were added in later years.
Tabbed by CBS to join the production while he was still engaged as the host of another popular game show, "Truth or Consequences," Barker would anchor "The Price is Right" until his final episode in 2007, a date that also marked the entertainment veteran's 50th year as an M.C. on television. With comedian Drew Carey taking over as host that year, the show continues to air and is still going strong on CBS. Taking the extraordinary longevity of the show into consideration, just how many episodes did uber-host Barker actually film during his career with "The Price is Right"?
Bob Barker filmed more than 6,000 episodes of The Price is Right
After first signing on to host "The Price is Right" in the early '70s, Bob Barker would spend the next 35 years as the focal point of what would become the longest-running game show in television history. All in all, Barker would serve as host for an astonishing 6,726 episodes of the show (per IMDb).
Acting as a traditional, ever-upbeat game show host for "The Price is Right" wasn't the full extent of Barker's association with the production. The fact is, Barker would take on the additional role of executive producer for the show in 1988, following the death of producer Frank Wayne. As an executive producer, Barker was able to expand his creative contributions to the program, such as introducing a number of the show's subsequent "pricing games," as well as instituting "The Price is Right $1,000,000 Spectacular" spinoff that aired in primetime. 
Well-known for his animal welfare advocacy, Barker was famous for what became his trademark sign-off message on many of those thousands of episodes of "The Price is Right," saying, "Help control pet overpopulation: have your pets spayed or neutered." This is a tradition Drew Carey has since continued.