CSI: Vegas Fans Are Heartbroken Over Catherine's Discovery In Season 2 Episode 8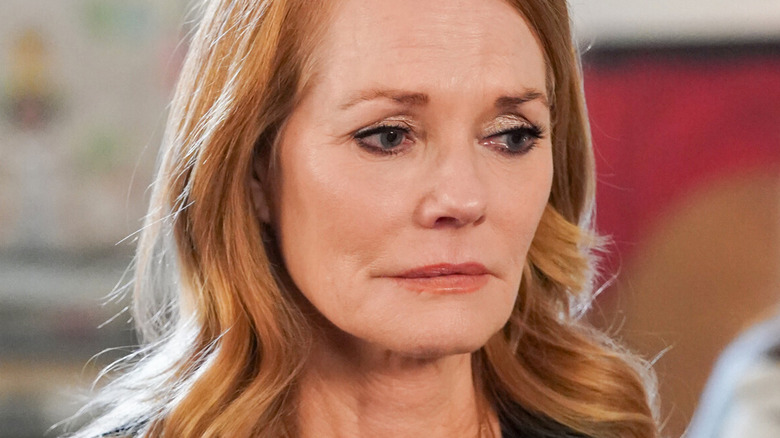 Sonja Flemming/CBS
Season 1 of "CSI: Crime Scene Investigation" spinoff "CSI: Vegas" premiered in late 2021, bringing the franchise back to TV for the first time since the conclusions of "CSI" in 2015 and "CSI: Cyber" in 2016. However, unlike "Cyber" and other prior spinoffs that all take place in largely original settings, "Vegas" sees the return major players from the original "CSI" series and pairs them with some younger talent, such that it's more of a hybrid sequel/reboot.
The premiere of "CSI: Vegas" Season 2 likewise shakes up the status quo upon the departures of Gil Grissom and Sara Sidle, two longtime franchise staples portrayed by William Petersen and Jorja Fox. In their stead, another former "CSI" heavyweight Catherine Willows (Marg Helgenberger) becomes the focus of the season. "CSI: Vegas" fans were happy to have Catherine back when her return was first announced, despite her involvement costing both Grissom and Sidle.
In the Season 2 premiere, Catherine is determined to solve a murder in a key scene that sets up what is to come in subsequent episodes. Just prior to her Season 2 debut, Catherine was training a student named Grace Huang (Sue Zen Chew) to join the CSI team. However, now Grace is missing, necessitating Catherine's involvement. During Season 2, Episode 8, as she nears the conclusion of her investigation into Grace's disappearance, Catherine makes a grim discovery, in a moment that left many viewers heartbroken.
Catherine finding Grace's body saddened viewers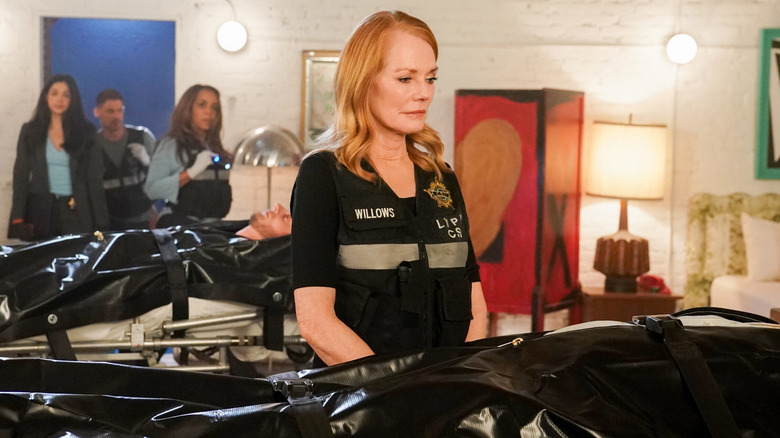 Sonja Flemming/CBS
In a landmark moment for Catherine's investigation into Grace's disappearance, Catherine discovers Grace's body in "CSI: Vegas" Season 2, Episode 8, forcing the seasoned investigator to come face-to-face with the death of her trainee. When this episode first aired on December 8, many fans shared their heartbroken reactions to Catherine's unfortunate discovery.
Twitter user @Caitlin_schafft, for example, suggested that Catherine could benefit from a hug after going through Episode 8's ordeal. Meanwhile, @HessThe shared that she simply feels sorry for Grace. Similarly, @camachoswife wrote, "cath founding grace's body was one of the saddest moments of this season, it broke my heart into a thousand pieces."
Other users on Twitter, including @__JoseCorrea__, @chocolateluvn86, and @mylesspike86 likewise posted about the moment with various saddened emojis indicating their emotional responses.
In an interview Entertainment Tonight published on the date of "CSI: Vegas" Season 2's premiere, Marg Helgenberger described the investigation into Grace's death as the impetus for Catherine's return within the series' fiction. "One of the things that's bringing her back is the young lady that she's been mentoring and that launches an eight-episode arc that's her initial foray to get back into the lab and her reason for being there," Helgenberger said. Now that this arc has reached its climax, what Catherine's involvement with the CSI team might look like moving forward may well become a focal point of Season 2 as it continues into the new year.