Taylor Sheridan Told Timothy Dalton To Trust Him On Yellowstone Spin-Off 1923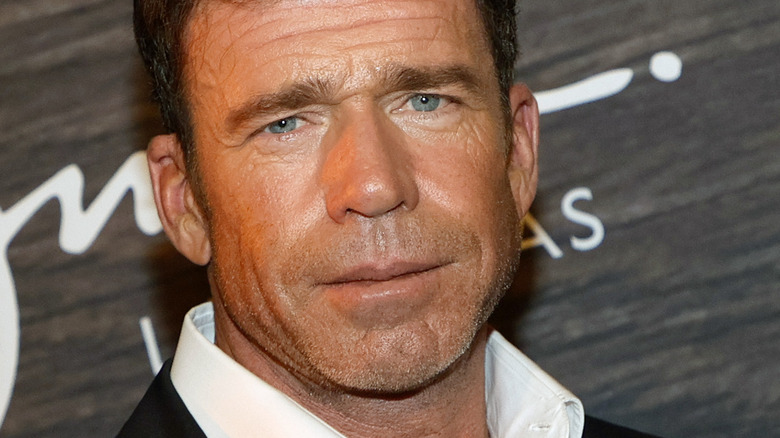 Ethan Miller/Getty Images
The term "meteoric rise" is one that showbiz folk like to throw around. But few rises have arguably ever proven as meteoric as that of Taylor Sheridan. It was, after all, only 2015 when "Sicario," Sheridan's big debut as a screenwriter, had its premiere. Since then, he's become an Oscar-nominated screenwriter, a lauded director, and one of the most fiercely in-demand creators in all of Hollywood — one whose name now attracts top talent from the film and television realms.
To date, Sheridan is, of course, best known for creating the smash hit Western series "Yellowstone" for Paramount Network. He's since become one of Paramount Studios' go-to creators for streaming and cable TV projects, seemingly developing a new show with A-list talent attached on a weekly basis. And yes, that includes a slate of "Yellowstone" spin-off series for Paramount+. Next up for the "Yellowstone" universe is "1923," which is set to make its debut on December 18, 2022.
It'll do so with superstars Harrison Ford and Helen Mirren fronting the action. If you've seen the trailer for "1923," you know that duo will indeed be joined by former James Bond actor Timothy Dalton. And to get Dalton on board for "1923," Sheridan said he had to ask the star to do something he wasn't entirely comfortable with, which was to trust him.   
Sheridan says a mutual trust with Dalton led to one of his finest performances
Taylor Sheridan talked to Entertainment Tonight during the series' premiere about the delicate process of onboarding Timothy Dalton for "1923." And Sheridan indeed admitted he was forced to ask the former James Bond star to trust that he'd deliver something unique because he hadn't actually written any scripts yet. "I called him from a ranch in Wyoming," Sheridan began, adding, "and he said, 'Taylor what are you asking me to do? There's no script, there's nothing.'" The "1923" creator jovially continued, "I said, 'You just gotta trust me,' which I guess is not a British thing to do ..."
Breach of etiquette aside, Dalton ultimately relented, and apparently signed on for "1923" without knowing exactly what he'd be doing in it. Perhaps more importantly, Sheridan claims Dalton's work on the series is truly something to behold. "I can't wait for him to see what he does because it's rare," Sheridan said, continuing, "It's really rare and it's beautiful and it's tough to watch."
Dalton portrays the powerful English land developer Donald Whitfield on the "Yellowstone" prequel. If the trailer is any indication, he'll indeed be a formidable early foe for the Dutton family, fronted in this time period by Harrison Ford and Helen Mirren's tough-as-nails Jacob and Cara Dutton. But given what we already know from "Yellowstone," things are not likely to turn out too well for Whitfield. Either way, we cannot wait to see a fearsome and conniving Timothy Dalton try to worm his way into and out of what will surely be a bloody, brutal showdown in the wilds of Montana.