Call Me Kat's Mayim Bialik Praises Jeopardy! Co-Host Ken Jennings' Sense Of Humor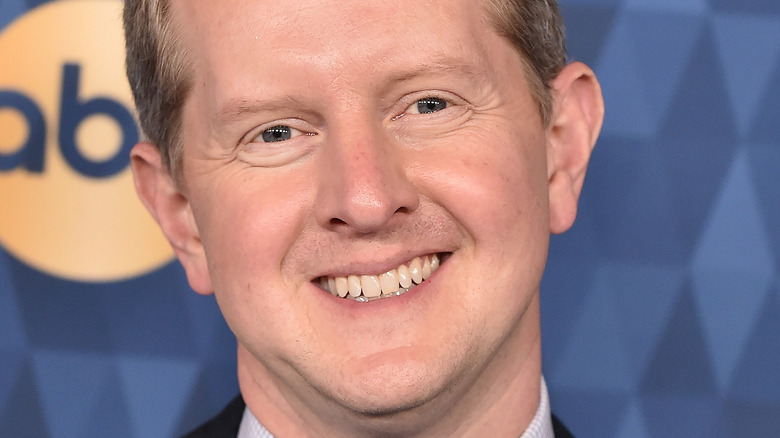 DFree/Shutterstock
Plenty of fans remember the controversy that surrounded the selection of a new "Jeopardy!" host after the beloved Alex Trebek passed away. As producer Mike Richards filled in for a brief stint, fans voiced their own thoughts about a permanent replacement. In the end, the hosting chores are being split between the actress and neuroscientist Mayim Bialik and Ken Jennings, the former "Jeopardy!" champion who holds the record for highest single-season earnings in the game show's history.
From there, the scrutiny of the "Jeopardy!" faithful didn't disappear, but actually became much more focused, especially when Bialik irritated fans by renaming the first Jeopardy round and Jennings had fans seeing red by giving contestants extra help. Now that time has passed, the two co-hosts have proven to be worthy of the job, with both earning fan support. Jennings has noticeably hosted most of the show's newest episodes, as Bialik spends time concentrating on her successful FOX sitcom, "Call Me Kat."
"Call Me Kat," which kicked off its third season in September, stars Bialik as the title character, who leaves her job as a professor to open a cat-themed café in Louisiana. The series is based on the British sitcom, "Miranda," which was created by comedian Miranda Hart. The Season 3 premiere of the American version got gameshow and sitcom fans purring when Jennings popped up as a guest star. He had already proven to be a brilliant "Jeopardy!" contestant and a solid host, but how would he fare in the scripted comedy world?
Bialik and Jennings were thrilled to be on the show together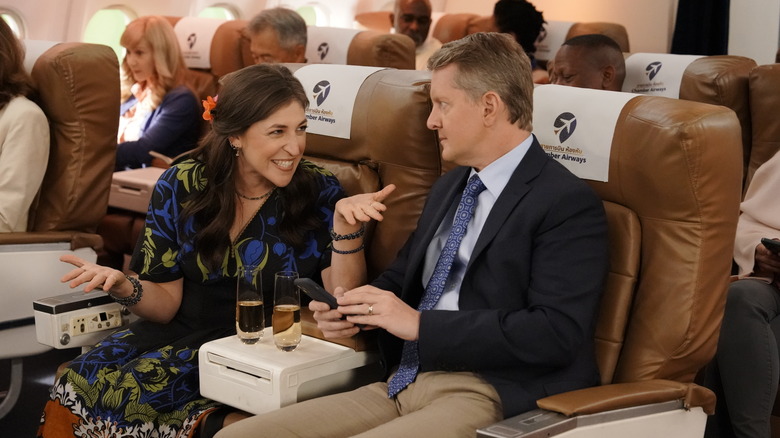 Lisa Rose/FOX
Mayim Bialik was thrilled when her fellow "Jeopardy!" host Ken Jennings agreed to guest star in a "Call Me Kat" episode titled "Call Me Ken Jennings." The actress explained to SciFi Vision that she first believed Jennings was going to turn down the gig due to his schedule. "We were trying to think of some really fun way to start Season 3, and I think I was asked, like, 'What would you think about it?'" she recalled. "I said, 'I think it'd be amazing.' I said, 'I don't think he'll do it, though. He's very busy.'" Well, he apparently wasn't too busy to pass on the opportunity.
Bialik revealed that Jennings was excited to get in on the fun and make his sitcom debut. "He showed up on set so thrilled. He had never been on a set like that before," she recalled. "And we had a great time with him." Regarding his performance, Bialik gave her "Jeopardy!" co-host a thumbs up, saying, "They were airing the episode in our dressing rooms for some reason on a break yesterday, and he's terrific."
Now that the episode has aired, it's hard to argue with Bialik's assessment of Jennings' performance. The Season 3 premiere episode saw Kat (Bialik) seated next to Jennings, who's playing himself, on an airplane. It's Kat's first time flying in the first-class section, and she fan-girls and talks about herself to the point that an exasperated Jennings looks for a seat in coach. Bialik went on to tell SciFI Vision that on top of his delightful performance, Jennings also brings even more attention to her already popular sitcom. "He's a huge icon in terms of where we're at in media," she said. "Like, he is a big deal, and we're very happy to have him."