The Change Mayim Bialik Made On Jeopardy! That Irritated Fans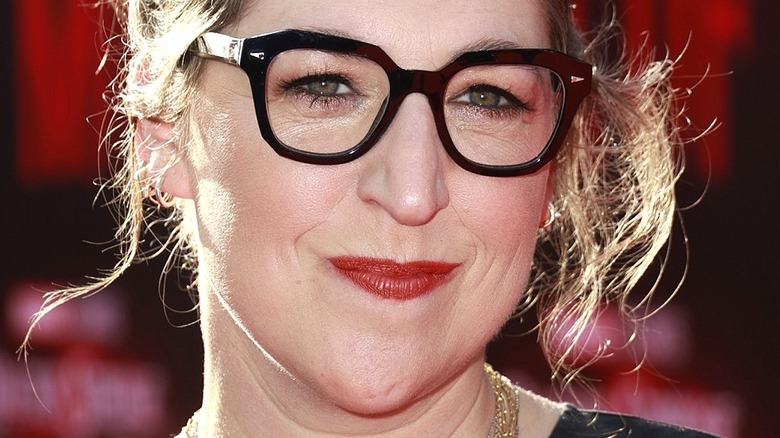 Frazer Harrison/Getty Images
In summer 2021, when it was announced that Mayim Bialik would helm the beloved quiz competition "Jeopardy!," there was some backlash over the decision. Despite "The Big Bang Theory" star being an academic in real life – she holds a doctorate in neuroscience from UCLA – some felt others were more worthy of filling the late Alex Trebek's shoes. In fact, LeVar Burton, of "Reading Rainbow" fame, assumed the job would be his (via TODAY).
Though it's now set in stone that Bialik and "Jeopardy!" legend Ken Jennings will alternate hosting duties every few months, some viewers remain critical of the woman behind Amy Farrah Fowler. In 2021, Rolling Stone summarized all of her past controversial remarks regarding vaccines, parenting, birth control, and the victims of Harvey Weinstein.
Many "Jeopardy!" watchers also criticize Bialik's appearance on the game show and called her out for wearing the same orange blazer twice. Bialik, who stood by her outfit repetition, told E! News' Daily Pop, "The story is I've worn everything more than once. But if you wear a burnt sienna cardigan blazer, you're going to wear it again. That's right. There is a budget, people, on 'Jeopardy!' I grew up with one bathroom till I was 15 and my brother was 19. We budget. We're gonna wear it again. And I'll wear it again!"
Beyond her beliefs and fashion choices, "Jeopardy!" fans were deeply annoyed by a subtle, yet impactful change made by Bialik on the show.
Mayim Bialik referred to the first round as Single Jeopardy
Typically, the first round of the quiz show is simply called "Jeopardy" and the second round is "Double Jeopardy." Therefore, when Mayim Bialik referred to the former as "Single Jeopardy," people had something to say about it.
On Twitter, @BuzzerBlog wrote, "There's no reason hearing Mayim say 'Single Jeopardy' should annoy me as much as it does but it makes me irrationally annoyed." @mj_alex18 said, "Please make Ken Jennings the sole Jeopardy host. I can't take hearing Mayim Bialik say 'Single Jeopardy' much longer." A third user, @TheNolaChick, quipped, "Mayim out here just making up terms."
However, during an appearance on "The Kelly Clarkson Show," Bialik set the record straight — she didn't make up the term. Not only do the clue boards that she reviews read "Single Jeopardy," but she said Alex Trebek used the phrase on occasion. "There's 86 people watching what I'm doing, listening. If they wanted me to redo it, I would've been happy to redo it, but no one said anything," Bialik said.
Separately, she told Yahoo that, if she does flub a line, she's forced to re-shoot it. Nothing goes on the air that isn't approved by producers and researchers. "I say things all the time where they'll be like, 'What? Do it again.' So it's not like Mayim's going rogue," she explained. "Everything is very carefully monitored. There's a thing in my ear, I promise." 
Bialik told Clarkson that she planned to nix the term moving forward — even if it's in the script — to avoid a continued "viral situation" on social media.