Avatar: The Way Of Water's Cast Praises James Cameron's Approach To Female Characters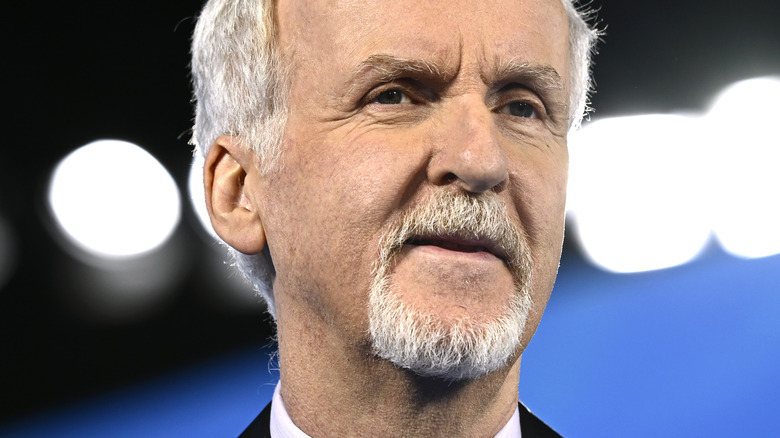 Gareth Cattermole/Getty Images
James Cameron is one of cinema's most well-known and profitable filmmakers. As the director of two of the biggest movies of all time in "Titanic" and "Avatar," he knows what he is doing. But one thing he has done well his entire career is putting strong women front and center of his films. He has directed strong female characters in many of his projects; Sigourney Weaver in "Aliens," Mary Elizabeth Mastrantonio in "The Abyss," and Linda Hamilton in the "Terminator" franchise lifted him to the top of the industry. Even the television show he created, "Dark Angel," featured Jessica Alba in a career-making lead role.
Cameron looks to be primed to do it again with his upcoming sequel, "Avatar: The Way of Water." He has brought back the two female leads in Weaver and Zoe Saldana but is adding the talents of Kate Winslet, whom he directed previously in "Titanic." They are joining the returning talents of Sam Worthington ("Clash of the Titans," "Terminator: Salvation"), Steven Lang ("Mortal Engines," "Don't Breathe"), CCH Pounder ("The Shield," "NCIS: New Orleans"), and Joel David Moore ("Dodgeball: A True Underdog Story," "Forever"), along with newcomers to the franchise Cliff Curtis ("Whale Rider," "Fear the Walking Dead") and Edie Falco ("The Sopranos," "Nurse Jackie"). The three female leads — Saldana, Weaver, and Winslet — had plenty to say about the legendary director, praising him for his treatment of capable women on screen.
Kate Winslet wants to be like these women
Kate Winslet isn't new to working with James Cameron, as she starred opposite Leonardo DiCaprio in Cameron's iconic historical epic, "Titanic." According to the actress, she nearly died while filming a scene where her coat became tangled on bars underwater, and she almost drowned. That experience makes it somewhat ironic that she returned to work with him again, and even did so underwater. Winslet fully committed to her "Avatar" role, though, even breaking a record for holding her breath for over seven minutes, surpassing a milestone previously set by Tom Cruise.
One of the reasons Winslet was so eager to throw herself into her role was her respect for Cameron as a director, she told The Hollywood Reporter. "His capacity to create incredible female roles is just amazing," Winslet told the outlet at the press junket in London for "Avatar: The Way of Water." "These leaders, these women, they have power, they have physical strength, they have emotional gravitas. It's very exciting to be invited in to play a character who is so in line with how I see the world and how I hope to be as a parent and as a woman."
The Academy Award-winning actress surprised Cameron when she returned to work with him again (per the Independent). The director confessed, "I think Kate came out of 'Titanic' a bit traumatized by the scale of the production and her responsibility within it." But Winslet apparently got past the trauma and was ready to work with him again. And she wasn't the only actress to return to work with the director with nice things to say about him.
Sigourney Weaver also came back for more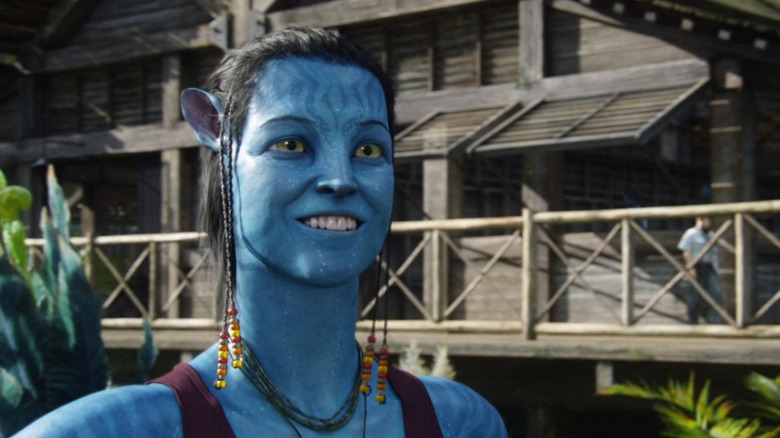 20th Century Studios
Sigourney Weaver returned to work with the director over 30 years after working with him for the first time on "Aliens." She also praised his ability to handle strong female characters, saying she believes that to Cameron, they are mirrors of the women he has around him in real life. "I think [Cameron] has so many women in his life that he really admires and respects and Kiri ... I feel like she's an adventurous spirit in all of us," Weaver said about her character in the film (via The Hollywood Reporter). She went on to give a little hint as to why she returned to work with Cameron: "We're all thrilled to be there because the bar is so high, and you have to be so, so there — at 200 percent," she said. "It's not a casual job."
Weaver has returned to the world of Pandora in a different way this time around. Where she originally appeared in the first film as the leader of the group of scientists studying the race on the planet, events led to her having to move to inhabit one of the avatars for good. In this iteration, she is playing 14-year-old Kiri, the eldest daughter of Jake (Sam Worthington) and Neytiri (Zoe Saldana). She spoke with THR about her process and how Cameron allowed them to improvise, giving the director more praise. In hearing the talent around Cameron speak about how he is on set and his process, it isn't hard to understand how his films gross so much money and how he is so confident that "Avatar: The Way of Water" will be the same.