Avatar 2's Kate Winslet Claims Sigourney Weaver Broke A Tom Cruise On-Set Record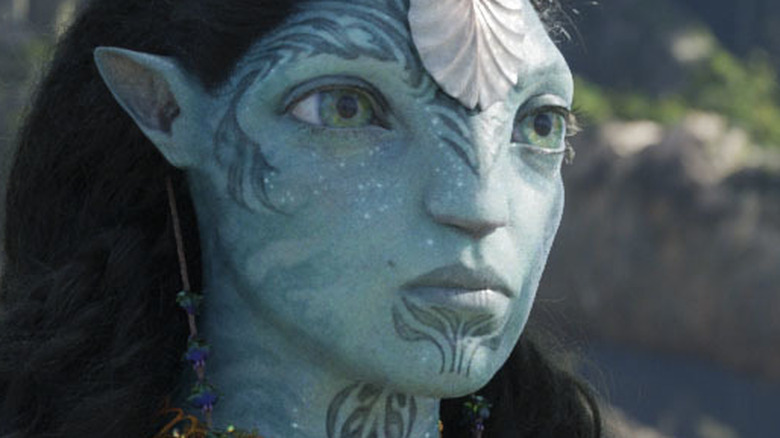 Disney
It seems like Kate Winslet isn't the only "Avatar" actor with a spy-worthy lung capacity.
During a presser for "Avatar: The Way of the Water" attended by Looper, the "Titanic" star talked at some length about how long she and her castmates held their breath while filming underwater. As confirmed by Snopes last year, Winslet herself held her breath for seven minutes and fifteen seconds on set, demolishing a record previously held by Tom Cruise.
While filming "Mission Impossible: Rogue Nation," Cruise reportedly held his breath for six minutes to film an underwater sequence. In a behind-the-scenes featurette (accessed via The Wrap), Cruise said of the stunt, "I had to prove to everyone that it was actually safe...Not only is it safe, but it's better that I know how to hold my breath, because I'm going to be very relaxed. No one's going to have to rush in; no one has to panic."
After surpassing Cruise by over a minute, Winslet very much seemed to panic — the actor momentarily thought she was dead. Director James Cameron was so stunned by Winslet's time that he even seemed jealous. "I'm still pissed off..." he said during the presser. "I've been a free diver for 50 years, and you smoked past, y'know, me and everybody else..." Though Winslet may have been "Avatar's" strongest underwater performer, one of her co-stars may have also crushed Cruise's record.
Maybe it's from all that time stuck in outer space...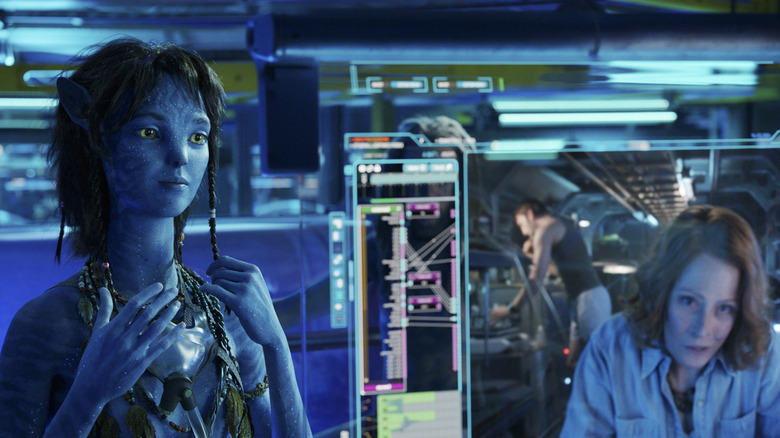 Disney
Though James Cameron estimated that Kate Winslet outdid even the film's diving trainers, he quickly noted that Sigourney Weaver came "very close" to her co-star's time underwater. Winslet jumped on the point, eagerly elaborating that the 73-year-old Hollywood icon may have overtaken Tom Cruise's time as well.
"People keep going on about smashing Tom Cruise's record," Winslet began, "which people are saying is six-minutes-something. How do we know that you've not actually beat Tom Cruise as well?" "That's a good point!" Cameron marveled as Winslet claimed underneath him that Weaver's time was "like, six-thirty." "Can we find out?" she asked Cameron excitedly.
For her part, the "Alien" star seemed blithely unbothered by whether or not she exceeded Cruise's "Mission Impossible" benchmark. "One of the nice things was it wasn't a competition..." Weaver said as Cameron and Winslet erupted into laughter. "Apparently it was!" Cameron joked.
Winslet went on to briefly recount her own record-breaking underwater experience, stating that the first thing she said upon resurfacing (after assuming she had died) was, "we need to radio set" — she wanted Cameron to know immediately that she had spent over seven minutes underwater. "Definitely wasn't a competition," she said facetiously.
Even when she could breath, The Way of Water was an acting challenge for Weaver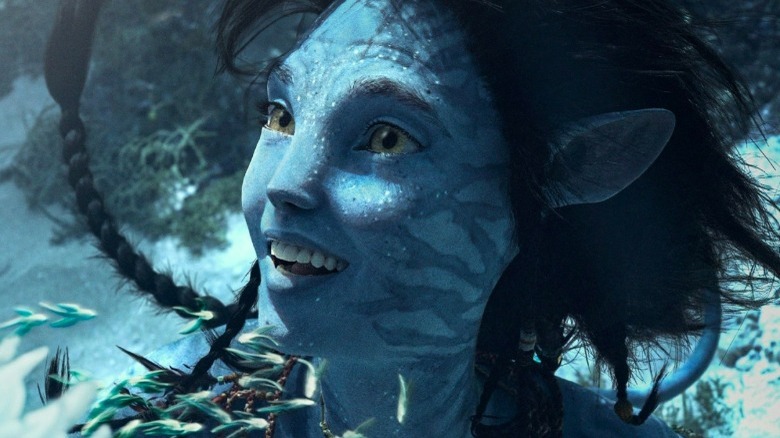 Disney
While having to perform underwater for extended periods surely made "Avatar: The Way of Water" a unique acting challenge for all involved, for Sigourney Weaver specifically, the hurdles didn't end with holding her breath. Her new character, Kiri — the daughter of Neytiri (Zoe Saldaña) and Jake Sully (Sam Worthington) — is far different from her previous role in the "Avatar" franchise, Dr. Grace Augustine, who was killed off in the 2009 original. More specifically, she's only a kid, meaning Weaver had to totally alter her usual acting routine. 
During an interview with Empire, Weaver touched on what it was like portraying a Na'vi teenager and the difficulties that came with such a character. "I had a lot to think about as Kiri, and I had to work in a completely different way than I've ever worked," she told the publication. Nevertheless, she took the task of playing a character as young as Kiri as a welcomed challenge. She adds, "I didn't want to play an adolescent. I wanted to become an adolescent. And I didn't want to become any adolescent. I wanted to become her."
We'll have to see how Sigourney Weaver did as Kiri when "Avatar: The Way of Water" premieres on December 16, 2022.