How Grey's Anatomy Fans Can Visit Meredith's House In Real Life
For a series that captures countless busy days and sleepless nights at Grey Sloan Memorial Hospital (n​​ée Seattle Grace), "Grey's Anatomy" has always taken care to check in on the doctors outside of the hospital walls. As such, their homes have become pivotal secondary spaces throughout the show's 19-season run. There's Cristina's cozy apartment, from which Sandra Oh stole an iconic prop, and who could forget the cockroach-ridden "crapartment?"
Perhaps no non-medical building is as important in "Grey's Anatomy" lore as Meredith's (Ellen Pompeo) house. In Season 1, she moves back into her childhood home with roommates Izzie (Katherine Heigl) and George (T.R. Knight). Throughout the series, Meredith, as Derek (Patrick Dempsey) puts it, "takes in strays," and indeed, the house serves as a home or place of temporary refuge for a number of characters. After Derek passes away, Meredith moves back in with their children and her sisters. It's no surprise, then, that the house has become a tourist attraction for "Grey's Anatomy" fans.
Meredith's house is in Seattle's Queen Anne neighborhood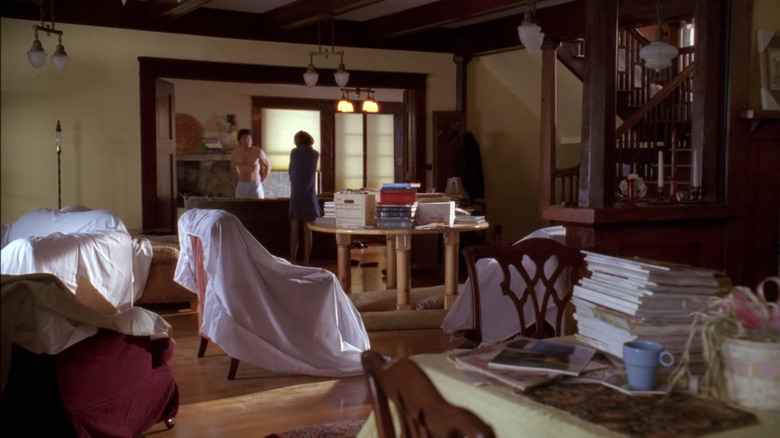 ABC
While much of "Grey's Anatomy" is filmed on a studio lot in Southern California, the crew makes periodic pilgrimages to the Pacific Northwest to capture exterior shots (via Today). One real-life location is Meredith's house, which is on 303 West Comstock Street in the lush Queen Anne neighborhood of Seattle. The home is just steps away from a view of the Seattle skyline, making it a prime tourist attraction for "Grey's Anatomy" fans. The four-bedroom home is on a 7,000-square-foot-lot, and Zillow estimates that it's worth about $1.9 million dollars.
For "Grey's Anatomy" fans, the house is no longer just a sight-seeing attraction, but also a memorial. In the Season 19 midseason finale, the house is likely destroyed in a fire caused by a lightning strike. It's a jarring albeit meaningful exit for the building that has for so long been a sanctuary for the characters on "Grey's Anatomy." Its presumed destruction coincides with Ellen Pompeo's departure from the series; when "Grey's Anatomy" returns on February 23, 2023, Meredith will leave Seattle for Boston.