The Iconic Prop Sandra Oh Stole From The Set Of Grey's Anatomy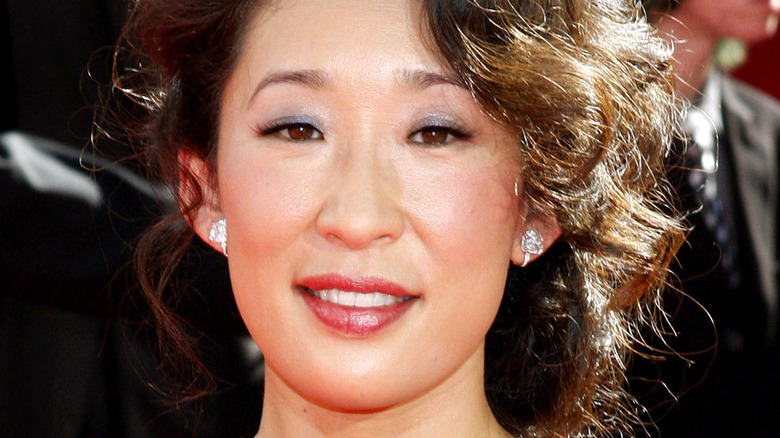 Tinseltown/Shutterstock
Emotions run high on "Grey's Anatomy." That's understandable, given the often tragic undercurrent of working in a hospital. For 18-and-counting seasons, the medical drama has seen the heartbreaking diagnoses and tense surgeries that define the profession. Let's not forget, however, that "Grey's Anatomy" comes from the melodramatic mind of Shonda Rhimes (per Showbiz Cheatsheet). In addition to rote surgeries and rounds, the doctors at Grey Sloan Memorial (FKA Seattle Grace) have had to endure bombs, floods, and earthquakes — and that's just within the walls of the hospital.
When Sandra Oh left "Grey's Anatomy" at the end of Season 10, it marked one of the series' most dramatic departures to date. Oh played Dr. Cristina Yang for 220 episodes between 2005 and 2014, acting as one of the original five interns from the series' pilot. Since exiting the series, Oh has earned critical acclaim for her role in "Killing Eve" and led the Netflix series "The Chair." Still, Oh remains attached to her "Grey's" character, even going so far as to steal this item from the set.
Sandra Oh stole her character's rug from the set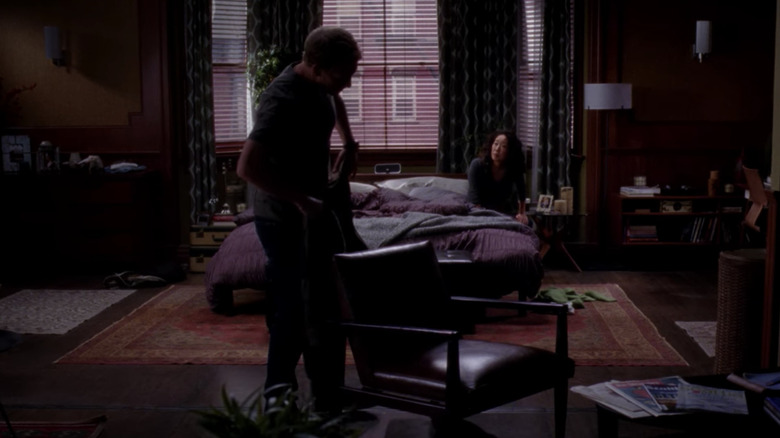 ABC
When it comes to "Grey's Anatomy" memorabilia, there are plenty of set pieces that would stoke the flames of nostalgia for a former cast member. Perhaps a nice stethoscope or, uh, a bomb that was lodged in a patient's torso. In deciding which "Grey's" memento to keep, Sandra Oh channeled Cristina Yang and went the logical, utilitarian route. "The best thing I've ever taken from a set is the rug in Owen and Cristina's apartment on 'Grey's Anatomy' before they broke up," Oh told People. "It's in my living room."
Cristina and Owen's (Kevin McKidd) relationship was ill-fated from the jump, and their on-again-off-again romance is part of the reason that Owen is one of the most hated characters on "Grey's Anatomy." That Oh stole the former couple's rug could be an indication that she has a soft spot for the partnership — or that it was just a really great rug. In any case, the actress has made it perfectly clear that she won't be returning to the "Grey's Anatomy" set to pilfer more props. "Oh my gosh, no!" she told the Los Angeles Times "Asian Enough" podcast when asked about the possibility of returning to the show. "In my mind, it's gone. But for a lot of people, it's still very much alive. And while I understand and I love it, I have moved on."