Dan Levy Credits Modern Family With Helping Pave The Way For Schitt's Creek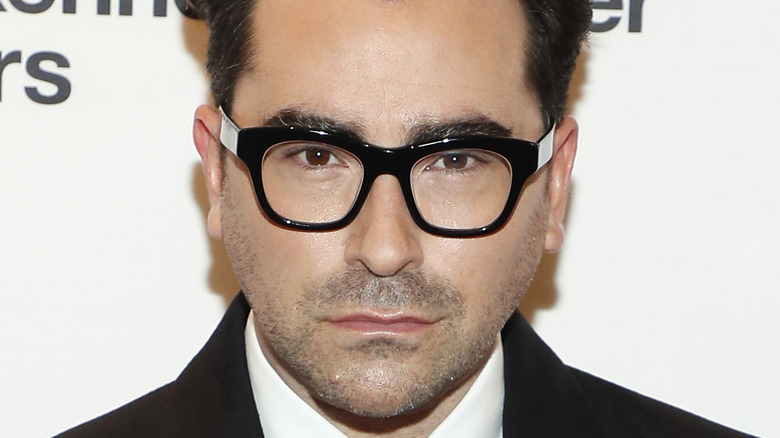 Paul Morigi/Getty Images
While most Canadian series don't historically make the jump across the border or overseas, "Schitt's Creek" has become a worldwide sensation. Like "Corner Gas" and "Kim's Convenience," the CBC sitcom managed to gain enough traction from word of mouth, awards, and advertising to make it a certifiable hit even outside of its country of origin (via Vulture).
Of course, much of this likely comes down to the absurd premise behind "Schitt's Creek." After the wealthy Rose family is defrauded of their vast fortune, they must settle into a small Canadian town in Ontario and recalibrate their life expectations considerably without the benefit of their wealth and privilege.
Dan Levy, who co-created the series with his father, plays the ostentatious David Rose across all five seasons. However, to hear him tell it, the show wouldn't have been the same without another hit series to pave the way. He credits Cameron (Eric Stonestreet) and Mitchell Pritchett (Jesse Tyler Ferguson) on "Modern Family" with helping to blaze the trail for his openly gay character in "Schitt's Creek."
Levy pointed out how Modern Family laid the groundwork for him
As "Modern Family" came to an end in 2020 after 11 seasons on ABC, Dan Levy took to Twitter to share how much the series meant to him not just personally, but also professionally. In fact, he singled out his friend Jesse Tyler Ferguson, who played Mitchell Pritchett across all 11 seasons of the series, for his work on the show and how it helped to set the stage for "Schitt's Creek."
"Tonight my friend [Jesse Tyler] has to say goodbye to his show. Judging from my puffy, waterlogged face today, it won't be pretty," Levy wrote. "But it's not pretty because it means so much. What you and your show did made what I did possible. Sending so much love to you and the [Modern Family] team," he concluded.
Considering that "Modern Family" began nearly six years before "Schitt's Creek," it's easy to see why Levy has such reverence for the series. Furthermore, knowing that the two actors are friends and are openly gay in real life, it must have been particularly special for them to help so many other men from their community to be seen in these characters on their popular sitcoms.
While both "Schitt's Creek" and "Modern Family" wrapped things up for good in 2020, the two series helped to show that having a gay lead character won't hurt your series' popularity one iota. On the contrary, both Levy and Ferguson have higher profiles than ever due to their stellar work on their respective sitcoms.