Mean Girls' Lacey Chabert Provided The Singing Voice For Young Anastasia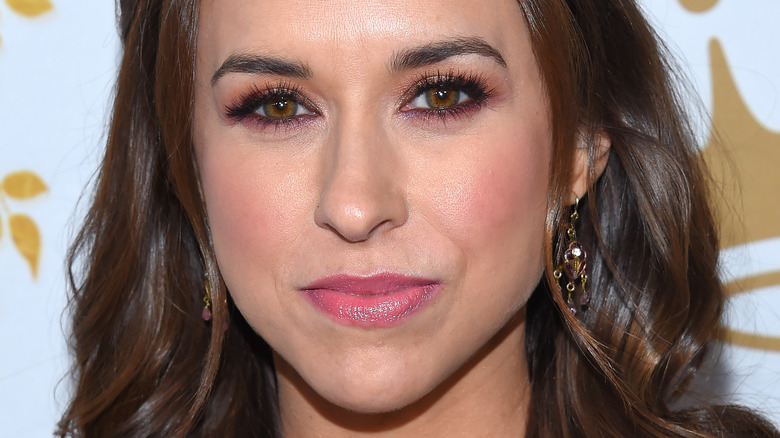 DFree/Shutterstock
The soundtrack to "Anastasia" would give director Don Bluth an incredibly tall task. However, he managed to pull it off, in no small part due to the stellar voice and singing cast. Released in 1997, the film follows Anastasia Romanov (Meg Ryan), who tags along with a young con man (John Cusack) who believes he can pass her off as the Grand Duchess to the royal family, neither aware that she is the last living descendant of the Romanov family. Don Bluth, best known for helming such animated classics as "The Secret of NIMH," "An American Tail," and "The Land Before Time," saw great success with the film following a long line of box office bombs throughout the 1990s. The film not only received positive reviews and two Oscar nominations, but it would also gross $140 million (via Box Office Mojo), making it Bluth's most profitable film. 
Likely, the film would not have amassed such success had it not been for its unforgettable music, composed by David Newman with songs by Lynn Ahrens and Stephen Flaherty. Whether you jam out to "In the Dark of the Night" or can't get "Once Upon a December" out of your head, there's no denying that the film's music is one of its most enduring aspects. Belting out these memorable tunes was an exceptional cast of such talents as Liz Callaway, Jonathan Dokuchitz, and Jim Cummings. However, it was one contributor to the film's soundtrack that gave it that extra "fetch" factor. 
Chabert shared a duet with a very special co-star
Before she taught us all the term "fetch" in "Mean Girls," as Gretchen Wieners, Lacey Chabert provided the singing voice for the young version of Anastasia in "Anastasia" at the beginning of the film. Here, she receives a music box and shares a short duet of "Once Upon a December" with Dowager Empress Marie Feodorovna Romanov, voiced by the late great Angela Lansbury. The singing voices of Chabert and Lansbury flow together to create a beautiful melody that soothes the ears and establishes the warm relationship between the two family members. This becomes especially important to connect to as they are later separated following the kick-off of the Russian Revolution, which sees Anastasia fall onto the street and lose her memory. Chabert's singing was supplemental to another surprising cast member who provided the speaking voice of young Anastasia, Kirsten Dunst.
"Anastasia" was far from Chabert's only voice role. Chabert's voice can be heard in other notable films and TV shows such as "The Lion King II: Simba's Pride," "The Spectacular Spider-Man," and the actor even briefly portrayed Meg Griffin before Chabert left "Family Guy." However, you most likely know her as Eliza Thornberry from the hit Nickelodeon animated series "The Wild Thornberrys." Chabert describes her love of voice acting with Entertainment Weekly: "I like that in voice acting, you can play different characters than you can when you're on camera, and you're limited by your physical being."