The Siegfried And Roy Cartoon That NBC Expected To Outperform The Office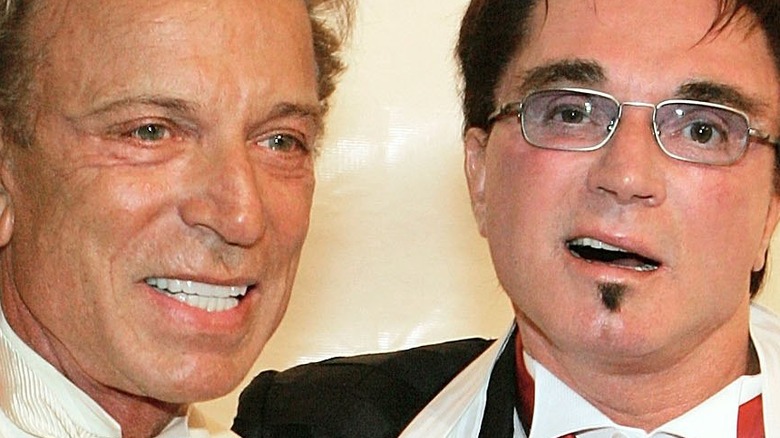 Ethan Miller/Getty Images
"The Office" is regarded as one of the best comedies in television history. As a result, it is difficult to imagine that NBC wasn't putting all its weight behind the show, let alone that they thought that a cartoon about Siegfried and Roy was going to outperform it. But alas, that is the case.
Showrunner Greg Daniels, who also developed the U.S. version of "The Office," briefly reminded us of this in a February 2022 interview with The Hollywood Reporter. "By the way, the season that 'The Office' came out, the thing that NBC was banking everything on was this cartoon called 'Father of the Pride,'" he said. "It was a sitcom about the lions and tigers that belonged to Siegfried and Roy. I remember hearing that Jeffrey Katzenberg had flown all the NBC executives to Las Vegas to meet with Siegfried and Roy and see the tigers."
If you read that quote and found yourself scratching your head, you're surely not alone. "Father of the Pride" is one of the stranger forgotten mistakes in recent NBC sitcom history. Conceived, as Daniels said, by Jeffrey Katzenberg, the cartoon revolved around the hijinx of the lions and tigers that performed as part of illusionists Siegfried Fischbacher and Roy Horn's long-running show at the Mirage hotel and casino in Las Vegas. Animated by DreamWorks and conceived with a distinctly adult humor bent in mind, the series began development in 2002.
Father of the Pride was an expensive flop
"Father of the Pride" almost didn't happen at all. After the shocking on-stage attack by one of their lions –- which badly injured Roy Horn and essentially put an end to Fischbacher and Horn's live shows –- there were understandable concerns about whether it would be possible — or prudent — to continue with the proposed series. Nonetheless, after Horn's condition stabilized, the two urged NBC to continue, and to air the series as scheduled (via the New York Times).
An impressive lineup of voice actors contributed to "Father of the Pride," including John Goodman, Cheryl Hines, Carl Reiner, and Orlando Jones (via IMDb). That said, a DreamWorks animated sitcom was an expensive move for NBC, as each episode was reported to cost an estimated $2 million, making it at the time one of the most expensive half-hour comedies in television history.
Though ratings were initially strong, they declined rapidly, and in November of 2004, NBC pulled the show from fall sweeps (via Variety). They tried twice more to relaunch the show, seeing if it might fare better in December, and then in May 2005. It was to no avail, though, as "Father of the Pride" ended its run in May 2005 after 13 episodes. 
Horn passed away after contracting Covid-19 in May 2020 and Fischbacher, heartbreakingly, died in January 2021 from pancreatic cancer. Their deaths, however, did not put as definitive an end to the Siegfried and Roy tale as one might expect. A new series, based on the podcast "Wild Things: Siegfried & Roy," is currently in development at Apple TV+, with John Hoffman of "Only Murders in the Building" at the helm.