The Heartbreaking Death Of Siegfried Fischbacher Of Siegfried And Roy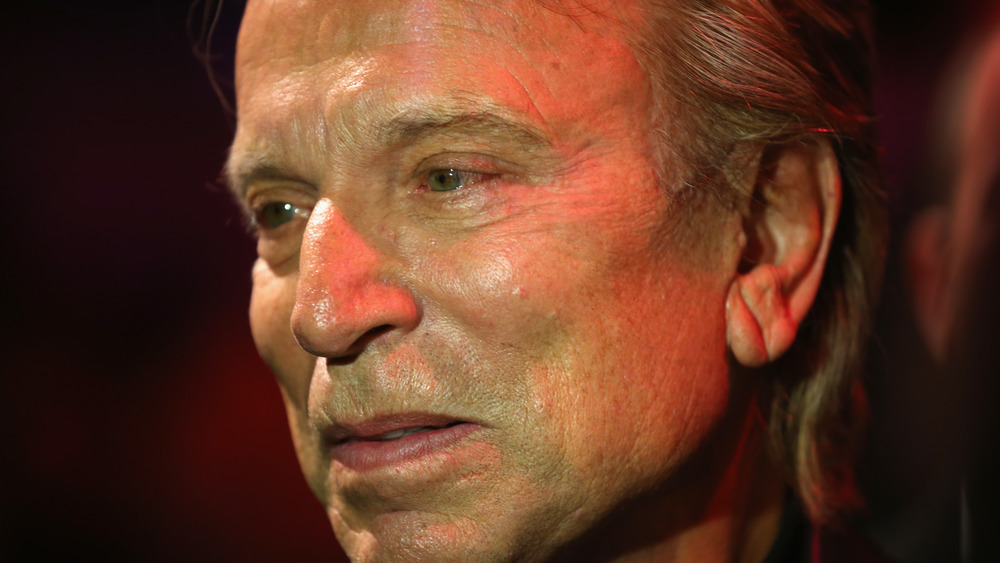 Alexander Hassenstein/Getty Images
The entertainment community was dealt a devastating blow back in May of 2020 when Roy Horn — of the legendary duo, Siegfried & Roy — died at the age of 75 due to complications from COVID-19. Not even a year later, his longtime partner, Siegfried Fischbacher, died on January 13, 2021. The cause was pancreatic cancer, as reported in the Las Vegas Review-Journal. 
Both performers went to great lengths to keep their personal lives private, which is why the world only learned about Fischbacher's terminal cancer diagnosis earlier this month, and how he underwent a surgery back in December to have a malignant tumor removed, which was also reported via the Las Vegas Review-Journal. The performer's publicist, Dave Kirvin, released a statement announcing his death, which stated, "Funeral services will be private with plans for a public memorial in the future." Fischbacher's sister also released a statement to the German publication, Bild, which was then re-published by Deadline, where she confirmed that, thanks to the care of home medical staff, "He fell asleep gently and peacefully." 
While the entertainers had retired from performing back in 2003 after Roy Horn suffered a catastrophic attack from one of the pair's trained tigers, their legacies had lived on, becoming synonymous with what Las Vegas acts are all about. And now, it seems that the duo has exited this world the way they lived in it — together. 
Siegfried & Roy had an illustrious career that defined Las Vegas entertainment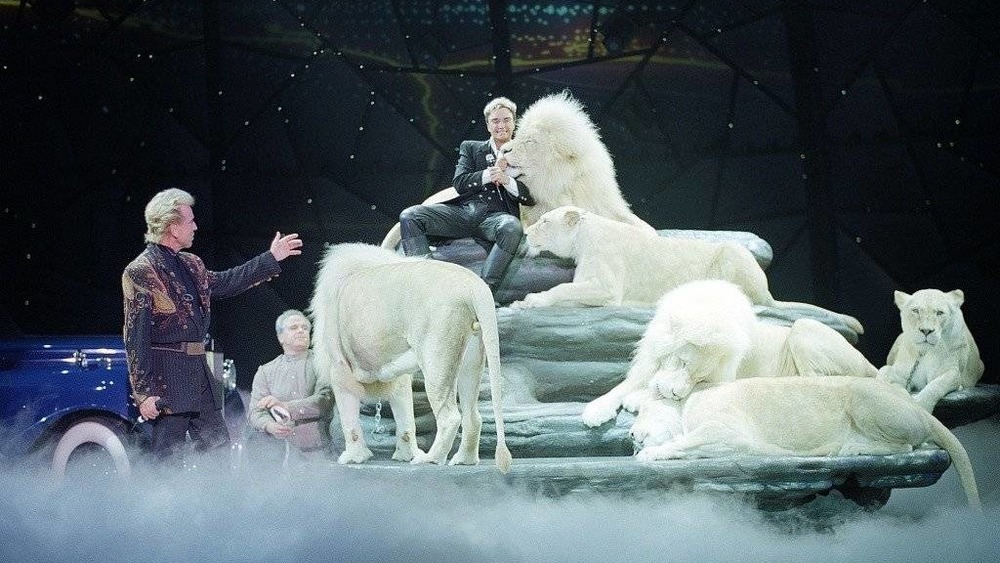 Magic Box Productions
Fischbacher and Horn spent much of their lives together, first meeting back in 1959 on a cruise ship where they worked as a cabin steward and waiter, respectively — but they each had their interests outside of these menial positions. Fischbacher regularly practiced magic and illusions, while Horn had a fondness for animals. On one fateful day, Horn saw Fischbacher performing some magic tricks, and he asked him: "If you can make a rabbit and a dove appear and disappear, can you do the same with a cheetah?" Horn had, as it happened, smuggled a cheetah onboard the ship. It was almost like destiny brought them together, and it wasn't long until they were putting on shows for audiences, that incorporated both magic and big jungle cats.
They performed at various clubs before making their way to Las Vegas in 1967. They remained there for the next several decades, and in 1990, they officially entered the big leagues when they scored a residency at The Mirage where they regularly performed to sold-out crowds. People from all over the globe came to watch them perform a one-of-a-kind spectacle that involved everything from floating in the air to seemingly being able to teleport a white tiger across a stage. Even years after the two stopped performing, it was clear they were still incredibly close. After Horn's passing, Fischbacher released a statement, "Today, the world has lost one of the greats of magic, but I have lost my best friend" (via CNN). 
Following Fischbacher's death, Vegas mayor Carolyn G. Goodman tweeted that the magical duo deserved credit for putting "Las Vegas on the map," and that regarding Fischbacher specifically, "More importantly than anything, Siegfried was the kindest and most loyal friend and a beautiful individual. What is calming now is to realize is that he is back with his life partner, Roy Horn, and at peace. You are loved, dear Siegfried."
The duo leave behind an impressive body of work, including their own films — Siegfried & Roy: Masters of the Impossible as well as Siegfried & Roy: The Magic Box.