A Siegfried & Roy Series Is Being Developed For Apple TV+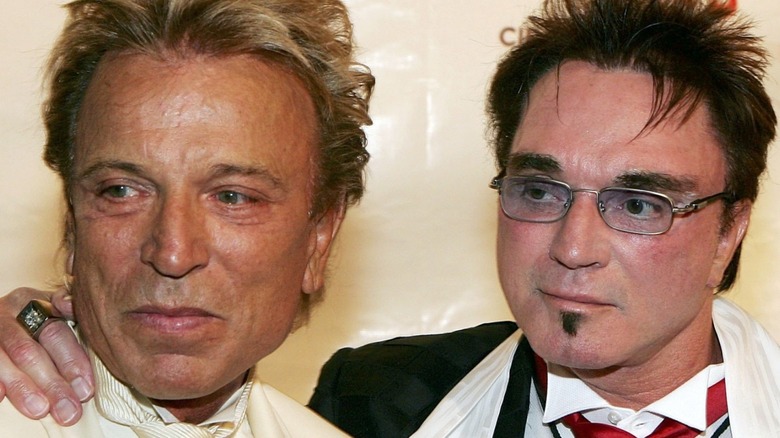 Ethan Miller/Getty Images
Considered by many to be magic's greatest duo, Siegfried Fischbacher and Roy Horn — aka Siegfried & Roy — will reportedly be immortalized on an Apple TV+ series about their lives. The show is based on an Apple original podcast called "Wild Things: Siegfried & Roy" and will be told from various perspectives, per Deadline. 
Hailing from Germany, Siegfried & Roy were best known for their big-cat magic shows featuring fully grown white lions and white tigers. The pair joined forces in the late 1950s and eventually worked their way up the magic ranks before landing permanent gigs in Las Vegas (via SyFy). From 1990 to the early 2000s, Siegfried & Roy ruled the Vegas roost with elaborate acts, costumes, illusions, and Hollywood cameos. But their world would come crashing down in 2003 with the infamous white tiger attack on Roy during one of the duo's shows. According to doctors, the legendary magician almost lost his life — and had actually flatlined multiple times afterward. 
"Roy was in such distress from his airway — loss of airway — that his heart stopped multiple times," trauma surgeon Dr. Allan MacIntyre explained to ABC News in 2019. But fate had other plans. 
Roy survived his devastating 2003 ordeal and would go on to live for nearly two more decades before passing away in 2020 from COVID-19 complications at age 75. Siegfried, who was also Roy's romantic partner, wound up dying from pancreatic cancer in January 2021 (via Newsweek). Little is known about the Apple TV+ series being developed about them, other than a few details released by Deadline.
Only Murders in the Building co-creator John Hoffman will develop the Siegfried & Roy series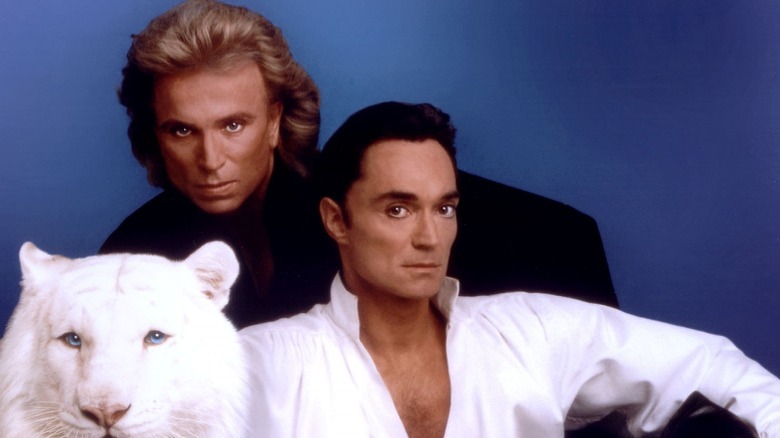 Getty Images/Getty Images
According to Deadline, John Hoffman — who is best known for creating the Hulu series "Only Murders in the Building" and working as a writer on Netflix's "Grace and Frankie" — will be developing the Siegfried & Roy series for Apple. As of right now, he's listed as a writer and executive producer. Some others who will be producing include Brian Grazer, Ron Howard, Tony Hernandez, Lilly Burns, and Kristen Zolner. 
The "Wild Things: Siegfried & Roy" podcast on which the show will be based is described by Apple as a society and culture project that focuses on the duo's lives in the limelight, and all the controversies that circulated. Its official synopsis reads, "Over the course of nearly half a century, Siegfried & Roy performed 30,000 shows for 50 million people and generated well over $1 billion in ticket sales. Although the German-born illusionists and pop culture icons were mega-famous, much about their private lives, eccentric public personae, and tragic final show remained shrouded in mystery...until now." 
According to Apple, the 2022 podcast ultimately takes people behind the scenes, letting listeners in on the more shocking details and unknown facts about the two entertainers who were, as the synopsis notes, "lionized by millions of fans, lampooned by the media, criticized by animal welfare advocates, and endlessly scrutinized by the public."