Peter Cullen's Iconic Optimus Prime Voice In Transformers: Rise Of The Beasts' Trailer Gave Fans Goosebumps
The trailer for "Transformers: Rise of the Beasts" gave fans their first look at a changing cinematic universe. This new outing offers the original Autobots and Decepticons some welcome company; characters from the popular 1990s incarnation "Beast Wars" are finally making their way to the big screen.
Based on the Hasbro toy line, these robots in disguise have been enthralling audiences since the '80s. The original cartoon has spawned decades of comics, crossovers, and movies in addition to numerous series. It's also given those who grew up on the adventures a chance to become full-blown collectors, picking up on items that would have seemed impossible just three decades ago.
That dedication to the franchise has seen the films hit blockbuster status — with it totaling over $1 billion among U.S. lifetime grosses (via Box Office Mojo). While fans may not always agree with the films' trajectory, one thing has united them.
Everyone is excited about the voice of Optimus Prime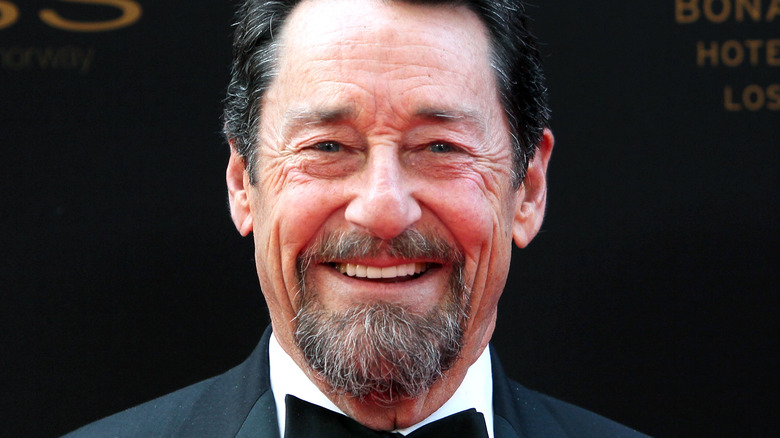 David Livingston/Getty Images
Fans talked about various aspects in the "Rise of the Beasts" trailer, but nothing made them happier than the return of Optimus Prime; the character is back, and seeing him interact with "Beast Wars" leader Optimus Primal made it even more exciting. One of the most noticeable aspects of the character is the voice — since the '80s, that distinction has gone to Peter Cullen.
Optimus Prime, voiced by Cullen, returns in "Rise of the Beasts." Hearing him reprise the famous role gave those in the know a sense of elation about the upcoming project. Many wrote of getting goosebumps from that familiar voice, while others hinted at the lasting appeal. "Optimus's Voice never gets old no matter how many times you've heard it," wrote Twitter user @NaniKappala. Another user, @EmeraldEnthusi1, addressed the nostalgia that so many are feeling about Cullen's return. "Every time I hear Peter Cullen's voice or see Optimus Prime, I'm suddenly 12 years old again," he posted in response to the trailer.
Cullen himself knows how important this is to the fans. Learning about the character's popularity years after the initial '80s series and animated film, it came as a welcome surprise. "Quite frankly I was humbled by it and still am," he told IGN in 2007.