Guardians Of The Galaxy Vol. 3's Cosmo Hides A Big Secret In Her Collar That Only Hardcore Marvel Fans Know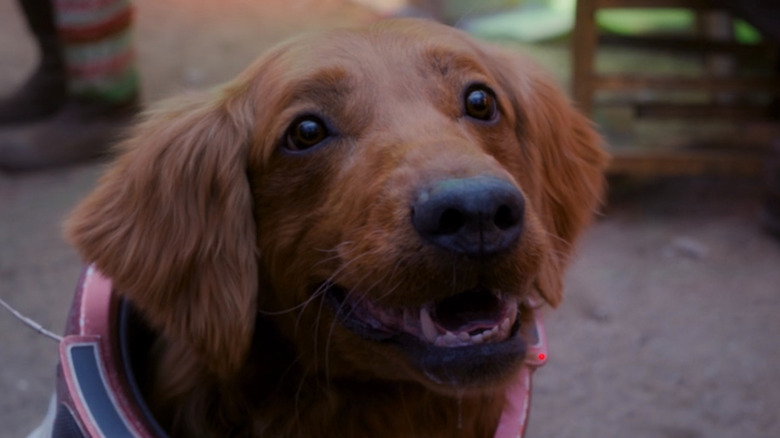 Marvel Studios/Disney+
One thing Marvel fans should be accustomed to by now is the grab bag of bizarre comic characters presented in James Gunn's "Guardians of the Galaxy" movies. Since their debut in the Marvel Cinematic Universe in 2014, the Guardians have always been home to Marvel's quirky side, featuring more obscure comic book characters that may not get the same love as the Hulk or Spider-Man. From the talking tree Groot (voiced by Vin Diesel) to the disfigured Taserface (Chris Sullivan) to the endlessly lovable bug-like Mantis (Pom Klementieff), no corner in the MCU is odd enough to keep Gunn and company from exploring their big-screen possibilities.
With the trailer to the finale of Gunn's acclaimed superhero trilogy having recently dropped, the eyes of fans everywhere are opening wider than ever before to the new eclectic selection of characters and worlds that will be introduced. One of these newest additions comes in the form of Cosmo the Spacedog (Maria Bakalova), a character who originated from the minds of Dan Abnett and Andy Lanning and first appeared in "Nova" Vol. 4 #8. Although she has made cameo appearances in the first two "Guardians of the Galaxy" movies and the more recent "Guardians of the Galaxy Holiday Special," it appears that she will be more front-and-center in the newest Marvel sci-fi epic. For fans aware of her comic origins, however, Cosmo's appearance could mark a significant turn of events. 
Could Cosmo's collar be key to saving Peter Quill?
Turns out, Cosmo's collar has more than just her vaccination tags. In previous comic appearances, Cosmo's collar held a special device known as the Dimensional Envelope. With the device, Cosmo was able to safely transport those on Knowhere who were left unharmed by the attack of the monster Abyss, including the superhero team The Luminals. Eventually, Star-Lord would take the Dimensional Envelope following Cosmo's death and use it to perform his own rescue mission (via Marvel). 
So Cosmo's collar has the potential to save the lives of countless individuals — but will it be used to save just one in "Guardians of the Galaxy Vol. 3?" One notable shot in the teaser sees our heroes, Cosmo included, walking while holding the unconscious body of Peter Quill (Chris Pratt). We don't know what exactly is happening, but it's possible that Peter may be dead or dying. With Cosmo being up in front with some of the more major players in the story, could that mean that the Envelope might somehow be used to save or preserve Quill's life?
The Marvel Cinematic Universe has never been afraid to deviate from the comics in the past, to mixed results from fans, so pulling such a unique twist could very well be in store. However, while this idea would seem at home in the quirky yet heartfelt world helmed by James Gunn, some fans are unhappy with another notable major deviation from Cosmo's comic origins.
Cosmo's gender swap has some fans tilting their heads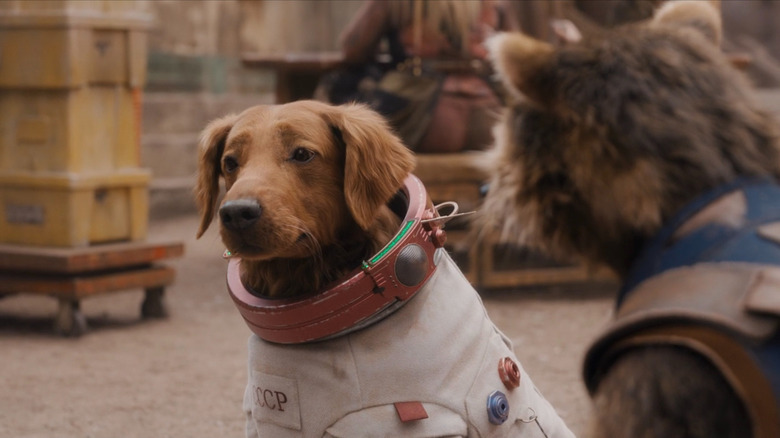 Marvel Studios/Disney+
It's taken some time for Cosmo to get her time to shine in the expansive world of the Marvel Cinematic Universe, and it seems "Guardians of the Galaxy Vol. 3" will finally give her that spotlight. However, while fans are excited to see her, one comic book deviation some have been questioning is her gender swap. While Cosmo has always been male in the comics, the MCU sees Cosmo as a female dog, voiced and performed in motion capture by "Bodies, Bodies, Bodies" star Maria Bakalova. 
A tweet created by @ChrisGuifarro4 directly states this, saying, "Cosmo was male Russian dog now female dog." Director James Gunn himself responded to the tweet, explaining his reasoning for the switch up: "Cosmo is based on Laika, a female Soviet space dog who died in orbit in 1957. I'm just going back to the original source material." Indeed, Cosmo may seem like a strange sci-fi creation, but her origins are rooted in the real-life female dog Laika, who was sent by the Soviet Union to test space exploration (via The Mary Sue).
Regardless of what the MCU changes about the character, Bakalova is more than excited to be playing the adorable pup. As she told Discussing Film in an interview, "Cosmo created a new world for me. So I hope people will root for her and enjoy it." We'll be sitting and staying to see what she has in store.