A Major Flashback Scene In Indiana Jones 5 Will De-Age Harrison Ford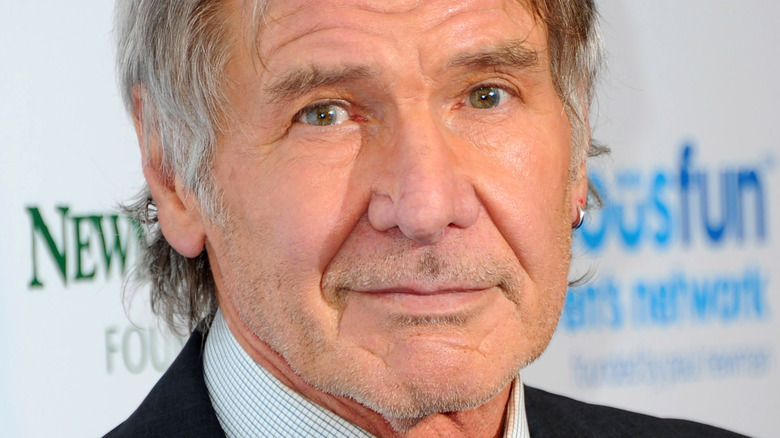 Stuart C. Wilson/Getty Images
While Harrison Ford has made a name for himself as a bonafide movie star with performances in films like "What Lies Beneath," "Witness," "The Fugitive," and "Air Force One," he's known throughout the world for appearing in a variety of popular film franchises. It's hard to talk about Ford without mentioning the time he spent as Han Solo in that galaxy far, far away, his portrayal of Rick Deckard in the "Blade Runner" films, or how he brought Tom Clancy's character Jack Ryan off the page and onto the silver screen in "Patriot Games" and "Clear and Present Danger." As reported by Collider, Ford will be making a triumphant return to one of his most iconic roles with a fifth Indiana Jones movie.
As a thrill-seeking hero with the knowledge of a professor and the charm of a dashing heartthrob, Indiana Jones is practically the poster boy for action-adventure flicks. Indy's next escapade, which is currently called "Untitled Indiana Jones Project" on IMDb, will also feature the talents of Phoebe Waller-Bridge, Mads Mikkelsen, Shaunette Renee Wilson, Antonio Banderas, Thomas Kretschmann, Boyd Holbrook, and Toby Jones. Even though Ford will be playing the character at a different stage in his life, the movie will include a flashback scene that revisits the bullwhip-toting adventurer audiences met in "Raiders of the Lost Ark."
The minds behind Indiana Jones 5 want to capture the spirit of a classic Indy adventure
There's a reason that so many Indiana Jones ripoffs are out there. He's an iconic character with a cool name and an even cooler job. Using visual effects, Harrison Ford will be de-aged to appear as a younger version of Indiana Jones in a flashback sequence that pits the character against a familiar foe. Picture this: The year is 1944 and Indy is going head-to-head with some Nazis in a castle. As told by Variety, the forthcoming film's opening scene will serve the dual purpose of ushering the hero into a new era while also taking advantage of the nostalgia factor.
"My hope is that, although it will be talked about in terms of technology, you just watch it and go, 'Oh my God, they just found footage. This was a thing they shot 40 years ago,'" producer Kathleen Kennedy explained in an interview with Empire. "We're dropping you into an adventure, something Indy is looking for, and instantly you have that feeling, 'I'm in an Indiana Jones movie.'"
For Ford, the ability to revive his former self with a technological sleight of hand is an eerie advancement. "It's a little spooky. I don't think I even want to know how it works, but it works," the actor told the same outlet. However it works, seeing a younger Indy will be like greeting an old friend when the movie arrives in 2023 (via Variety).