How Isaac Hempstead Wright Got Under Kristian Nairn's Skin On The Set Of Game Of Thrones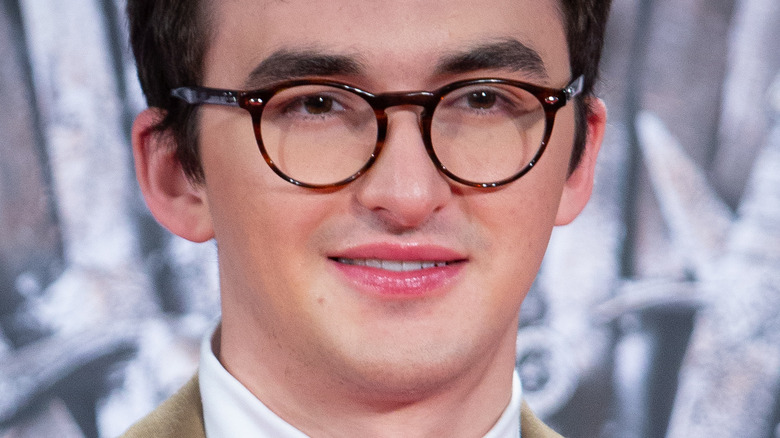 Pablo Cuadra/Getty Images
There's often a huge gap that separates what we see on the screen as the final product and what truly transpired behind the scenes. That's the magic of filmmaking at work. When watching the end result, we can only guess how something was shot, how many hours it took, what decisions were made at the last second, and how the cast and crew really got along with each other.
Because it was shot over the course of many years, "Game of Thrones" became a second home for the actors, especially those who dedicated a huge portion of their lives to the making of the show. Naturally, bonds were forged, some of which have lasted to the present day. Some of the many close friendships that were formed included Maisie Williams and Sophie Turner, who, as the actress who played the younger of the two Starks said on the "Table Manners" podcast, were like real sisters. Then there was Jason Momoa and Emilia Clarke; the former is always mindful to visit his Khaleesi whenever he comes to England, as he told Graham Norton.
Perhaps one of the close bonds that formed with the biggest age gap between them was Kristian Nairn and Isaac Hempstead Wright, who played Hodor and Bran Stark respectively. Nairn told HuffPost in 2018 that he and Wright still keep in touch. However, their relationship has developed to become more fatherly, according to him. "We still talk a lot at least once every two weeks or whatever, but I'm not the cool uncle anymore," Nairn said. "It's gotten to the age now where some of the things he tells me, I'm like, "Isaac! C'mon!" He's 19 now. I just want to slap him. I'm like, 'C'mon.' That's my experience. I can't do 'I'm so cool.' I can't do that anymore. I get more and more parental."
Who lives in a pineapple under the sea?
While on set, although the age gap proved to be no hindrance to their relationship, it certainly could be felt in their antics. When actors spend many hours of the day in the same location with the same people, it makes sense for running gags and inside jokes to emerge between them. That's what happened with Isaac Hempstead Wright and Kristian Nairn, the former who spent many takes being carried around by the latter in the scenes where his smaller body double was not replacing him.
In the same interview with HuffPost, Nairn also talked about one silly thing his younger castmate would do while on his back. Apparently, Wright would sing, badly and repetitively, the iconic "SpongeBob" theme song in the older actor's ear.
"I have like a nervous tic when you say that," Nairn said. "That's when he's on my back, man. He'd just sing into my ear, and he can't sing worth s***. It's just repetition, repetition, repetition. Drove me crazy, man. When a kid realizes you've got like a trigger switch ... yeah, lucky me."
Although it drove the Northern Irish actor crazy, these kinds of shenanigans certainly serve as a testament to the playful camaraderie that came to connect the two "Game of Thrones" cast members.