Emily In Paris' Season 3 Trailer Has Fans Divided Over Emily's Love Interests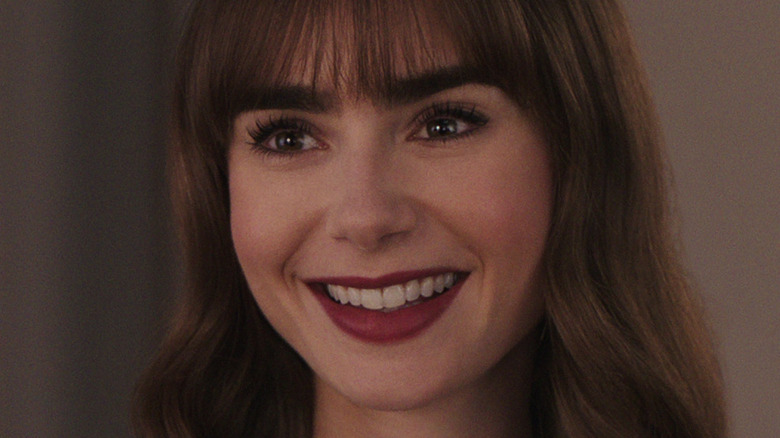 Netflix
The trailer for the third season of "Emily in Paris" recently dropped, and, by the looks of it, the Netflix romantic dramedy series will be holding firm to its post as TV's frothiest escapist delight in 2022.
After Season 2 concluded with Sylvie (Philippine Leroy-Beaulieu), the boss of protagonist Emily Cooper (Lily Collins), leaving Savoir to start a new marketing firm and inviting Emily to come along with her, the new batch of episodes will finally be revealing just what it was the decision made by Emily in that final phone call cliffhanger. And, perhaps inevitably, given the character we're talking about, it would seem that the decision in question was to make no decision at all.
The new season's trailer shows that Emily is now pulling double duty at both Sylvie's new firm and her old Savoir job under Madeline Wheeler (Kate Walsh), unbeknownst to both bosses. Emily's professional indecision and the perils it raises, of course, mirror the trouble the character has in her romantic life, as Season 3 once again finds her torn between charming yet flighty Frenchman Gabriel (Lucas Bravo) and snarky down-to-earth Brit Alfie (Lucien Laviscount). Which of the two handsome gentlemen is right for her? As tends to be the case of any great love triangle, viewers have been pretty evenly divided between Team Gabriel and Team Alfie so far — and, judging by the fan response to the "Emily in Paris" Season 3 trailer, that divide is about to get more heated than ever.
Supporters of Team Gabriel want him and Emily to just get together already
Before Season 2, "Emily in Paris" did not have a love triangle at its center. Or, to put it more accurately, it did — just not one with Emily at the vertex. Her will-they-or-won't-they tension with Gabriel, the dreamy French boy next door, was established pretty much from the moment the series began, with only the fact that Gabriel turned out to be the boyfriend of Emily's new friend Camille (Camille Razat) keeping the two from getting properly together. And although Gabriel and Camille eventually broke up, things got even more complicated for Emily when Alfie showed up in Season 2.
Now, two whole seasons in, some fans of "Emily in Paris" just want Emily and Gabriel to get over themselves and fall into each other's arms already. Following the release of the Season 3 trailer, Twitter was rife with comments from staunch Team Gabriel supporters. A user with the handle @immissjc quoted the trailer saying, "I choose Paris!!!! I hope Emily & Gabriel will be the end game." @Coolcatdizi, meanwhile, simply posted a picture of Emily and Gabriel with the caption, "When will this finally friggin happen!!!" The latter tweet prompted a response from @lcrzbrg that couldn't have been clearer about supporting Gabriel over Alfie: "RIGHT!!! I want them together properly if they don't just have another passionate moment in this season I'm gonna riot. Get rid of A
Alfie fans firmly believe he's right for Emily
The structure and overall narrative construction of "Emily in Paris" have made it so that the Emily-Gabriel pairing takes up more space on the show, both literally and figuratively. Emily and Alfie have largely existed as a couple in relation to Emily and Gabriel, as a counterpoint to the good and bad aspects of Emily's longstanding French connection; Emily herself was ready to return to Gabriel at the end of Season 2. But that hasn't stopped fans of Alfie from rooting for him and Emily to end up together and considering him the right guy for her, narrative structure be damned.
Twitter user @__nextsupreme__ posted a collage of pictures of Emily and Alfie shortly after the Season 3 trailer debuted, writing, "It's emily and alfie always. They need to be endgame." @peanutbuttercup, meanwhile, claimed Alfie was the best person on the show after Mindy. And @evermelodrama went even further and took the show itself to task for not giving him more of a shot: "I know they are setting alfie up to fail to get their silly emily x french guy endgame but alfie is so much better I hope she chooses him even if I know it's never gonna happen," they wrote. @medizilover agreed, arguing that "Alfie is such a perfect thoughtful man with best character. G would be acceptable somehow if they haven't written Emily's character all happier joyful and in Peace near Alfie!"