Nick Offerman Joins Cast Of Amazon's Good Omens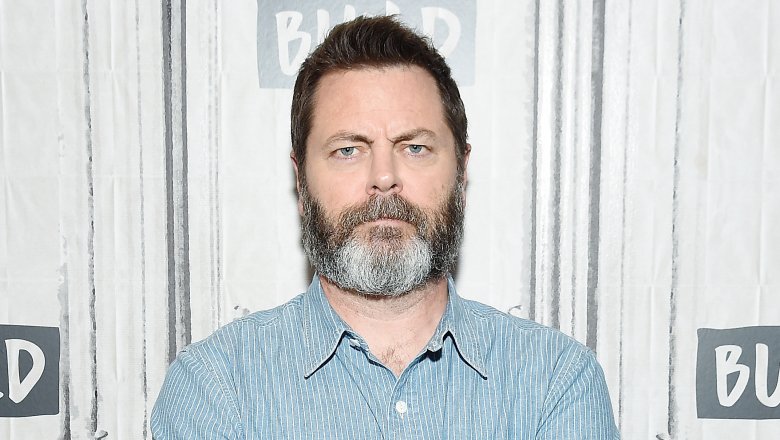 Getty Images
Attention, comedy fans — Good Omens is now designated as appointment television.
Deadline reports that Nick Offerman, who played the Pawnee, Indiana government employee Ron Swanson through all seven seasons of the comedy series Parks and Recreation, is joining the cast of Amazon's upcoming adaptation of Good Omens, a novel by Neil Gaiman and Terry Pratchett. 
The series will follow a mismatched pair of an angel and a demon who are forced to team up in order to find the Antichrist and prevent the impending Apocalypse in the year 2018.
Author Neil Gaiman is serving as showrunner for the series, adapting his jointly-authored novel into six episodes to air on Amazon in the US and the BBC in the UK. Gaiman previously said that he was spearheading the adaptation to fulfill a promise he made to Pratchett, who died of Alzheimer's disease in 2015.
"There may not be anyone alive who can deadpan a line quite as well as Nick Offerman," Gaiman said at the time of the announcement. "He's a terrific performer, and has to say a lot of things in Good Omens that are humanly impossible to deliver with a straight face. Fortunately, Nick is not entirely human."
Offerman added context to the news by sharing his own personal history with the Good Omens book, a favorite story of fans of both Gaiman and Pratchett that was originally published in 1990. 
"If you had told me when I first read Good Omens in the early 90's that I would one day visit South Africa to giggle with Neil Gaiman at laptop-screened footage of Dr. Who and David Frost dancing because I was assaying a role in the adaptation of said book, I would likely have offered to purchase some of whatever you must be smoking," Offerman said. "But here I am, still giggling at the luck of it."
Offerman joins a cast led by Michael Sheen and David Tennant in the lead roles of the angel Aziraphale and the demon Crowley. The increasingly-stacked cast also includes Jon Hamm, Michael McKean, Miranda Richardson, Anna Maxwell Martin, Mireille Enos, Lourdes Faberas, Yusuf Gatewood, and Jack Whitehall.
Prior to his Good Omens bow, Offerman will be seen playing a lead role in Drew Goddard's upcoming thriller Bad Times at the El Royale, which is set to see release later this year.
Good Omens is in production now, with principal photography ongoing in London, Oxfordshire, and South Africa until summer. The series is slated to debut in 2019.