Michael Sheen, David Tennant To Star In Neil Gaiman's Good Omen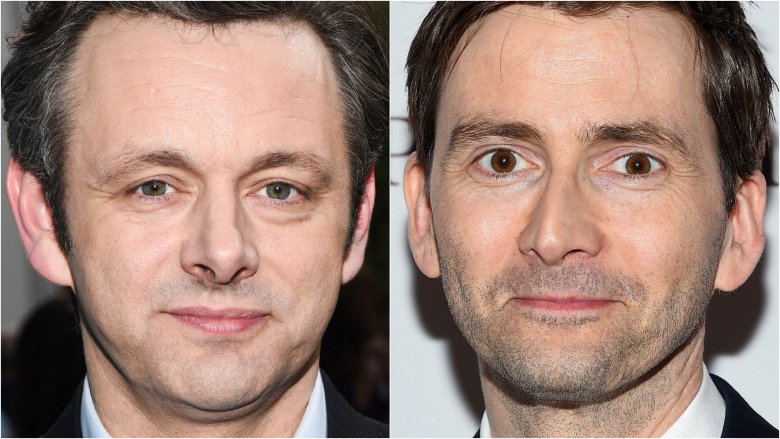 Getty Images
Ever heard the one about two famous Brits starring in the same series?
Variety reports that Michael Sheen and David Tennant have been cast in the Amazon adaptation of Neil Gaiman and the late Terry Pratchett's Good Omens. 
Set in 2018 on "the brink of an apocalypse" has humankind braces itself for a looming final judgement, the upcoming series centers around a somewhat finicky angel named Aziraphale and a demon named Crowley who aren't exactly thrilled that the world is ending. Matters are only made worse when the pair are unable to find the Antichrist on their journey. Sheen is set to play Aziraphale, while Tennant will portray Crowley. 
Good Omens, which was Gaiman's first novel and one written in collaboration with Pratchett, will consist of six hour-long episodes, a far cry from the film adaptation chatter that filled Hollywood at one point. The Man Who Killed Don Quixote helmer Terry Gilliam was attached to direct a silver screen translation of the book, but given the success of the latest Gaiman-centered television series American Gods, it seems Good Omens is better fit for home viewing. 
Co-produced by BBC Studios, Narrativia, the production company created by Pratchett's daughter Rhianna, and the Blank Corporation, Good Omens is executive produced by Gaiman, Caroline Skinner, Chris Sussman, Rob Wilkins, and Rod Brown. Gaiman adapted all six of the series' episodes and will serve as showrunner. 
Following the show's official launch on Amazon Prime Video, Good Omens will be broadcast on the BBC network in the U.K. BBC Worldwide will handle second-run rights internationally. First-run rights for markets in which Prime Video doesn't operate will also be distributed by the company. 
Amazon declined to comment on the casting news, but Sheen spoke out about the upcoming series. 
"I first read Good Omens as a teenager and it's been one of my favorite stories ever since," Sheen told Variety. "To be part of the team entrusted with bringing it alive on screen is a bit of a dream come true to be honest. To work alongside Neil [Gaiman], who I think is one of the greatest storytellers of all time, is incredibly exciting. And, just like the rest of the world, I'm a huge fan of David's so I relish trying to save it with him."
Sheen was recently seen in the Showtime drama series Masters of Sex, which ended its four-season run in November 2016. His filmography includes pics like Frost/Nixon, Passengers, Underworld, Underworld: Rise of the Lycans, and The Twilight Saga: Breaking Dawn. 
Tennant is most recognizable for his role as the titular time-traveling alien in the beloved sci-fi series Doctor Who. His run lasted three seasons, and he appeared in nine television specials for the show. Beyond the BBC, Tennant showed off his darker side when he played the nefarious Kilgrave in the first season of the Marvel and Netflix show Jessica Jones. He's also portrayed Alec Hardy in the acclaimed series Broadchurch and Barty Crouch Jr. Harry Potter and the Goblet of Fire.
Though Good Omens may not make it to Amazon Prime for quite some time, there's plenty of amazing content already in the streaming service's expansive library. Take a look at the best exclusive Amazon Prime releases.