First Look At Jon Hamm As Gabriel In Good Omens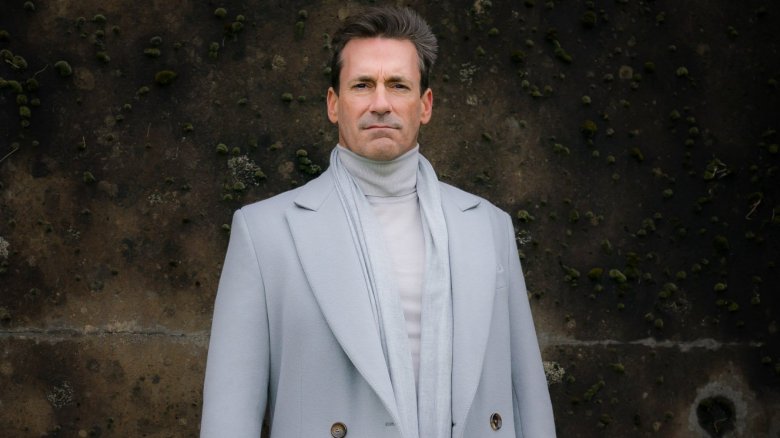 Neil Gaiman has shared the first official look at Jon Hamm as the angel Gabriel in his upcoming series Good Omens, and it's a definite contender for Best Look of 2017, Comedic Fantasy category.
"A thing of beauty, and a joy for ever," said book co-author Neil Gaiman, as he presented Hamm in full costume on Twitter. 
So for you, for me, for all of us. FOR PEOPLE NOT YET BORN. This is what Jon Hamm looks like as the Angel Gabriel in the upcoming TV series of GOOD OMENS. A thing of beauty, and a joy for ever. pic.twitter.com/OK84PDZXLs

— Neil Gaiman (@neilhimself) November 30, 2017
In the original book, Gabriel, the messenger of god, is a relatively minor character, whose importance was apparently meant to be explored more fully in a sequel that never came to fruition. Now, it looks like Don Draper himself will be bringing the dashing right hand to the Almighty's story to life.
"He is everything that Aziraphale isn't," said Gaiman, who is also the series' showrunner, at the time of Hamm's casting. "He's tall, good-looking, charismatic and impeccably dressed. We were fortunate that Jon Hamm was available, given that he is already all of these things without even having to act. We were even more fortunate that he's a fan of the books and a remarkable actor."
Good Omens, published in 1990, is a collaborative comedic fantasy novel co-written by Gaiman and the late Terry Pratchett, following a demon and an angel who are forced to team up in order to prevent the apocalypse. 
The six-part TV adaptation will star Michael Sheen and David Tennant as the demon/angel duo Crowley and Aziraphale; Anna Maxwell Martin, Mireille Enos, Lourdes Faberas, and Yusuf Gatewood will appear as the series' villains.
Good Omens is currently shooting on location in London, and is currently set to be released on Amazon and the BBC sometime in 2019.