The Forman House In That '90s Show Won't Look Exactly The Same
Patrick Wymore/Netflix
When Netflix's "That '90s Show" premieres in January, it is set to bring back the atmosphere and cast that originally captured audiences between 1998 and 2006. Kurtwood Smith and Debra Jo Rupp are returning as Red and Kitty Forman, and the original teen stars of "That '70s Show" will make periodic guest appearances as well. The new focus, however, will be on an updated group of Point Place teens, played by Callie Haverda, Ashley Aufderheide, Maxwell Acee Donovan, Sam Morelos, Reyn Doi, and Mace Coronel.
"That '70s Show" was always interested in the basement-dwelling teenagers, as well as the intergenerational humor that emerged when they interacted with their elders — and the upcoming sequel series will presumably carry on that dynamic. But there would be no "That '70s Show," and certainly no spin-off, without the lore of the Forman household itself. Indeed, the new teaser for "That '90s Show" invites fans: "Welcome back to your favorite basement." That said, there have been some changes to the iconic house. 
Fans are getting nostalgic over the updated Forman house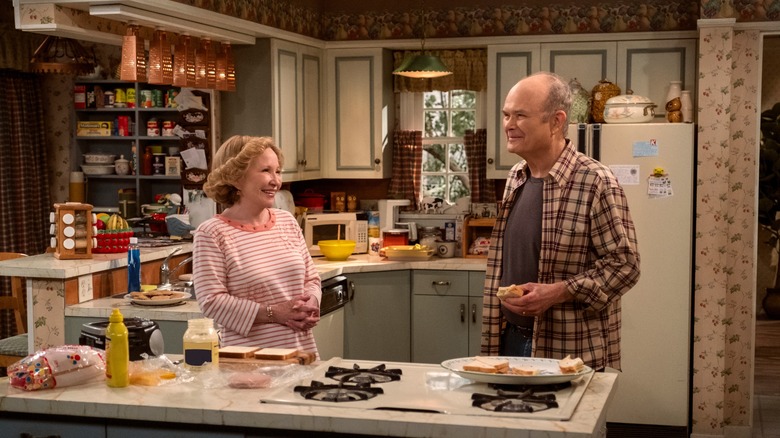 Patrick Wymore/Netflix
With the release of the long-awaited teaser trailer for "That '90s Show," fans have finally been able to pore over images of the new set. At first glance, the Forman house is nearly unchanged since "That '70s Show." In that regard, it's not unlike visiting a grandparent's house that seems stuck in the sands of time. But upon closer examination, there are some subtle changes to Eric Forman's old stomping grounds. The kitchen walls are outfitted with a new wallpaper (it remains similarly cheery — Kitty's doing, no doubt), as well as a fresh coat of paint and some new chairs.
"It makes me feel sentimental and nostalgic," wrote Redditor u/TheDarkApex. For many eagle-eyed fans, those feelings extended to the Forman's basement, which contains satisfying Easter eggs of furniture that used to live in the Forman's living room — including Red's iconic pea green chair. Redditor u/deecro3000 appreciated the realism of the family recycling their furniture, writing, "Now that I think back to my grandma's basement, it totally was her '70s living room set but relocated downstairs for the '90s-'00s."
For showrunner and former "That '70s Show" writer Gregg Mettler, watching the set come alive was just as nostalgic. "That was one of the most amazing parts of this experience," Mettler told Variety. "When they started loading in the little details like the tchotchkes on Kitty's shelves and the stuff in the kitchen, that is when I started to get chills. When do you get this chance ever in life, to go back home again like this?"