Underrated Miniseries You Need To Watch On Netflix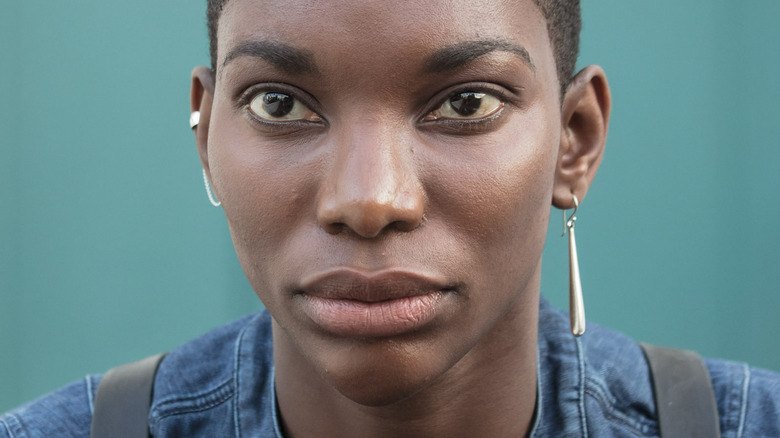 Sophie Mutevelian/BBC/Netflix
Some TV series end too soon, and some go on too long, but the miniseries format usually goes for the exact time it's intended to, and there's something beautiful about that. While it's rare to find a miniseries with a definite stop point than it is to find a show that ran for a single season with the possibility of going further, these stories tend to be deliberately paced in a way that makes them unusually satisfying, even if we find ourselves wishing there was more after the credits roll. Though it's sad to see a great story run its course, there is a sense of comfort that comes from knowing that the book is closed and you need not immediately worry about any follow-up.
Many streaming services have knocked miniseries out of the park, but Netflix has a specific talent for bringing these short, binge-able, often stunningly well-made productions to the screen. With series like "When They See Us," "Maid," and "Wild, Wild Country" dominating the platform's ratings at various points, these short but impactful shows have been covered endlessly by critics, reviewers, and viewers alike. Yet, not every miniseries gets quite the credit it deserves, and for every chart-topper, there are some slightly less-discussed entries that deserve the same level of attention and then some. Though many of these are critically acclaimed and highly popular, we're here to urge you to give them a spin if you haven't yet gotten around to them.
Salt Fat Acid Heat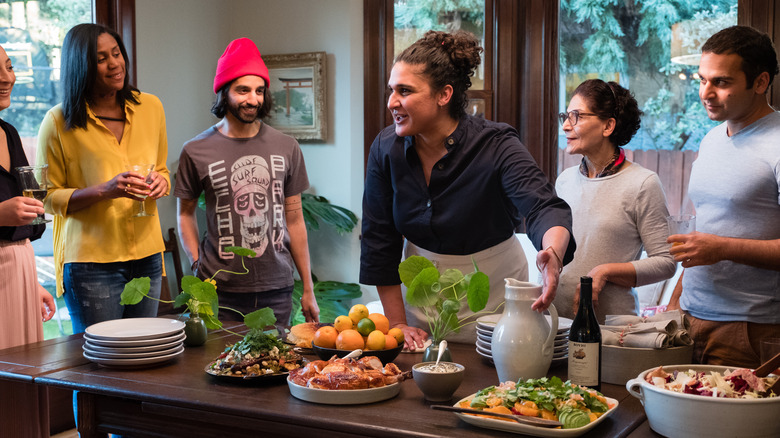 Adam Rose/Netflix
When a cooking show meets a travelogue, the two subgenres of journalism can combine to create something truly unique. Based on her book of the same name, creator Samin Nosrat takes what she believes to be the four crucial elements of good cooking — salt, fat, acid, and heat — on a journey to different locations to investigate how local cuisine utilizes these to their fullest. Teaching us about the world, local cultures, and cooking all in the same series is no small feat, and Nosrat achieves it all through her unbridled enthusiasm for good food and its potential to bring people from all over the world together in celebration.
The sense that Nosrat is doing something more than just teaching us about cooking and is actually instilling some pretty important life lessons along the way is reinforced by the mini-tours of the places she visits. Throughout the four episodes, we're taken on a trip to places such as Italy, Japan, and the Yucatán Peninsula of Mexico. In the final episode, Nosrat takes us on a tour of her own hometown, Berkeley, California, visiting the Chez Panisse, the place where she began her journey as a cooking expert. To close it all out, we are treated to a homecooked meal that she prepares alongside her Iranian mother, concluding a fulfilling and heartwarming romp through world cuisine that invites us to try everything at home for ourselves.
Seven Seconds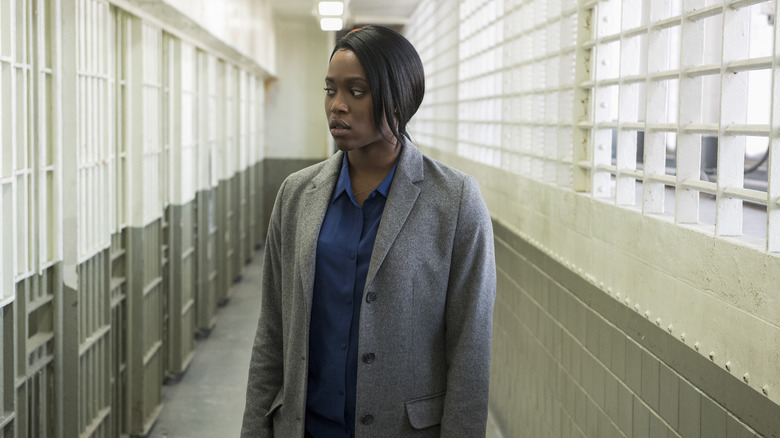 NetflixJoJo Whilden/Netflix
A brutal hit and run in New Jersey leaves a Black teen boy dead and unveils a disturbing examination of police corruption and systemic racism. Assistant district attorney K.J. Harper (Clare-Hope Ashitey) pushes through the dismissive conclusions of the investigator assigned to the case to dig deeper. Refusing to let things go, despite increasing pressure to do so, Harper is able to crack the case, but not before uncovering a much larger web of duplicity. Based on the 2013 Russian film, "The Major," this Veena Sud production not only examines a police department that regularly covers up its own wrongdoings but makes special note of using a shady narcotics officer to do so, heightening the commentary around how drug offenses are so often weaponized against marginalized communities.
Due to its heavy subject matter and complicated characters, this series needed some stellar actors to pull it together to make it land, and it nailed the casting. Regina King and Russell Hornsby deliver knockout performances as the boy's bereaved parents, while Ashitey does incredible work as K.J., a woman who uses alcohol to navigate working within a system that treats her with open hostility. The deep winter vibe of the series creates the perfect environment for a chilling story that thrives by exploring moral gray areas. In the end, the true antagonist of the series is a system that dehumanizes and devalues its citizens, adding an extra edge of realism to this upsetting but compelling drama.
Collateral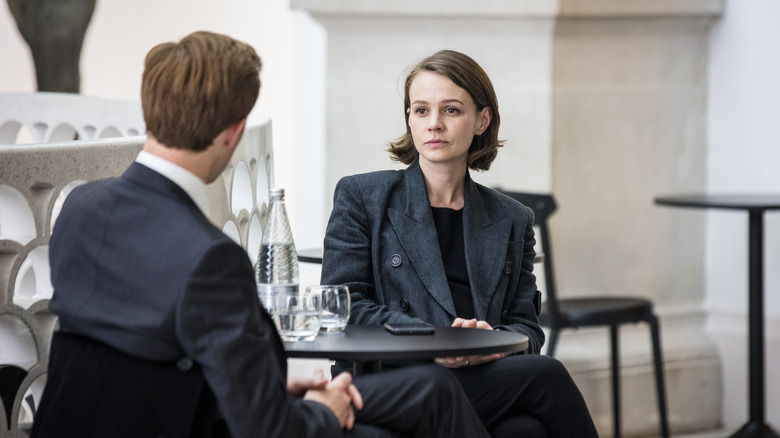 Sophie Mutevelian/Netflix
The writer behind the 2003 film "The Hours," David Hare, tries his hand at the four-episode limited series "Collateral" with the intention of examining a larger web of injustice behind the seemingly random killing of a pizza delivery driver. Set in post-Brexit London, anti-immigrant attitudes are under the microscope as Detective Inspector Kip Glaspie (Carey Mulligan) realizes immediately that something is amiss with the case. Despite her partner's open prejudices and a system that would be much happier if she let the whole thing go, Glaspie pushes further to find that not only are the circumstances around the death of the driver more complicated than she initially thought, but so were the circumstances of his life, as he and his sisters attempted to exist safely as undocumented refugees.
This drama introduces several intriguing characters as witnesses and suspects in order to paint the picture of a corrupt society that treats immigrants as unwanted and disposable, despite our shared humanity, while never forgetting that even a painfully short life still had moments of joy and hope. Indeed, it is the character work that underlies each of Glaspie's interactions that makes this series as fascinating as it is. Refusing to reduce Glaspie to the one lone woman standing up against a corrupt system trope so often found in procedurals, she is more led by her work and her interest in the case than by her sympathies toward the victim of a crime that we quickly learn was anything but accidental.
Alias Grace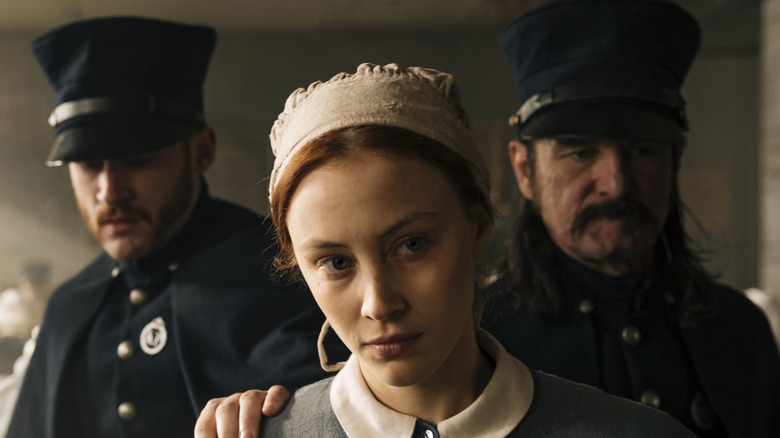 Jan Thijs/Netflix
Blending conceptual inspiration from a 1996 Margaret Atwood novel, Mary Harron in the director's chair, and a script adapted by Sarah Polley, this was practically fated to be an unforgettable Netflix miniseries. Based on the real-life murder trial of Grace Marks and drawing inspiration from the 1853 Susanna Moodie novel, "Life in the Clearings Versus the Bush," the treatment of unwed working-class women in the 1840s and class commentary is at the forefront of "Alias Grace." Servants Grace Marks (Sarah Gadon) and James McDermott (Kerr Logan) are accused of murdering employer Thomas Kinnear (Paul Gross) and housekeeper Nancy Montgomery (Anna Paquin). While James is immediately sent to death, questions surround Grace's role.
Though this is somewhat of a murder mystery, it's not the kind that we're likely to ever see a resolution to, but that's not the point of "Alias Grace." Instead, it exists to paint a picture of a deeply exploitative, classist, and misogynistic culture that creates countless victims. Grace herself is well-aware of this system, having watched her mother's abuse at her father's hand, only to then withstand the loss of her closest friend and confidante after she perishes in an illegal abortion. This knowledge of the brutality inflicted on women is instilled before she even enters Kinnear's employ. This treatment extends to the men that claim to want to "help" Grace through her current imprisonment, with a system that allows rampant abuse toward women ultimately being what is on trial in the series.
Self Made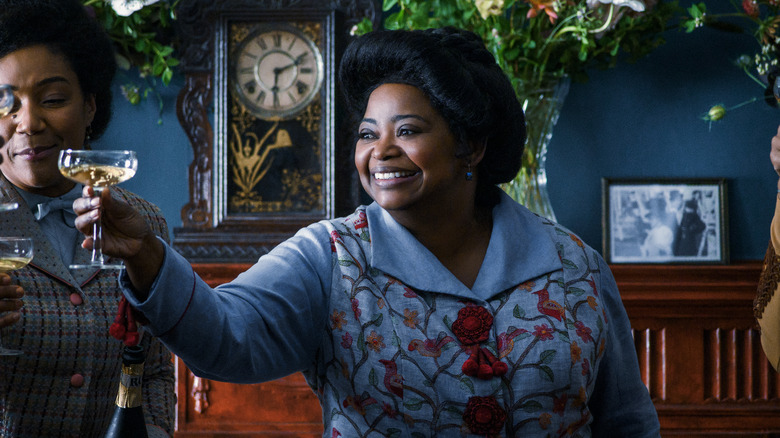 Amanda Matlovich/Netflix
Madam C.J. Walker is well-known as America's first female self-made millionaire, and tapping the great Octavia Spencer to portray her in the fictionalized biopic was a touch of genius. Utilizing the biography written by A'Lelia Bundles, "On Her Own Ground," and running wild with creative liberties in fine Hollywood biopic tradition, this will prove to be an engaging introduction to a truly one-of-a-kind American entrepreneur. It's not always accurate but seldom is that a dealbreaker in the world of biopics, and the payoff here is very much worth it.
The first child in her family to be born free after the signing of the Emancipation Proclamation, Walker was orphaned at an early age and forced into menial labor before she even hit her preteen years. Due to frustration with a beauty industry that failed to recognize the needs of non-white communities, she used the tricks and trades she learned observing her barber relatives as well as her job selling products for Annie Malone, to create her own business. The rest is history, and by the time of her death, Walker was said to be the richest African-American woman in North America. Spencer's comical, inspirational, and deeply fun portrayal is well worth taking the time while the set pieces and costume design boost this production into a class of its own.
The Stranger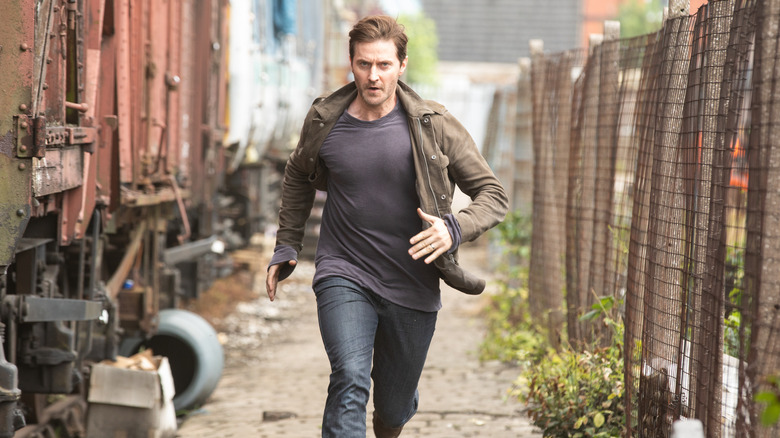 Netflix
What would you do if a beautiful stranger approached you in the middle of an ordinary day and told you that everything you have based your life around is a lie? Family man Adam Price (Richard Armitage) is minding his own business when a woman he's never seen before drops by to tell him that his wife faked a recent miscarriage and that he should look into getting DNA tests for his kids. That's all it takes for Adam's life to fly completely off the rails as a number of disturbing and inexplicable events begin occurring with increasing frequency, from the discovery of a decapitated alpaca head to a friend of his son found lying naked and unconscious in the woods.
As the above paragraph might indicate, "The Stranger" is an absolute head trip. It's hard to anticipate what new twists might be waiting around the corner, and that's a big part of what makes it so much fun. Steered by an incredibly strong cast featuring great performances by Armitage as well as Hannah John-Kamen, Siobhan Finneran, and Ella-Rae Smith, just to name a few, this will be catnip to mystery and thriller fans. Easily at its best when being binged due to its fast pace, the stranger at the center of the tale is one of the more entertaining antagonists in recent years due to her charming, breezy nature while she drops absolutely devastating information on unsuspecting rubes.
What/If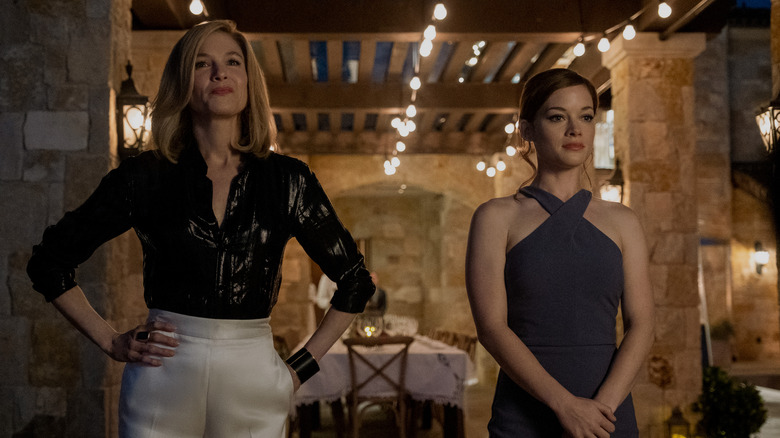 Netflix
If you're relying on the plot alone, Netflix's "What/If" is a gender-flipped take on the 1993 film "Indecent Proposal." In fact, the Robert Redford flick was even referenced on the set of the miniseries (per Yahoo!). Venture capitalist Anne Montgomery (Renee Zellweger) offers the founder of a biotech startup, Lisa Ruiz-Donovan (Jane Levy) a deal she can't refuse: she'll supply Lisa's company with much-needed funds. The catch? She wants to spend one night with Lisa's husband Sean (Blake Jenner), the caveat being that Lisa can never ask what occurred between them. If she can accept that, the money is hers. Though, as any thriller fan might guess, that's far from the only consequence in this twisted web of lies.
"What/If" is so delighted in itself that it's hard not to get in on the fun as a viewer. Lisa's idealism and Anne's cynicism are equally compelling, making for a bouncy romp through morality tropes as well as a highly binge-able drama that teeters on camp. Though it might have benefited from either taking itself a bit more seriously or leaning all the way into its tongue-in-cheek tone, the end result remains deeply enjoyable more because of its flaws than in spite of them. Without its top-notch dialogue, it might be easier to focus on the parts of the series that don't work as well, but as it stands, the rivalry between Lisa and Anne is the kind of popcorn TV that keeps us glued to the screen.
Godless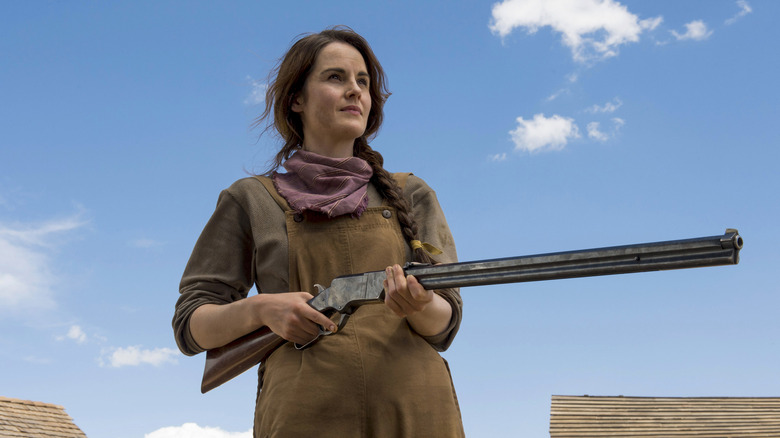 Ursula Coyote/Netflix
Kicking off with a classic marshal and outlaw feud, we meet lawman John Cook (Sam Waterston), who discovers a train wreck and suspects it's the work of his archnemesis, Frank Griffin (Jeff Daniels), who has been betrayed by the young man Frank once mentored, Roy Goode (Jack O'Connell). From there, we travel to La Belle, New Mexico, to the ranch of one Alice Fletcher (Michelle Dockery), where Roy is promptly shot by Alice. The two strike up a truce, but, unfortunately, the circumstances that brought Roy to the ranch only continue to escalate, resulting in an old-fashioned showdown. Peppered with flashbacks to flesh out Roy's relationship with the villainous Frank, we learn why he left the gang as the series progresses.
Highlighting the precarious nature of going out West in the latter 1800s, "Godless" never goes light on the rampant catastrophes of the era, in which a mine collapse or flood could easily wipe an entire town out of existence for good. Regardless of its understandably bleak nature, this is a beautifully shot drama, taking extra care to catch all the splendor of the New Mexico desert even while horrible things are happening. Though it ultimately winds down to a classic old Hollywood Western-style ending, it's a satisfying ride through tropes established decades prior, offering modern viewers a glimpse into the iconic cowboys of yesteryear while avoiding some of the major pitfalls of the genre and dropping in a few new touches along the way.
Unorthodox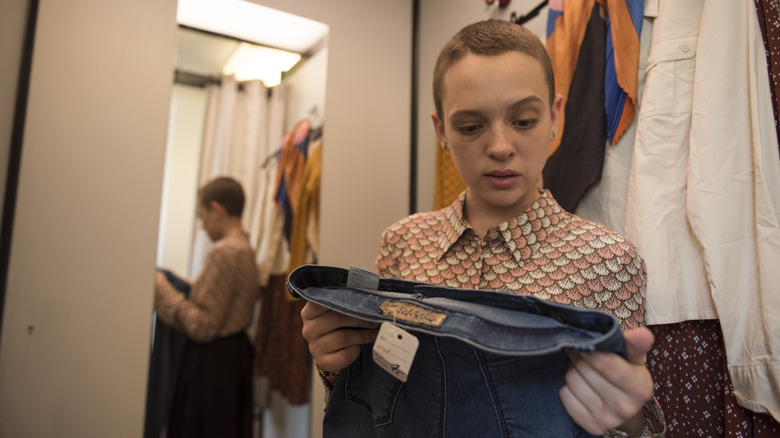 Anika Molnar/Netflix
Inspired by Deborah Feldman's autobiography, "Unorthodox: The Scandalous Rejection of My Hasidic Roots" this Netflix miniseries is in motion when it starts and stays moving throughout its four episodes. Shot primarily in Yiddish, the story follows Esther "Esty" Shapiro (Shira Hass) as she packs a sparse bag of personal belongings and runs away from her New York City home to Berlin. Meeting some new friends, Esty goes for a swim, and we learn through flashbacks that she is married, but that her apparently estranged mother had visited her prior to the wedding to offer German citizenship papers should they be of use to her. While she attempts to adjust, her husband boards a plan to bring her back home.
We learn more about the oppressive arranged marriage that Esty found herself trapped in (again through flashbacks), but much of the emphasis of the series is on the here and now as she learns to make friends outside of the belief system she was raised within. Her mother is married to a woman, which gives some insight as to why she herself may have fled, but the story is Esty's as she takes up new interests and learns to be her own person. Though her husband comes looking for her, she has tasted freedom and finds herself unable to give it up. Inspirational if often painful, the best moments of "Unorthodox" is when we see Esty discovering the world anew as she wholeheartedly accepts the hardships that autonomy might bring.
Black Earth Rising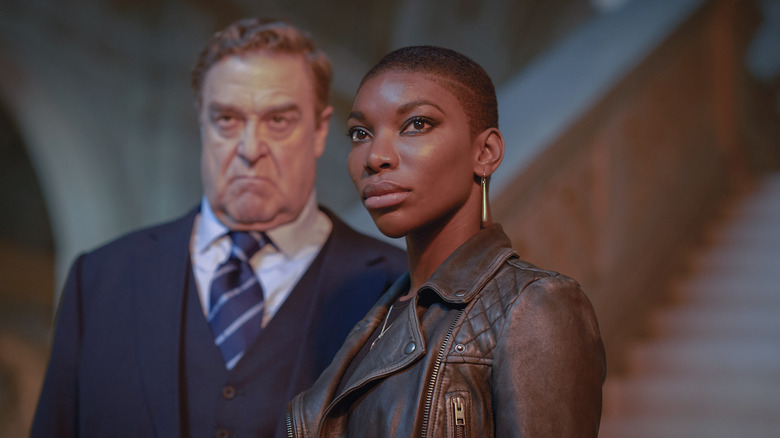 Des Willie/BBC/Netflix
Tensions were brewing in Rwanda well before the assassination of President Juvénal Habyarimana, but it is often considered to be the triggering event of a countrywide genocide that lasted roughly 100 days and saw hundreds of thousands of deaths (per BBC). World leaders stood by and refused to act as Tutsi people were slain en masse by Hutu militias, with innocent civilians left to fend for themselves in a war that they often had little or nothing to do with. "Black Earth Rising" is set 25 years down the line, with a survivor of the attacks, Kate Ashby (Michaela Coel), adopted by an English litigator in her youth, left to uncover her own tragic backstory.
"Black Earth Rising" is a hidden gem that isn't afraid to indicate a greater global complicity in the massacres. With knockout performances from Coel and John Goodman grounding the drama and a series of devastating, often intentionally forgotten real-world tragedies at its heart, this is an important and heartbreaking piece that never shies away from the gravity of its own subject matter. As a political thriller, this is top-notch work, but it could never achieve greatness without the determination Kate shows in uprooting the past, even when it means that she doesn't like what she learns about herself and her own history. Making the salient point that the truth, no matter how terrible, will always be better than lies, this is a series not to be missed.
Brand New Cherry Flavor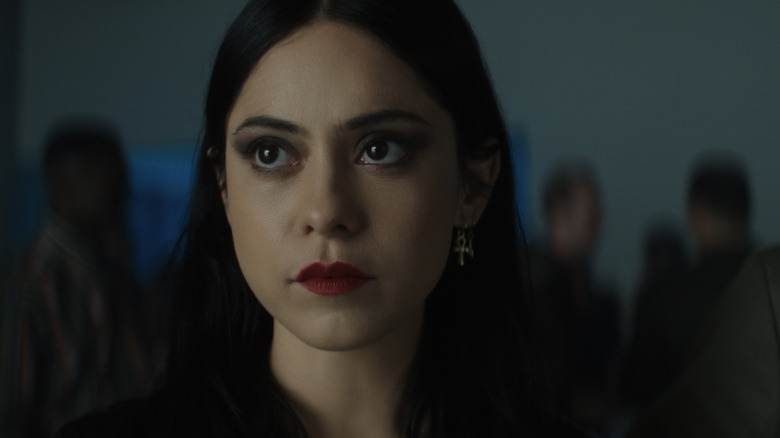 Netflix
For fans of odd horror, the Netflix miniseries world doesn't always have much to offer, which is part of why "Brand New Cherry Flavor" stands out as much as it does. While so many Hollywood stories lean into the glamour and the success stories of people reaching for the stars, the very weird and occasionally dark side of Los Angeles — previously explored in cult classics such as "Starry Eyes" and "Mulholland Drive" — is on display here. We are introduced to a young filmmaker, Lisa Nova (Rosa Salazar), who is pursuing her dreams, only to see them quickly transform into nightmares after she is betrayed by the standard powerful but irredeemably evil man, this time in the form of a film producer named Lou Burke (Eric Lange).
Seeking revenge on Lou with the help of an enigmatic character named Boro (played by the great Catherine Keener), all the pieces are in place for a truly weird tale, occasionally reminiscent of "Alice in Wonderland," as we follow Lisa into a surrealist dreamscape that remains indisputably Los Angeles. A wild fairy tale that isn't afraid to travel well beyond the limits of a standard horror story, "Brand New Cherry Flavor" invites audiences to share its delight in relishing its offbeat choices. Diving into Lisa's past while she explores her new, unfamiliar world makes for a refreshingly bizarre horror story.
The Bonfire of Destiny
Another dramatic series based on the tale of a horrific real-world tragedy, "The Bonfire of Destiny" is a French drama that takes the fire at the Le Bazar de la Charité as its inspiration. In 1897, this annual charity event saw a catastrophic fire that took 126 lives, many of which were wealthy women. Today, even reading about the wooden building converted to resemble a mediaeval street using paper mache, cardboard, and cloth are enough to make anyone with even basic understanding of fire safety precautions wince, but when a projectionist's booth caught fire, a flammable interior combined with a number of mismarked exits led to a horrific tragedy still talked about today.
The TV series displays the fire in the first episode, getting the calamity out of the way so that the story mostly follows the tale of Adrienne de Lenverpré (Audrey Fleurot), a woman who intends to attend the event only to narrowly avoid the fate met by so many. Attempting to escape her tyrannical husband even before the tragedy, much of the series follows those that escape and what happens after rather than lingering on the event itself, focusing instead on the lifelong effects that it had on people's lives. Still, "The Bonfire of Destiny" is a surprisingly fast-paced and even occasionally humorous look at one of the great tragedies of the latter days of the Victorian era, making for a fascinating if often devastating watch.