Speaking Spanish With Eugenio Mastrandrea Comforted Zoe Saldaña On From Scratch's Set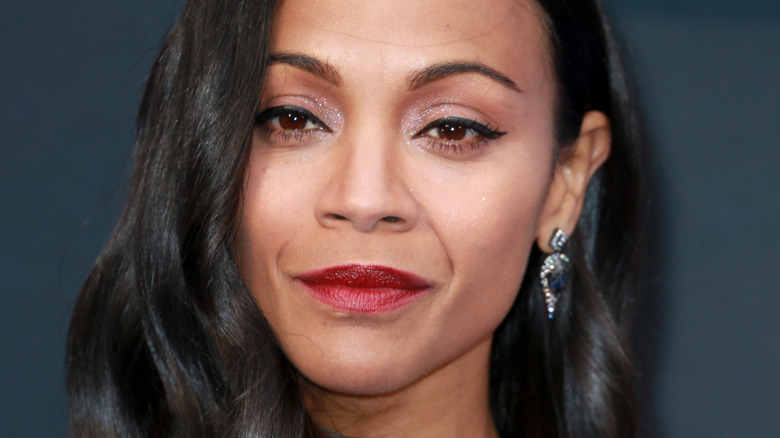 Fred Duval/Shutterstock
Language is very important to Zoe Saldaña, particularly Spanish. In an interview with Cosmo for Latinas, Saldaña talked about growing up in a multilingual household and how much she wants that for her own children. "Of course [our children] will speak the languages that we speak; my sisters and I grew up learning French and speaking English and Spanish, and because of that, we're able to understand Italian and Portuguese," the "Guardians of the Galaxy" actor explained. "But I'm going to have to make a conscious effort to speak Spanish to my children, because I speak Spanglish." In the same interview, Saldaña talked about living in the Dominican Republic from ages 10 to 17, saying that Spanish was her first language and, once she was in school, she was forced to learn English.
In an Instagram post from 2019, Saldaña was seen in full makeup for her character of Gamora from "Guardians of the Galaxy" singing in Spanish. She then acted surprised at herself, saying "Garmora speaks Spanish?" followed by her saying "I didn't know that" in Spanish.
In the Netflix series "From Scratch"–based on the real-life memoirs of Tembi Locke, who also served as the series' co-creator and writer–Saldaña plays an American visiting Italy to study art who then, unexpectedly, falls in love with an Italian chef named Lino (Eugenio Mastrandrea) and begins to build a life with him, only to watch him die slowly from an aggressive form of cancer. Despite the show's setting, Saldaña says that Spanish played an important part in the series behind the scenes.
Spanish comforted Zoe Saldaña through her toughest scenes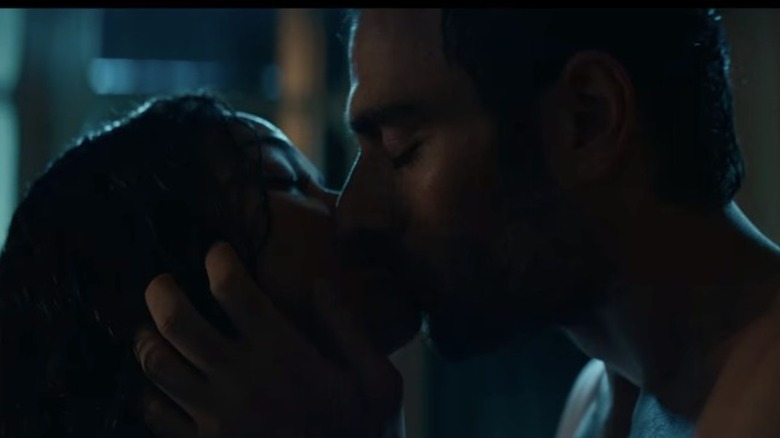 Netflix
In an interview with Netflix's Tudum, Zoe Saldaña explained that, during the most difficult scenes, her Italian co-star, Eugenio Mastrandrea, spoke her first language, Spanish, to her as their "comfort language. "He's very giving," Saldaña said to Tudum. "Obviously because of the fragility of the subject, there weren't light days. [There were] very challenging days." She went on to say that the entire cast supported her when the subject matter got difficult, and they also had to be the comfort for Tembi Locke and her sister Attica Locke who experienced the story's tragic ending in real life and also worked on the limited series. In another article for Tudum, it was explained that Mastrandrea speaks Italian, Spanish, English, and Sicilian.
In an interview with Shondaland, Tembi Locke talked about the obstacles she faced in living in Italy, including the challenge of the language barrier. "But the emotional obstacle was being a Black American woman living abroad in Florence, trying to learn the Italian language," Locke explained. "It was a time when there weren't a lot of Black Americans living in Florence in the early 1990s. It taught me a lot about myself, the world, and other people. What I hope people will see is there are cultural differences but also the similarities in people across the globe." Considering that an Italian actor was able to comfort a Dominican-American actor with her native language just goes to show how people from different cultures can find similarities and connect.