Plastic Man: The Wild History Behind The Character We Almost Saw On The Big Screen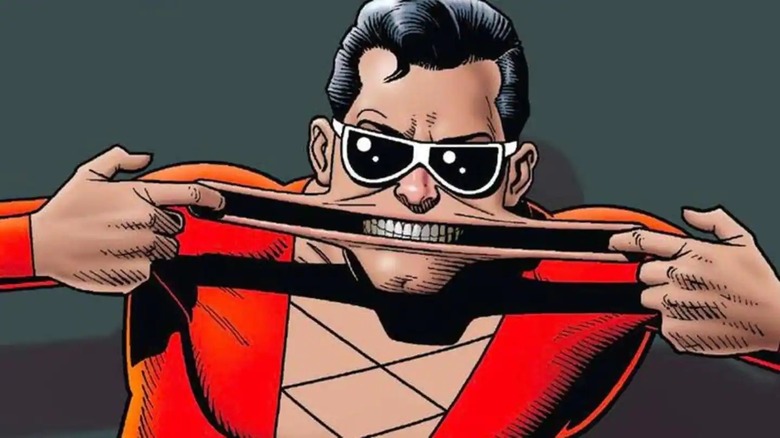 DC Comics
The most famous superhero who can stretch their limbs into any shape or size they want is undoubtedly Reed Richards, aka Mr. Fantastic from the world of Marvel Comics. But just because he's been such a prolific superhero doesn't mean there aren't others with a similar powerset. Just look at DC Comics mainstay Plastic Man, a figure who has been around in the pages of comics and other assorted media since the 1940s. A former criminal who now faces off against evildoers in a red super suit with a wacky sense of humor, Plastic Man is a much sillier figure than many of the most famous DC legends. However, that gift for distinctive comedy is also why he's endured for decades with readers of all ages.
Plastic Man has proven so popular that he's even been considered for the world of big-screen entertainment, including once in the 1990s through a movie produced by Steven Spielberg, and another separate proposed motion picture planted firmly in the modern fabric of the DC Universe. While those movies never got off the ground, there's still so much that's fascinating to unpack about Plastic Man, whether it's his rich history in the comics, his forays into TV and video games, or even the creative visions for abandoned motion pictures headlined by Plastic Man. He may not be the most famous uber-flexible superhero around, but the history and background of Plastic Man make it vibrantly clear that this DC Comics mainstay still has a lot to offer.
Plastic Man was originally a Quality Comics character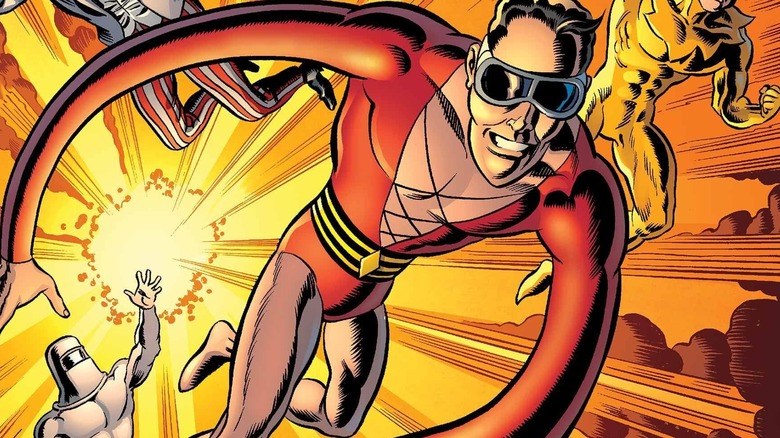 DC Comics
Though Plastic Man is now firmly entrenched in the world of DC Comics, he didn't start out in the roster of the famed publisher. Like fictional figures such as Peacemaker or Shazam, Plastic Man was a character created by a separate comic book company that would later get bought by DC Comics. In this case, Plastic Man was created by Jack Cole for Quality Comics.
A helpful timeline from The Connecticut Historical Society provides a breakdown of the history of this company, which began in the 1920s. Quality Comics is famous for being the birthplace of the Will Eisner character The Spirit in 1940, though 1941 turned out to be another formidable year for the outfit thanks to the debuts of characters like the Blackhawks and Plastic Man. Though Plastic Man proved initially popular, by the 1950s Quality had stopped producing superhero comics and focused its efforts on other genres of escapist storytelling. Quality Comics would go under by 1956, at which point DC purchased its assets, including Plastic Man. The superhero would finally return to the page in 1966, solidifying not only his comeback but also his existence within DC Comics canon. Plastic Man has persisted in DC properties ever since, but it's worth remembering that it isn't where the character got his start.
Why Jack Cole created Plastic Man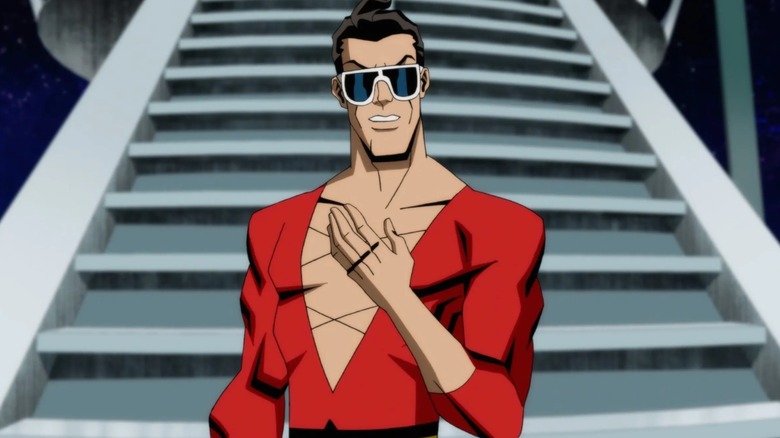 Warner Bros. Animation
Born in New Castle, Pennsylvania, in December 1914, Jack Cole would grow up to be a prolific comic book artist whose work for Quality Comics and Playboy Magazine would leave a lasting legacy on the world of comics. What made Cole stand out among vintage comic artists was his wacky sensibilities. Cole loved to create images that were downright absurd and meant to tickle the reader's funny bone, rather than stunning them with unbelievable action. Contemporary reflections of his career at outlets like CBR justifiably draw a line from Cole's output to the similarly zany cartoons created by later outfits like Mad Magazine.
Arguably the greatest legacy of Cole's impressive comics career was the creation of Plastic Man. Art Spiegelman wrote in The New Yorker that Cole's inspiration for Plastic Man came from circus sideshows of the era, which often featured performers with extremely flexible limbs. Initially intended to be called the India Rubber Man, the name would eventually switch to the more succinct Plastic Man. The character's roots were grounded in material specific to the early 20th century, but eventually, Plastic Man would become enough of an icon to endure well into the new millennium. Such is the power of a character created by Jack Cole.
Plastic Man had a sidekick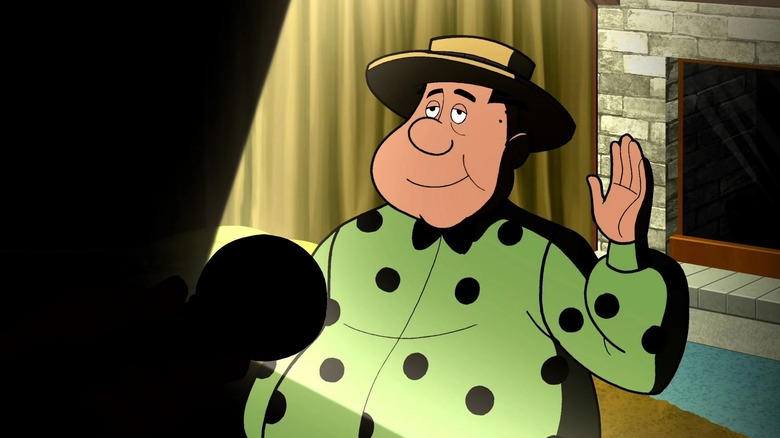 Warner Bros. Animation
Batman has Robin. Captain America has Bucky Barnes. Classic superheroes in the 1930s and 1940s typically had a sidekick to help them in their crime-fighting exploits. Plastic Man may have broken the mold a bit for what a traditional superhero looked like, but even he adhered to this principle. For Plastic Man, a sidekick came in the form of Woozy Winks. The book "American Comic Book Chronicles: 1940-1944" claims that his debut came about in "Police Comics" #13 in November 1942. From the get-go, the general attitude and appearance of Woozy Winks were established. While many superheroes of this era had precocious child sidekicks, Woozy Winks was a grown man. He was no do-gooder, either, instead being a former criminal who was distinguished by his portly appearance and his degenerate behavior.
A wacky character, Woozy Winks reinforced the wall-to-wall comedic aesthetic of the early Plastic Man comics. However, once the character was introduced into the world of DC Comics in the 1960s, he became far more scarce in his appearances. Even other Plastic Man media often eschewed the character, with the cartoon "The Plastic Man Comedy/Adventure Show" opting to give Plastic Man a new sidekick, Hula-Hula. However, the legacy of Woozy Winks did get to live on in the 21st century in one respect, thanks to the character appearing on the cartoon "Batman: The Brave and the Bold" voiced by Stephen Root.
Plastic Man's big solo TV debut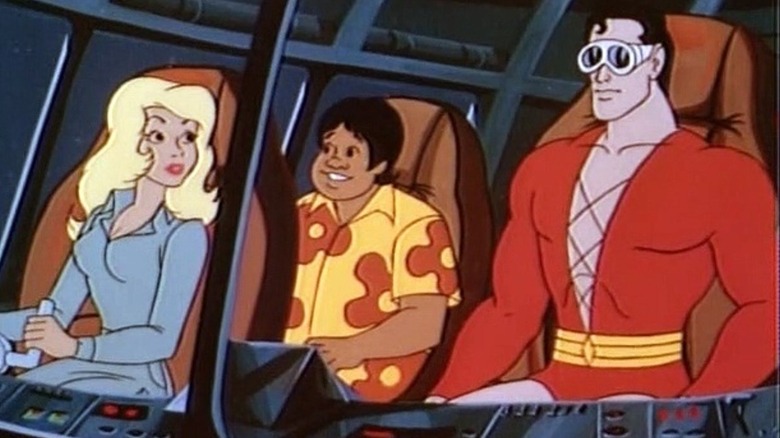 Warner Bros. Television
In 1973, the most famous characters in the DC Comics library got a new animated incarnation in the form of "Super Friends," a Hanna-Barbera program that featured the likes of Superman, Batman, and Wonder Woman, among others, fighting crime and extolling good morals to adolescent viewers. This was far from the first Saturday morning cartoon to be based on a popular comic book character, but it was a landmark moment for animated DC properties on television. Other DC Comics crimefighters would eventually make their way to animated kids programming as well, including Plastic Man's very own "The Plastic Man Comedy/Adventure Show."
The show features several key differences from the comic book incarnation of Plastic Man, including new sidekick Hula-Hula. "The Plastic Man Comedy/Adventure Show," which aired directly after "Super Friends" (per Geek Anything), was never a ratings juggernaut and only lasted two seasons. Its very existence reaffirms how well the DC superheroes translate into animation, though, not to mention adding significantly to Plastic Man's reputation outside of comics.
Tom Kenny's Plastic Man TV pilot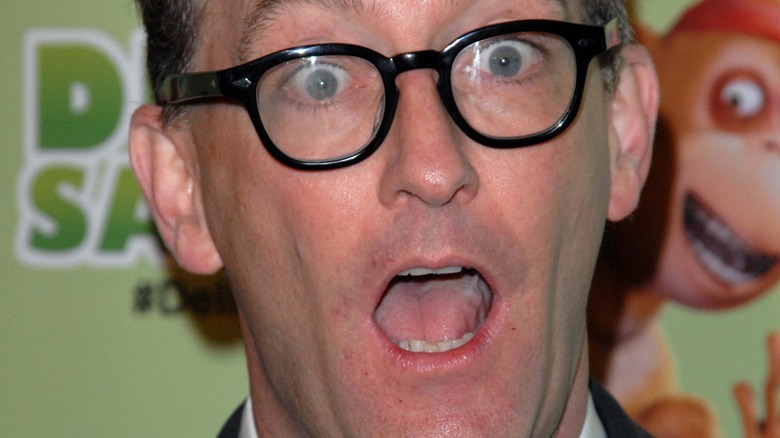 s_bukley/Shutterstock
In the 2000s, Plastic Man almost got to headline a cartoon TV show again. Though this would never come to fruition, the high-profile nature of the actor assigned to play this version of Plastic Man has ensured the abandoned program has stuck around in conversation. None other than Tom Kenny, the man responsible for voicing SpongeBob SquarePants and countless other iconic characters, was set to voice Plastic Man in a Cartoon Network TV show that went to pilot but never got further than that.
Kenny explained to The A.V. Club that he and animator Andy Suriano shared a love for Plastic Man and had always wished the character could've inhabited an animated project capable of more fluid animation than the '70s show. This inspired them to spearhead a pilot for a TV show starring Plastic Man that would evoke famed animator Bob Clampett in its zany animation style. Kenny harbored a serious passion for the project, but Cartoon Network opted to pass on the opportunity to turn it into a full-fledged series. It's a disappointing story, but Kenny did get to eventually bring Plastic Man to life by voicing him on another Cartoon Network show, "Batman: The Brave and the Bold."
Plastic Man's video game appearences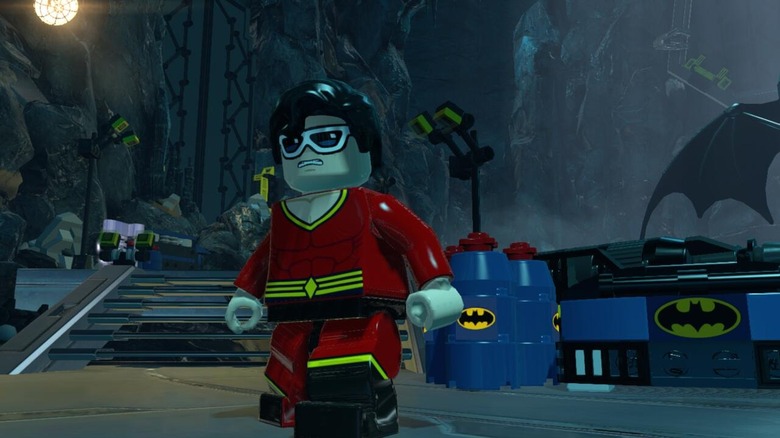 Warner Bros. Interactive
Plastic Man may not be a household name on the level of other DC Comics mainstays like Batman or Superman, but he's still had a prolific presence outside of his comic book escapades. This includes the world of video games, a field where Plastic Man has cropped up from time to time. However, given the character's goofy nature, he's largely been confined to comedic video games aimed at children. Arguably the most notable among these forays is his presence in "LEGO Batman 3: Beyond Gotham." As part of the game's embrace of broader DC Comics lore and not just characters confined to Gotham City, Plastic Man was a playable character.
The character also made an appearance in the expansive game "DC Universe Online," while the character and his apparel also made appearances in "Scribblenauts Unmasked: A DC Comics Adventure." Plastic Man's array of video game exploits also include a major role in "Batman: The Brave and the Bold," a 2010 video game adaptation of the kids' cartoon of the same name. Plastic Man was a prominent enough part of this production to warrant an appearance on the game's cover art across all consoles. Nobody would ever mistake Plastic Man for a video game icon, but this oddball character has managed to stick around in games that take a lighter look at the DC Universe.
The famous fans of Plastic Man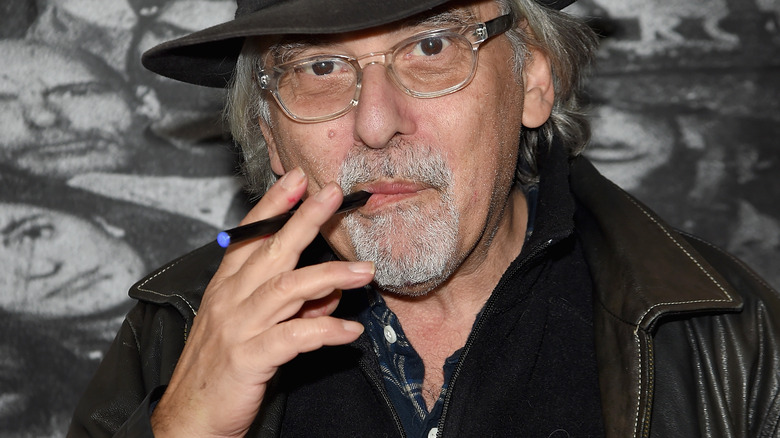 Jamie Mccarthy/Getty Images
Art Spiegelman is a comic book industry legend, well known for delivering incredibly dark and brutal works like "Maus." His comics are famous for their stark mood and willingness to grapple with difficult subject matter. Naturally, then, he would profess in a lengthy New Yorker piece that he was also an enormous fan of Plastic Man. Spiegelman may be somebody famous for adult-skewing comics, but he greatly appreciates the original Jack Cole run on Plastic Man for reminding him of all the whimsical and comedic opportunities inherent in the expansive world of comics.
He's not the only famous face to be such a fan of the character, though. In this same piece, Spiegelman remarks that Hugh Hefner had a lifelong love for Plastic Man, which led to him being delighted to discover that the Jack Cole he'd hired to create cartoons for Playboy was in fact the artist of those comics he'd grown up with. Meanwhile, Ben Schwartz is a big fan of this wacky character and how unabashedly comedic he is, to the point that he's expressed enthusiasm over playing him in a movie someday (via Nerdist). Plastic Man may sound like the worst kind of punchline on paper, but his universal appeal is reflected by just how many artists enjoy the uniquely silly antics of this DC Comics superhero.
The unmade Jim Parsons Plastic Man movie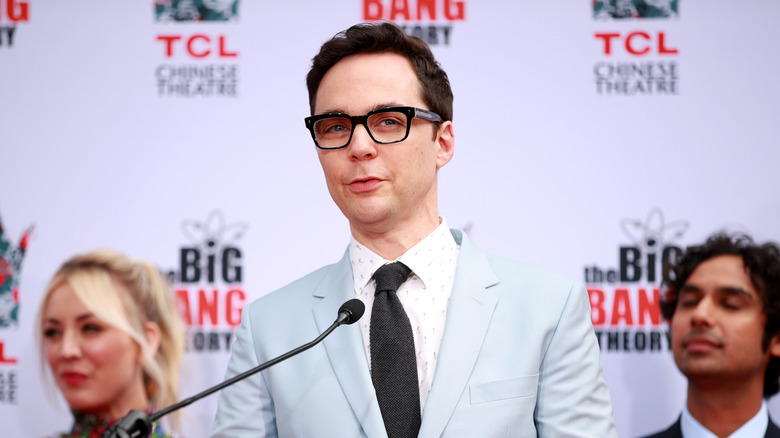 Rich Fury/Getty Images
Plastic Man's zany powerset has always been a perfect match for animation. It wouldn't be impossible to translate the character into the world of live-action storytelling, but cartoons can better lean into all the incredible possibilities of his superpowers. It's no surprise, then, that Plastic Man has appeared in countless animated properties over the years, including several that never made it to the screen.
Kevin Smith revealed on his podcast "Fatman Beyond" that one unrealized animated Plastic Man project was something he wrote. Though he forgot about it after finishing the script, Smith wrote a screenplay for an animated Plastic Man production that would've starred Jim Parsons in the lead voice role. Smith didn't dive into any further details about what the plot for this feature would've been or why Warner Bros. ended up abandoning it. However, it's easy to see why the studio would've been interested in getting Smith to pen a zany animated Plastic Man motion picture, as well as why Parsons could've been a solid choice to voice the character. Though there was a lot of promising talent attached to this endeavor, Smith openly said on the podcast that his Plastic Man movie will never see the light of day.
Plastic Man's renaissance on Batman: The Brave and the Bold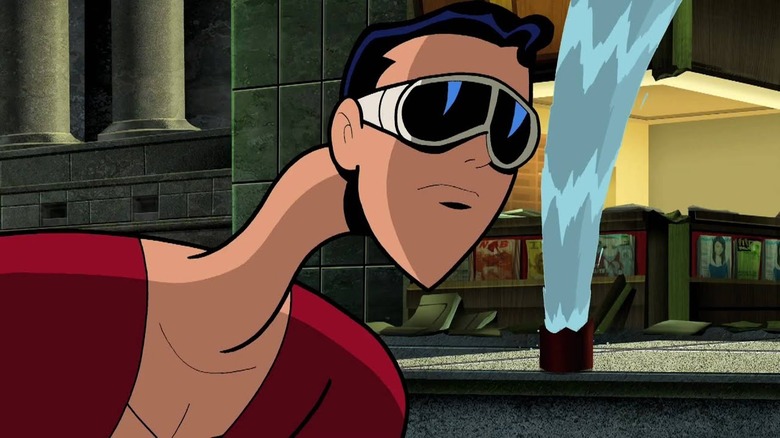 Warner Bros. Animation
Plastic Man has never really vanished from the world of DC Comics, but one problem the character has run into in the last few decades is trying to fit into the general tone of modern DC media. The 1980s began a trend of DC Comics embracing darker storytelling for its characters, a trend that would begin to extend to other forms of media like movies and video games in the 21st century. This resulted in assorted projects with varying degrees of success, but across this tonal shift, it was hard to imagine Plastic Man fitting into the atmosphere of "Batman: Arkham Asylum" or the "Dark Knight" trilogy.
It's no surprise, then, that Plastic Man experienced a creative renaissance on a modern DC Comics adaptation that wasn't afraid to get in touch with its silly side. "Batman: The Brave and the Bold" was an animated TV show that began in 2008 and was unabashedly ridiculous. It was much more in touch with the Adam West incarnation of Batman than the one shepherded by Christopher Nolan. This tone, as well as a willingness to have Batman rub shoulders with countless members of the larger DC Comics pantheon, opened the door for Plastic Man to be a recurring guest star on the program, voiced by Tom Kenny. Finally, Plastic Man had room to shine in the zany playground of a cartoon dedicated to fun above all else.
The earliest rumblings of a Plastic Man movie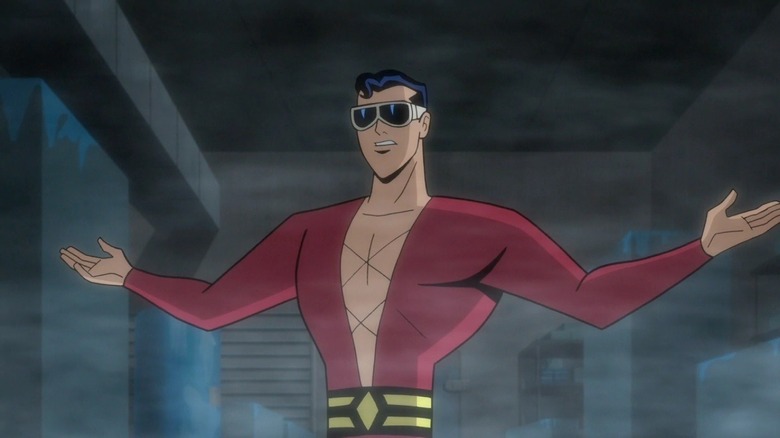 Warner Bros. Animation
In the wake of Tim Burton's "Batman" becoming such a massive box office success in 1989, it's no surprise that there was a resurgence of comic book movies in the global cinematic marketplace. However, there weren't as many new DC Comics properties from Warner Bros. as you might expect, with "Steel" in 1997 being the first non-"Batman" DC Comics film to emerge in the wake of that Tim Burton movie taking over the pop culture zeitgeist. Just because movie theaters weren't littered with '90s incarnations of Green Lantern and The Flash, though, doesn't mean Warner Bros. never tried to develop further DC adaptations in the immediate aftermath of "Batman."
In 1992, Variety reported that among Steven Spielberg's many upcoming projects was a live-action "Plastic Man" movie that he would produce while Brian Spicer would make his directorial debut. "Plastic Man" had been around for decades at this point, making him the kind of sturdy and enduringly popular character Warner Bros. might see as worthy of getting the big-screen treatment. Plus, advancements in CG technology around this time could've helped realize his powers in live action like never before. This version of "Plastic Man" never went anywhere, though it's still quite impressive that Spielberg was attached as a producer on "Plastic Man" at some point.
Was Keanu Reeves going to play Plastic Man?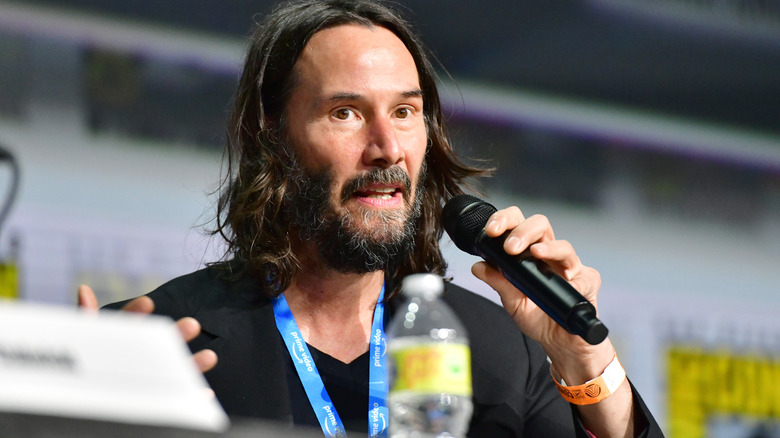 Jerod Harris/Getty Images
The internet produces a lot of strange rumors that end up being considered facts. What passes for just a Twitter joke one day can suddenly be misconstrued as a fact the very next. This phenomenon was especially apparent when it came to the rumors of a Plastic Man movie that would star Keanu Reeves and be directed by Lily and Lana Wachowski. Back in 2008, outlets like Vulture reported on news that traced back to the website CHUD claiming, via a purported quote from producer Joel Silver, that the Wachowskis would be directing "Plastic Man" after their work on "Speed Racer." Since Reeves was famous for working with the duo on the "Matrix" trilogy, the idea of him playing Plastic Man soon took root on the internet.
It was all very dubious and speculative, but as sites like Vanity Fair have pointed out, it managed to catch like wildfire on the internet. Partly, this was because the Wachowskis had penned a screenplay for "Plastic Man" back in the mid-1990s (per MTV). By the end of 2008, MTV managed to confirm with Reeves that he wouldn't be playing the character, while the Wachowskis ended up moving on to "Cloud Atlas" rather than "Plastic Man." This whole internet boondoggle about a Keanu Reeves "Plastic Man" movie that never was demonstrates just how quickly speculation can become news on the internet.
Plastic Man's potential in the DCEU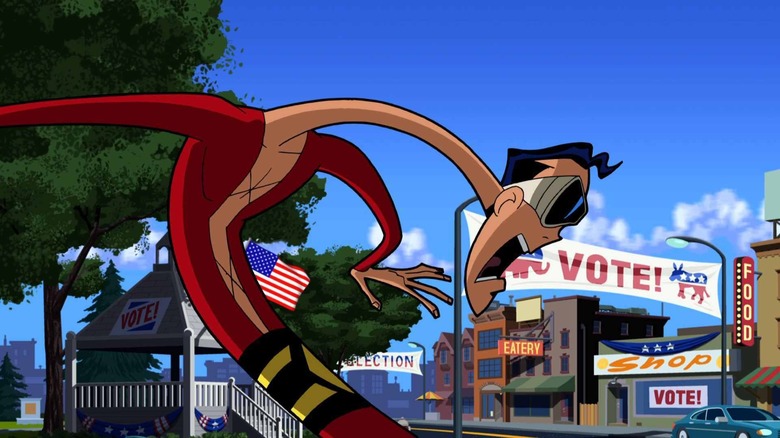 Warner Bros. Animation
The DC Extended Universe has opened the door for several characters to make their live-action movie debuts, from iconic comic book figures like Wonder Woman and Aquaman to more obscure individuals like Bloodsport and Rick Flagg. Looking at all of these characters, it becomes clear that the modern movies are open to utilizing anyone and everyone from the dense lore of DC Comics. This approach also appears to extend toward Plastic Man. Though he has yet to appear in the franchise officially, there have been multiple attempts to get a solo film rolling.
The first of these attempts came about in December 2018, when word broke that Amanda Idoko had been hired to pen a screenplay for a movie headlined by Plastic Man (via The Hollywood Reporter). The project would take place within the DC Universe and have an extremely comedic tone, a fitting atmosphere for such a zany superhero. Further news on this Plastic Man feature was non-existent until December 2020, when Cat Vasko was hired to pen a new draft of a Plastic Man movie, with the plan now being to give the feature a female lead (again per THR). No further updates have emerged on the production since then. However, the multiple recent attempts to get Plastic Man a solo DC Universe vehicle does suggest the character will factor into the big-screen DC franchise sometime in the future.