Bob Iger Didn't Mince Words Addressing Those Apple Rumors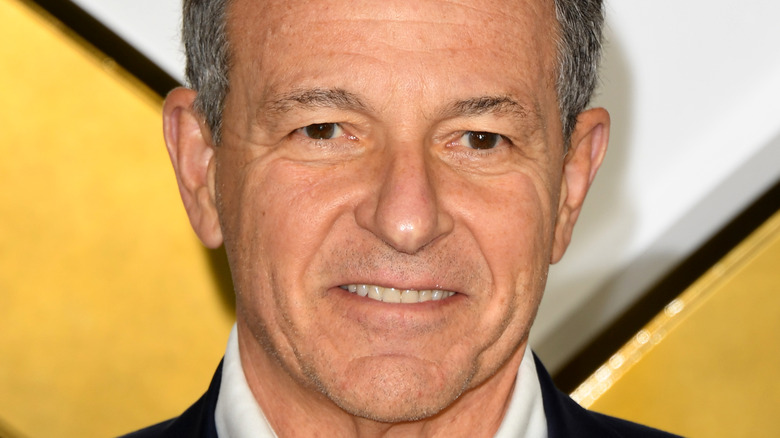 Stuart C. Wilson/Getty Images
With the ouster of Bob Chapek and the reappointment of Bob Iger as CEO of Walt Disney Co., much upheaval has hit the House of Mouse. What does such a decision mean for the giant's growing streaming arm — would programs be canceled or greenlit? Of the various productions in development for theatrical release, which acquisitions would land on Disney+, and which would end up in wide release? Now that Disney has such a large number of iconic properties under its licensing umbrella, will there be more acquisitions added to its already rich and plummy pot? The fact that Iger has promised to only stay on for two years while a new CEO is vetted and selected has added to the sense of off-kilter impermanence to the situation at large. Fans of Disney have been left wondering how everything will shake out in the end.
In all of that messy upheaval, rumors began to circulate that Disney would be sold to Apple Inc. It seemed like a logical move; Apple already has its own streaming service and enough experience to guide Disney through the rough waters of the streaming wars. But during a November staff meeting, Iger strongly spoke out about those rumors, putting them firmly to rest once and for all.
Iger says talk of an Apple buyout is 'pure speculation'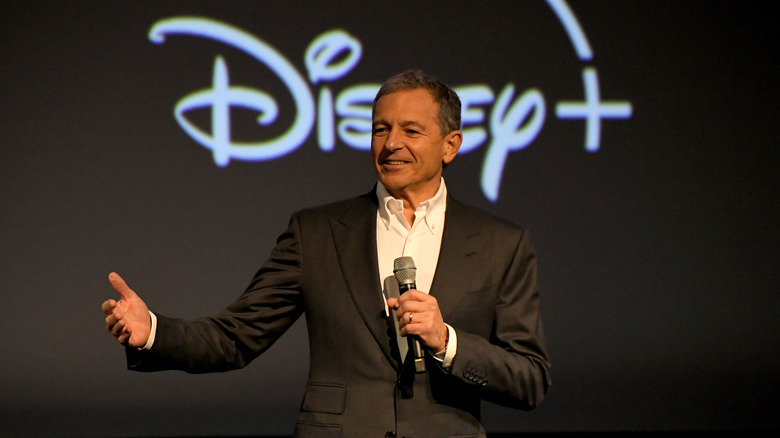 Charley Gallay/Getty Images
During a November 28 town hall meeting with staff held on a Burbank soundstage, Bob Iger declared that rumors Disney will be sold to Apple Inc. are "pure speculation," per The New York Times, which obtained two recordings from four employees who attended the meeting. It looks like Disney won't be selling itself to the highest bidder — at least at the moment — but the company is focused on righting its ship.
To that end, Iger confirmed during the staff meeting that hiring freezes established during the Bob Chapek regime will be ongoing as Disney tries to recover from such missteps as the release of "Strange World," which bombed at the Thanksgiving weekend box office. But he also declared that he's quite satisfied with the property portfolio Disney currently owns. "Nothing is forever, but I am very, very comfortable with each of the assets that we have," he said.
As for how he's planning on handling Disney's streaming-related challenges, he admitted that he's playing things cautiously when it comes to the company's over-the-air television output. "If you look long-term at the future of linear TV, it would be wise to be skeptical or pessimistic about it. How that manifests itself in our company I don't know." There's no word as to what that means for ABC, which Disney owns.
Iger's statement comes after a number of recent firings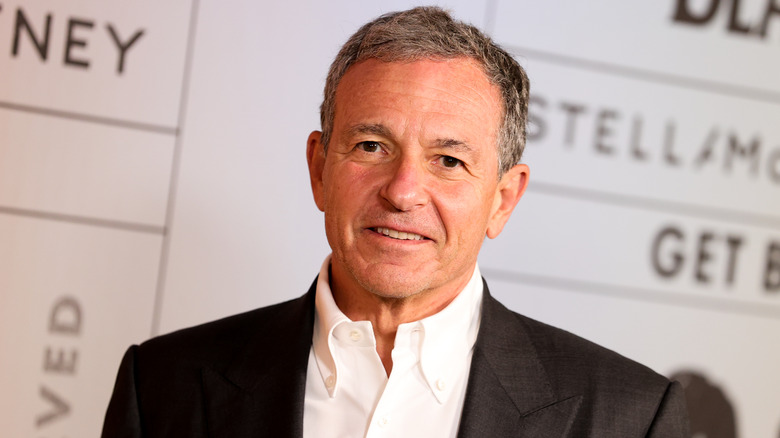 Rich Fury/Getty Images
Per The Hollywood Reporter, Bob Iger also declared that Disney will make use of whatever technological advancements occur during his time with the company. "Nothing is going to stop technological advancement," he declared, adding that he found the notion of artificial intelligence and AI artwork interesting and a possible future source of material for the company. There's no word as to whether or not Iger would be interested in working with Apple in such further forays into the digital world. Apple Inc. is, after all, no stranger to the AI universe and even acquired two AI startups in January 2022.
No matter what the future holds for Disney and whether or not it ends up working with Apple, Iger definitely has a hand in changing its present. Since returning to his post at the top of the Disney food chain, he has dismissed Bob Chapek's second-in-command Kareem Daniel, as well as Arthur Bochner, who also worked under Chapek (via The New York Times). It's definitely a new dawn at Disney, any way you slice it.